How Short Is George Stephanopoulos? 'Good Morning America' Host Hides Legs, Twitter Says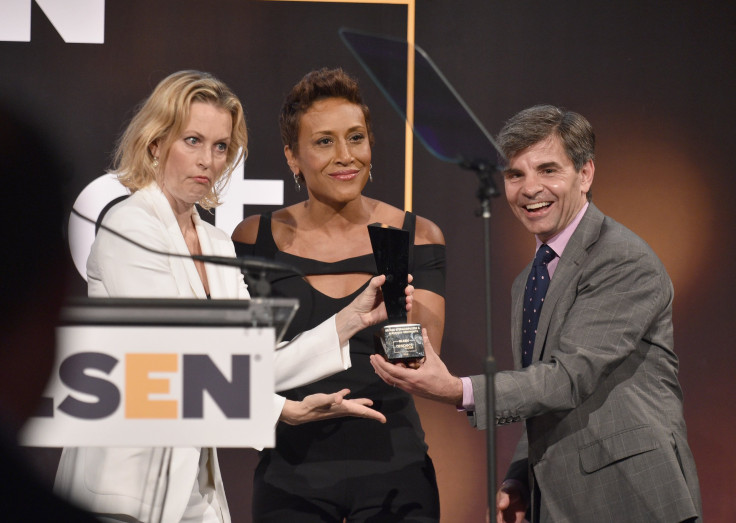 George Stephanopoulos stands at 5 foot 6 inches, but a report Wednesday by Page Six calimed the set to ABC's "Good Morning America" was redesigned to cover the legs of the show's veteran political journalist. Twitter reacted to the story by alternately mocking the diminished co-anchor and asked: "What's wrong with being short?"
"He's 5-foot-6 and is dwarfed by human trees Robin Roberts and Michael Strahan," said an insider to the website Page Six. "'GMA' initially thought using an anchor desk with elevated chairs would help the problem. Still awkward, George's little-boyish mini-legs were seen dangling."
The Page Six article goes on to explain that "a month ago, a silver panel was added across from the anchor desk at midlevel," which, according to the report was to cover up where Stephanopoulos' feet rested on his chair.
READ: Michael Strahan Thinks Alex Rodriguez Contributing To 'Good Morning America' Is 'Great'
"How the hell is this acceptable OR exclusive.... just another type of body shaming. #disgusting #BodyShaming how about actual journalism?" wrote one Twitter user.
After the article was picked up by the right-wing media sources, other users posted memes mocking Stephanopoulos' height and about his support of Hillary Clinton during the 2016 presidential election.
Users were especially titillated by the description that Stephanopoulos' legs were "little-boyish mini-legs" which made some howl with laughter.
Before becoming a journalist, Stephanopoulos was an advisor to the Democratic Party, and worked as a communications director for the 1992 presidential campaign of Bill Clinton before becoming the White House communications director.
READ: George Stephanopoulos Interviews Trump, Asks About Actual Policy: 'It's Called Great People'
Stephanopoulos has made large donations to The Clinton Foundation charity and Republicans — both party leaders and voters have repeatedly expressed distrust of the ABC co-anchor.
In 2015, it was reported by Politico that he did not disclose the $75,000 he donated over three years. He agreed to drop out as a moderator of the scheduled Republican Presidential primary debate in February 2016.
In October 2016, Stephanopoulos gave a one on one interview 13 days before the 2016 presidential election with then-candidate Donald Trump.
© Copyright IBTimes 2023. All rights reserved.