How Snapchat CEO Evan Spiegel Speaks Millennial — Not Just By Using The Popular Mobile App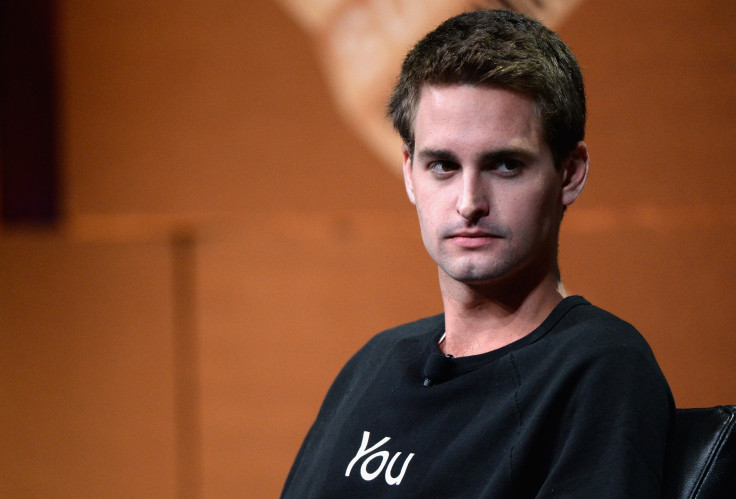 Snapchat CEO Evan Spiegel speaks millennial. That's one major takeaway Columbia University student Mayank Mahajan had after interviewing Spiegel, the 25-year-old CEO behind the popular storytelling app, onstage during his college's #StartupColumbia Festival last week.
Before an audience of about 700 people, primarily students and young entrepreneurs, Mahajan along with his classmate Karen Yuan, asked Spiegel what it was like to launch a company in college. Dressed in casual clothes and sitting slightly slumped in his chair, Spiegel — who is not active in his pursuit of media interviews or appearances — mused on the early days of Snapchat.
How to balance schoolwork and entrepreneurship? "If you're OK with getting bad grades, then it doesn't really matter," said Spiegel, who had decided to turn a project for one of his classes at Stanford University into what Snapchat is today.
"You hear Evan Spiegel and think, oh, the Snapchat CEO, he's so successful, and then you see a slightly dorky guy here talking about himself and his friends working on a startup at his parents' house," Mahajan told International Business Times.
Now 5 years old, Snapchat has captured more than 100 million daily active users. More than 60 percent of smartphone owners in the U.S. between the ages of 13 and 34 use the app. The Venice, California-based company has raised $1.34 billion and is valued at $16 billion.
But interest in Snapchat did not come immediately. Even Mahajan, who crowns Snapchat as his most-used social network today, was a naysayer at first. He downloaded the app in 2013 right before he entered Columbia.
The value comes in the type of content people are able to share on Snapchat versus a medium like Facebook. "I use Snapchat to draw attention to something that I'm doing. The underlying caption is, 'Look at this. It's cool, and I'm part of it,' " he said.
This type of personal lens is one reason Spiegel referred to Snapchat as a "camera company" on Friday, as TechCrunch reported. Snapchat functions as a messaging app and a content reader, but those two features are off to the side. "The beautiful thing is it sort of sits in the middle, but more importantly it opens to the camera," Spiegel said. "The thing that feeds a social network is content."
While sharing of original content on Facebook is reportedly down — despite CEO Mark Zuckerberg's defense of his network — Snapchat usage is up. The app draws 10 billion video views per day compared with Facebook's 8 million. It's important to note that Snapchat views are a millisecond while Facebook's are 3 seconds each.
Snapchat offers a different, less demanding way to share than Facebook or its app Instagram. "If you want to take a photo of the beautiful day outside, then yeah, you can put it on Instagram, but what about that huge space of photos that aren't 10 out of 10 perfection. Things that are kind of interesting but not that interesting," Mahajan said.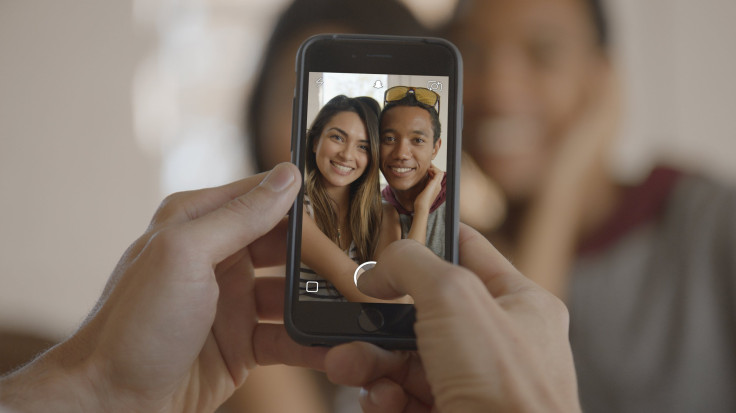 Beyond building a product that speaks to those millennial desires, Spiegel's work philosophy inspired Mahajan. Asked what a day in the life of the Snapchat CEO was like, Spiegel responded that he spent 40 percent of his time on product, 20 percent attending events and the remaining 40 percent on recruiting.
Mahajan admitted onstage his disbelief in how much time Spiegel spent on hiring. "His response was that it's actually not surprising at all because he believes in getting the most successful, motivated, talented people that firmly believe in Snapchat the company," Mahajan said.
That theme of motivation carried through the rest of the interview. Spiegel shared that Snapchat employees are granted a 10-20-30-40 vesting schedule for stock options. Therefore, employees do not receive the majority of their stock options until four years in at the company.
Evan Spiegel - CEO Of Snapchat_ talks about how they choose stories to be featured @Columbia #StartupColumbia pic.twitter.com/H8y4ctzWWT

— Gulnoza Mansur (@GulnozaMansur) April 29, 2016
Mahajan, who will be interning at Facebook this summer before pursuing a master's degree at Princeton, said he sees the desire among his peers to bounce around companies in pursuit of a higher salary. But, he said, that does not mean millennials like himself are not passionate about long-term growth and building successful businesses.
"I think the audience gained a new perspective of what an entrepreneur can be. A lot of people in the audience probably had the conception that once you become one, you reach celebrity status. That's not the kind of image Evan was projecting," Mahajan said.
Speaking backstage after the talk, Mahajan asked Spiegel about his own Snapchat use. Turns out, despite the potential of having everyone be his friend on Snapchat, Spiegel keeps his connections at around 50, Mahajan said. That short list includes magician David Blaine — the inspiration behind Snapchat's Live Stories feature.
© Copyright IBTimes 2023. All rights reserved.