How Southwest Airlines Is Trying To Win Back Its Customers After Holiday Meltdown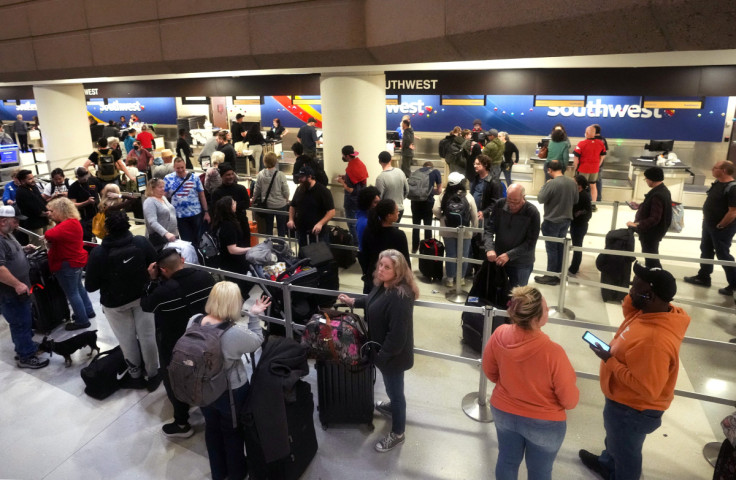 Southwest Airlines started 2023 on a sour note and is attempting to win back unhappy customers with the promise of airline miles and an apology.
What began with a deadly winter storm disrupting service ended in a nationwide meltdown of Southwest's system. Thousands of flights were canceled and delayed between Dec. 24 and Jan. 2, leaving customers stranded over the holidays.
On Tuesday, Southwest CEO Bob Jordan sent an email to some of the travelers affected by the company's system-wide collapse, offering 25,000 frequent flier points valued at $300, NPR reported. Southwest has also offered travelers refunds on their canceled flights and reimbursement for additional travel expenses caused by the chaos.
The Southwest frequent-flier points will not expire, and there are no blackout dates, CBS News reported. In addition, travel reservations with more than one person will receive 25,000 points per ticket-holder.
The Wall Street Journal reports Southwest canceled almost 16,000 flights over a 10-day period but has not yet released the number of customers impacted. The airline also has not announced the number of frequent-flier points being issued.
"I know that no amount of apologies can undo your experience," Jordan writes in the letter.
In a press release published Tuesday, Southwest said it was beginning to contact every customer impacted by holiday delays "to offer a tailored gesture of goodwill." The company also said flight operations were getting back to normal, announcing that over the New Year's holiday weekend the airline had just over 11,000 fights with a "system completion" rate of 99.1%.
Southwest has created a page on its website dedicated to their travel disruption where customers can request a refund, or reimbursement, rebook their flights and locate their checked bags. Customers can submit receipts for additional travel expenses caused by the Southwest delays for reimbursement, including hotel, rental car, and food.
Southwest's dramatic collapse attracted the attention of transportation officials. On Thursday, Secretary of Transportation Pete Buttigieg published a letter addressed to Jordan, calling Southwest's travel disruption "unacceptable" and said the cancellations and delays starting on Dec. 24 are within the airline's control, not caused by severe weather.
"No amount of financial compensation can fully make up for passengers who missed moments with their families that they can not get back," Buttigieg wrote.
Despite Southwest's efforts to win back customers, the airline continues to face backlash. CNN reported Tuesday that a lawsuit has been filled against the airline by passenger Eric Capdeville, claiming the company violated federal law and its passenger agreement by not offering refunds for canceled flights.
© Copyright IBTimes 2023. All rights reserved.