How To Survive A Blizzard: NYC, Boston Prepare For Winter Storm Jonas, Heavy Snow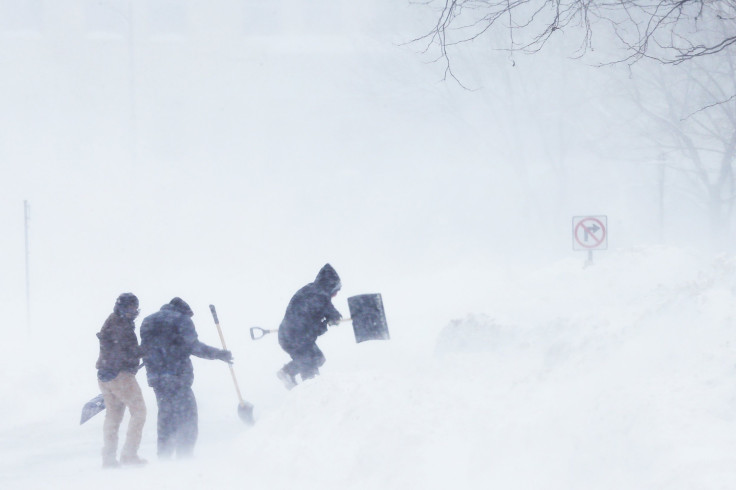 Boston, New York City and other Northeast cities are expecting the first large winter storm of the year this weekend as winter storm Jonas pushes east, pummeling the area through Sunday. With the many feet of snow forecast to come down between the mid-Atlantic and New England Coast comes some danger for the unprepared.
Of course, there are the worries that motorists will become stranded in some of the heaviest snow, which is expected in coastal locations. Roads will be slick. Winds will pick up and then, the real danger sets in. Knowing what to do and being prepared for getting stranded during a snow storm or blizzard can be the difference between life and death whether you're on the road or not.
Here are some important tips to stay prepared and safe from ready.gov:
Before the storm, it's important to keep some supplies nearby to keep you warm and dry. That includes several important items. For those at home, put rock salt on your walkways before the storm, make sure you have snow shovels; sufficient heating fuel should your regular heat supply cut off (dry, seasoned wood for a fireplace or wood-burning stove, for example) and adequate clothing and blankets to keep warm.
Make sure you have a family communication's plan in place to get in contact with your loved ones and pay attention to the National Oceanic and Atmospheric weather broadcasts for any hazards.
Make an emergency kit for your car. It should include: a shovel, windshield scraper and small broom, a flashlight, battery powered radio, extra batteries, water, snack food, matches, extra clothes, a first aid kit and knife, any medications you take, blankets, a tow chain or rope, road salt or sand, booster cables, emergency flares and a fluorescent distress flag.
Winterize your car. Take your car in for a checkup to ensure that things like your antifreeze levels, breaks and windshield wipers are all running well.
Should you find yourself outside in a blizzard, here are a few things to keep in mind:
Seek shelter immediately. Winds during these storms can dramatically lower your body temperature and increase your risk of frostbite and hypothermia.
Get dry. Being wet is one of the worst things for you in these situations. You can start a small fire if you need.
If you are without shelter, build yourself a snow cave if you can. Snow caves can act as insulation from wind and cold temperatures.
Stay hydrated, but don't eat the snow because it takes too much of your body heat to melt the snow. For instance, canteens filled with snow inside of your coat but not directly touching your body's skin will allow the ice to melt without drastically reducing your body temperature.
© Copyright IBTimes 2023. All rights reserved.