How 'Underground,' WGN America's New Slavery Drama, Turns A Chapter Of Sordid US History Into A Gripping Thriller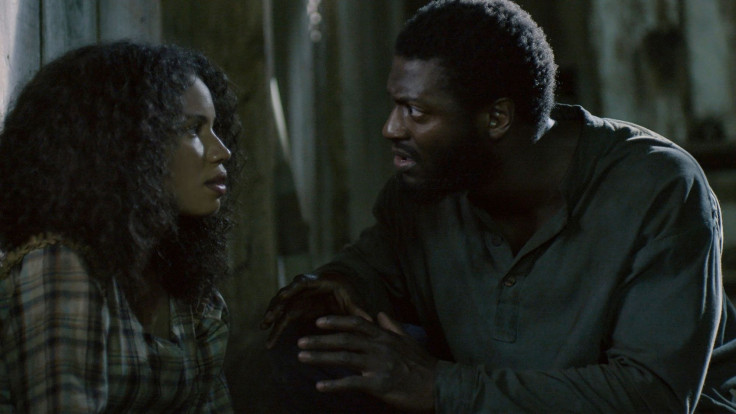 The first seconds of "Underground," WGN America's new TV series about slavery and the Underground Railroad in pre-Civil War America, are punctuated by an unexpected sound: the music of Kanye West. As a fleeing slave sprints through the Louisiana woods, the electronic pulsing of West's 2013 single "Black Skinhead" scores the scene. This period piece clearly plays by different rules.
WGN America has been trying to break into the ranks of premier cable networks in recent years with critically acclaimed and solidly, if not spectacularly, performing series like "Manhattan" and "Outsiders." Its latest effort is a drama that teams up former "Heroes" producers Misha Green and Joe Pokaski with the show's executive producer, singer John Legend, to tell the story of a group of slaves planning their escape to freedom. With a rock and hip-hop soundtrack curated by Legend and a comic book approach, "Underground" attempts to transform one of history's darkest chapters into a gripping thriller.
"We come from a genre background and we love comic book stories," said Green. "We knew this was a story of American heroes. We wanted to take this portrait off the wall and really live in it. We wanted to be bold with the storytelling, bold with the music, bold with the visuals. We wanted this to feel different."
It is no surprise that Green and Pokaski, veterans of NBC's "Heroes," would bring an experimental approach to this heavy subject matter and, like any great comic book story, "Underground" has a sense of mythology. Noah (Aldis Hodge) receives a map to the North (and freedom) coded in song. The Ohio River becomes the biblical river Jordan, the Big Dipper becomes the literary Drinking Gourd.
Despite its historical context, "Underground" does not preach to its audience, a la the famed miniseries "Roots." Its aim is to be an exciting, entertaining series that tells the stories of a community the cable drama genre is seemingly underserving. The show is not so concerned with reintroducing viewers to the horrors of slavery, but instead depicting a group of men and women escaping those horrors and realizing their liberated destinies.
Watch the trailer for "Underground" below:
"We have always come from a place where this is not about the occupation, it is about the revolution," said Pokaski. "The story we are telling obviously has some of the same backdrops, but it is about people who are told they are property and say, 'No, I'm not and I'm going to run 600 miles for my freedom.' I think that is a hopeful story and I think it is a story that needs to be celebrated, as well as those people who opened up their homes to do what they thought was right. I think people are going to tune in every week because they are on the side of right and they want to see right win."
The modern touches employed on "Underground" aim toward that goal. Much like Baz Luhrmann's adaptation of "The Great Gatsby" in 2013, "Underground" uses contemporary music to bring a fierce, modern urgency to its period drama. Legend's soundtrack includes artists as diverse as Arctic Monkeys and Raphael Saadiq.
The visuals back up the eclectic score. Fresh off directing a few episodes of FX's "The People vs. O.J. Simpson: American Crime Story," Anthony Hemingway shoots violence on the plantation, slave catchers chasing down fleeing men and women, and even ornate balls in a governor's mansion, like a high-budget thriller. A comic-book movie montage of Noah, who plays the slaves' blacksmith, recruiting for a planned escape, plays like the introduction of the team for an "Ocean's Eleven"-style heist.
WGN America's other ongoing series — "Salem," "Manhattan," and "Outsiders" — have one thing in common missing from "Underground": They almost exclusively depict white characters. With this push into more diverse content, WGN America, which aims to compete with the likes of AMC and FX, could expand its audience.
"Empire," with its black cast, yielded massive ratings for Fox. "Underground" will probably not match the numbers of a major network hit, but it still could provide quite a boost for WGN America.
"'Underground' captures all the qualities we look for in a show — thrilling storytelling, an emotional narrative, a unique world on the television landscape and relevance to America today. We are proud to have a show that can contribute to the social dialogue going on in the country today," said Matt Cherniss, president and general manager, WGN America and Tribune Studios.
Executive producer Legend, an Academy Award winner for the "Selma" theme "Glory," has been making the rounds on talk shows promoting the show. The series' lead actor, Hodge, starred in 2015's blockbuster hit "Straight Outta Compton."
More than anything else, the show features a large ensemble of well-rounded characters, played by actors of color, telling the story of a well-known, but underexplored chapter in American history.
"The stories of these slaves' daily lives — these stories have not been given their proper due," said Green, noting that politics of plantation life and the struggle to escape were much more complex than is often taught in history classes.
"This was the greatest thriller never seen," said Pokaski. WGN America viewers will see it now.
© Copyright IBTimes 2023. All rights reserved.