How To Vote: Everything You Need To Know About Voting In The 2016 Election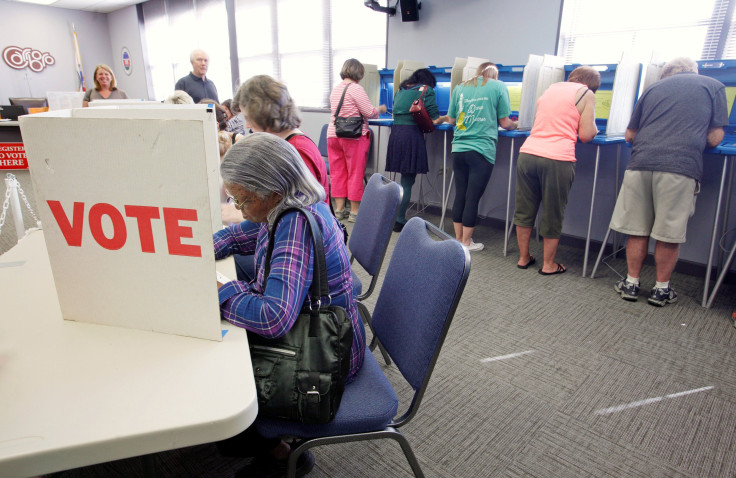 The question of how to vote in Tuesday's presidential election may appear a simple one, an afterthought for most, but there is plenty to be aware of to ensure that you're able to exercise your democratic right.
For an increasing number of Americans, the process of going to the polls on Election Day has been taken off the table by early voting and absentee ballots. Indeed, more than 24 million people have already cast their vote.
There are some useful facts to know before heading to the polling station.
Find Your Polling Station
Each eligible voter needs to find out their polling location, assigned based on your residential address. It's important to double check where this is, as it may have changed since the last election. This can be found by checking a state or local election office's website here. Additionally, the "Get to the Polls" project also provides all the necessary information on polling locations and voting times.
Check Your State's Voter ID Requirements
Many states have extra requirements before allowing voters to actually cast their ballot on Election Day. Although federal courts earlier this year struck down the introduction of restrictive voting laws, it has still become more difficult to vote in a number of states across the country. Two-thirds of states now require some form of ID before allowing individuals to vote, with half of those requiring a photo ID. The National Conference of State Legislatures has information on each state's requirements. Additionally, first-time voters who didn't register to vote in person will need to show proof of identification.
Check What's Going to be On the Ballot
While all the focus is on the battle for the White House between Donald Trump and Hillary Clinton, there will be far more than just the choice for president on ballots. Every seat in the House of Representatives will be up for grabs, along with 34 Senate races and numerous local races. Meanwhile, 205 million people will be impacted by special ballot measures on issues such as access to marijuana and gun control. Vote411 Voter Guide offers a helpful guide.
Using Voting Machines
While there was an effort to move away from the punch-card voting system toward electronic voting machines following the "hanging-chad" controversy in the 2000 presidential election, three-quarters of votes on Tuesday will still be made on paper ballots. Many of the electronic systems are also up to 10 years old and glitches have been reported, such as touching the screen for one option and seeing another be selected on screen. Although there is no evidence to support Trump's claims of a rigged election, it is always wise to double-check your selection.
© Copyright IBTimes 2023. All rights reserved.