How To Watch The New Scooby-Doo Movie 'Scoob!' From Home
Another weekend in isolation means yet another weekend where parents have to entertain their kids, but luckily, Scooby-Doo is going to distract them for at least a couple hours this weekend. Warner Bros. is skipping theaters and releasing "Scoob!" straight to digital for families to enjoy at home on May 15.
So how can fans watch the Scooby gang's origin story from home? "Scoob!" will be available via most digital retailers, including Apple, Amazon, YouTube, GooglePlay, Microsoft, Fandango and Movies Anywhere. The movie, which is available "for both Premium Video on Demand and premium digital ownership," according to the WB, costs about $24.99 to own from most retailers and $19.99 to rent.
The movie is expected to stay away from streaming for a while in the hopes that people will buy the movie. Do not expect it to join HBO Max, WarnerMedia's streaming service launching later this month.
Much like Universal's "Trolls World Tour," Warner Bros. is trying to keep Scooby fans excited and occupied throughout premiere day. They have a 44-page activity pack full of print outs like coloring sheets, word searches, paper cutouts and more. They also have activities for the family to do together, like recipes and scavenger hunts. The official "Scoob!" website also includes many online games and activities. Fans are also encouraged to submit photos on ScoobySelfie.com to get Scooby-Doo filters.
The PG movie's cast includes plenty of names parents will recognize. Will Forte voices Shaggy, Mark Wahlberg is Blue Falcon/Brian, Jason Isaacs voices Dick Dastardly, Gina Rodriguez plays Velma Dinkley, Zac Efron portrays Fred Jones, Amanda Seyfried voices Daphne Blake, Kiersey Clemons provides the sound for Dee Dee Skye, Ken Jeong voices Dynomutt, Tracy Morgan plays Captain Caveman, Simon Cowell lends his voice as himself and Frank Welker is Scooby-Doo. Welker has been voicing the character since 2002 and was in the original 1969 cast as Fred.
According to Deadline, the crew was able to put the final touches on the computer-animated "Scoob!" while social distancing. Employees had to have identical monitors and speaker systems to make sure that all color and sound changes lined up correctly for everyone. Actors recorded any extra dialogue by iPhone.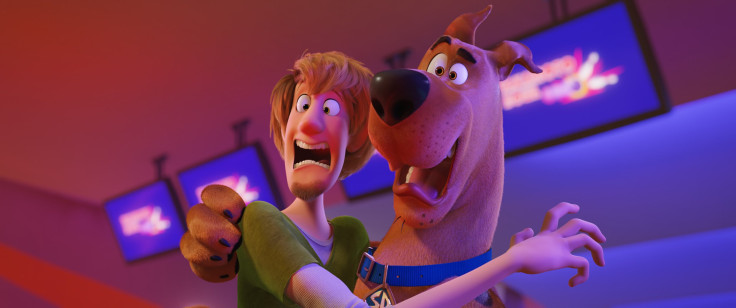 © Copyright IBTimes 2023. All rights reserved.