'Hunger Games' Premiere: Jennifer Lawrence in Gold, Miley Cryus' Belly-Baring Dress and More [PHOTOS]
The Hunger Games movie premiere took place Monday night at the Nokia Theatre in Los Angeles, Calif., with the star-studded cast making their red carpet debut. Jennifer Lawrence, The Girl on Fire, stepped out in a gold gown, while Miley Cyrus supported boyfriend Liam Hemsworth in a belly-baring dress.
Jennifer Lawrence looked absolutely breath-taking in a gold Prabal Gurung gown for the premiere of her big film. Lawrence stars as Katniss Everdeen, the leading lady of The Hunger Games. Right now I'm terrified out of my mind, she told E! News about the debut of the film. I feel like a shaking Chihuahua at the door...I'm so out of my mind stressed and excited that I don't know how I feel. Lawrence complemented her gown with a chic hairdo -- a bun with gold strands woven into its braid.
I'm a girl. I'm never going to look in the mirror and be like 'Yeah!...I'm going to look at myself and see my flaws and be like, I had a pimple that day. But that's normal, right?! she added.
Lawrence beat out the likes of Chloe Moretz, Hailee Steinfeld, Emma Roberts and Shailene Woodley for the role of Everdeen in The Hunger Games.
The people who used to ignore me at parties, now they're nice to me and kissing my ass. But nobody's staked outside my house. I wanted to make sure that when I said yes, I wouldn't regret it. And I don't regret it. I would have said no because I was scared, and then I would have been that bitter actress telling my grandkids, 'I'm the one that turned it down.'
Lawrence explained to PopSugar that the physical training for the movie was quite daunting but her archery skills have improved. She's a tough person herself, a strong person, said Hunger Games co-star Liam Hemsworth.
Miley Cyrus also came out to support boyfriend Liam Hemsworth who plays Gale Hawthorne. Cyrus' Pucci dress was a belly-baring ensemble, complete with a bustier top and flowing gypsy skirt. E! News blasted the 19-year-old for her outfit choice, calling it skimpy and critics on Twitter agreed. Others felt like Cyrus make it work. She completed her look with Christian Louboutins. His mom made me wear stilts, Miley said. Her boyfriend's mom convinced her to wear sky-high stilettos to lessen the height difference. I'm like five feet, so I need my 'Liam shoes.'
Though Cyrus is used to the spotlight herself, she was happy to be there to support her boyfriend, saying that he is very excited about the role. I just have to be arm candy tonight.
The Hunger Games will be released in theaters on March 23. If you are lacking on your Hunger Games knowledge, click here to read seven things you must know before the movie premieres.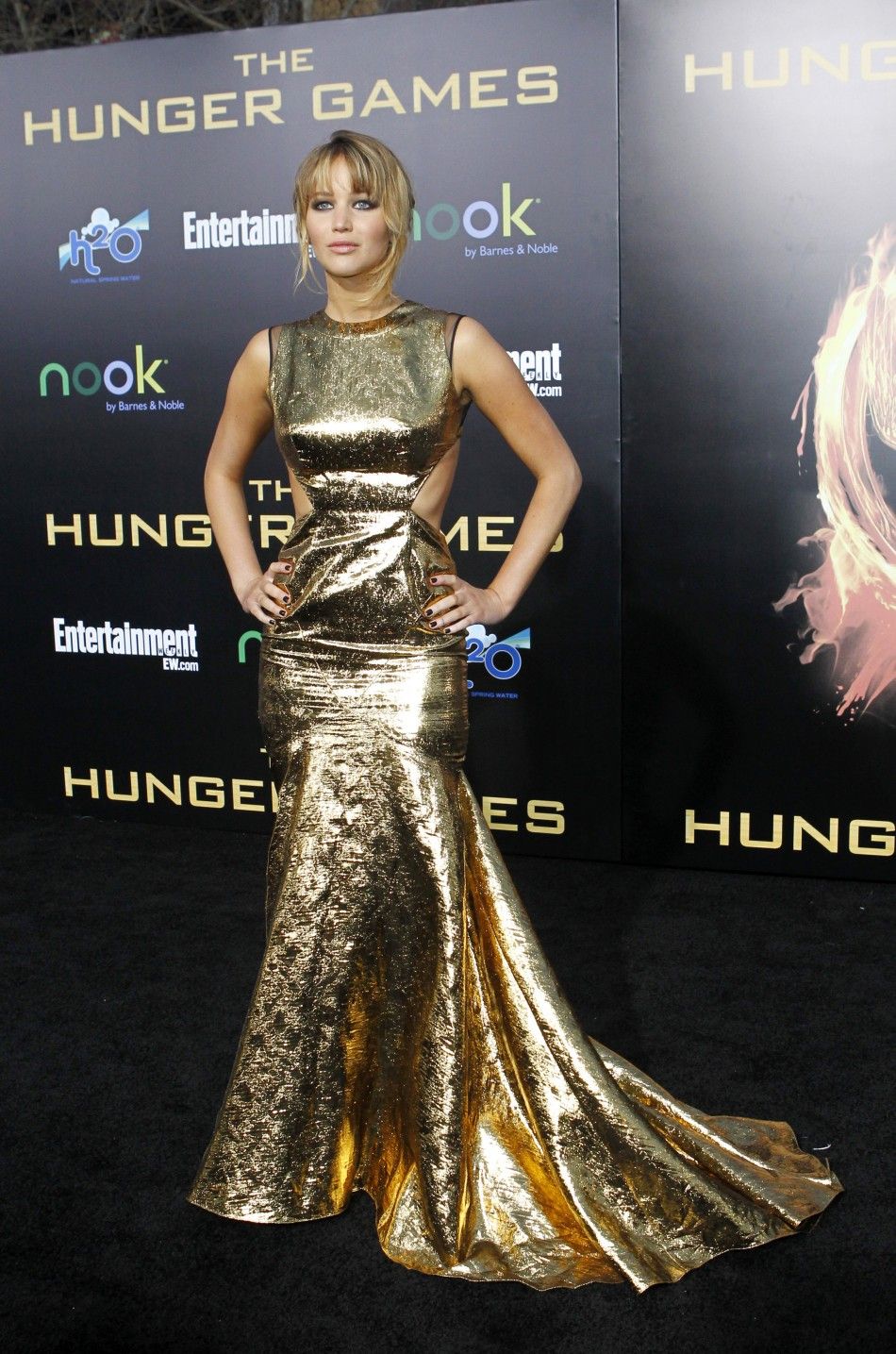 © Copyright IBTimes 2023. All rights reserved.