Hurricane Arthur Downgraded To Category 1 After Leaving North Carolina Without Power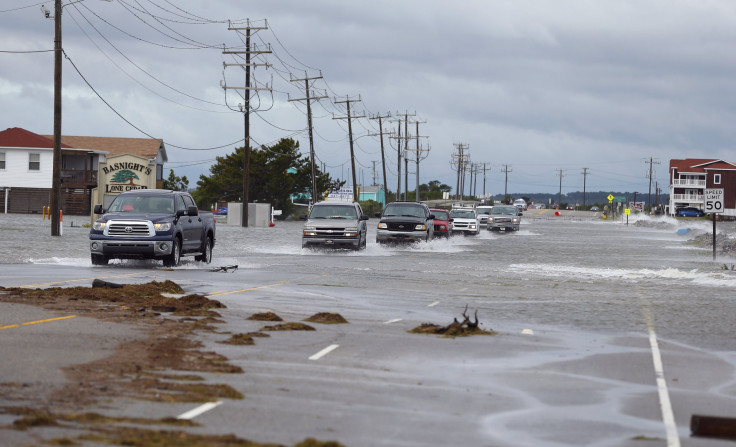 UPDATE 2:12 PM EDT: As of 2 p.m. EDT, the National Weather Service warns that coastal flooding is possible along Cape Cod, Massachusetts starting tonight. An additional two to four inches of rain are also expected in eastern Rhode Island through eastern Massachusetts and into coastal Maine.
The National Hurricane Center downgraded Hurricane Arthur from a Category 2 storm to Category 1 as the system moved took aim toward Canada.
NWS' National Hurricane Center is reporting Hurricane Arthur is beginning to weaken, with winds decreasing to less than 90 mph as it pulls away from North Carolina. Hurricane warnings were canceled but tropical storm warnings were still in effect for the North Carolina-Virginia border to as far north as Prince Edward Island, Canada. While the worst of Arthur has passed North Carolina, thousands in Outer Banks, the coastal region of the state, have been left without power.
Last night Arthur was at Category 2 strength when it touched down in North Carolina at 100 mph speeds between Cape Lookout and Beaufort. Power companies in both the Carolinas are reporting about 44,000 households without power.
The coastal regions of the Carolinas and Virginia expected to see huge crowds over the Independence Day long weekend, but storms have dampened business.
"This is a badly needed weekend for the businesses here," Carol Dawson, the owner of two motels and a store in North Carolina's Haterras Island village told the Raleigh News & Observer. "For three straight years we've lost the entire fall season [to hurricanes]."
As of 11 a.m. EDT Friday, Arthur was moving northeast at 24 mph toward Massachusetts, and is expected to dump large of amounts of rain all along the east coast as it heads toward Prince Edward Island, Canada. Arthur is expected to continue to lose speed and be downgraded to a tropical storm Saturday as it heads further north.
© Copyright IBTimes 2023. All rights reserved.