Hurricane Elsa Expected To Reach Land At Midnight As Category 1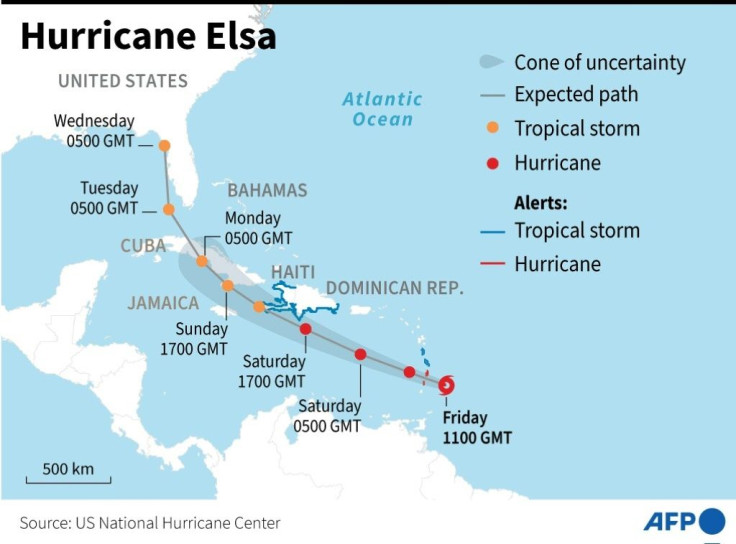 Hurricane warnings have gone into effect for Florida's west coast as Tropical Storm Elsa has been picking up speed. Forecasters fear it could become a Category 1 hurricane by the time it reaches land around midnight just north of Tampa Bay as it moves at 10 mph.
As of 5 p.m. ET, Elsa had maximum sustained winds of 70 mph, making it just 4 mph short of a hurricane. Residents of Hernando and Citrus counties are home to many retirees who tend to live in mobile homes, and the incoming storm may mean an evacuation.
The Miami-based National Hurricane Center is warning residents of life-threatening storm surges, flooding, and isolated tornados.
NPR is reporting 3-5 inches of rainfall, with eight inches expected in the Florida Keys on Wednesday and into the south and southwest parts of the state. The storm surge has the potential to reach five feet over dry land in the Tampa area if Elsa passes at high tide.
Gov. Ron DeSantis expanded the state of emergency to cover roughly a dozen counties that could be affected by the hurricane, and President Biden has approved an emergency declaration for the state.
Forecasters have predicted the storm will hit Georgia and South Carolina after Florida. Tornados could strike the coastal Carolinas and Georgia as Elsa moves north. Virginia may also be impacted by Elsa from Wednesday night into Thursday. The storm is expected to weaken as it moves inland.
© Copyright IBTimes 2023. All rights reserved.