Hurricane Harvey: Aerial Photos, When Will It Hit, How To Prepare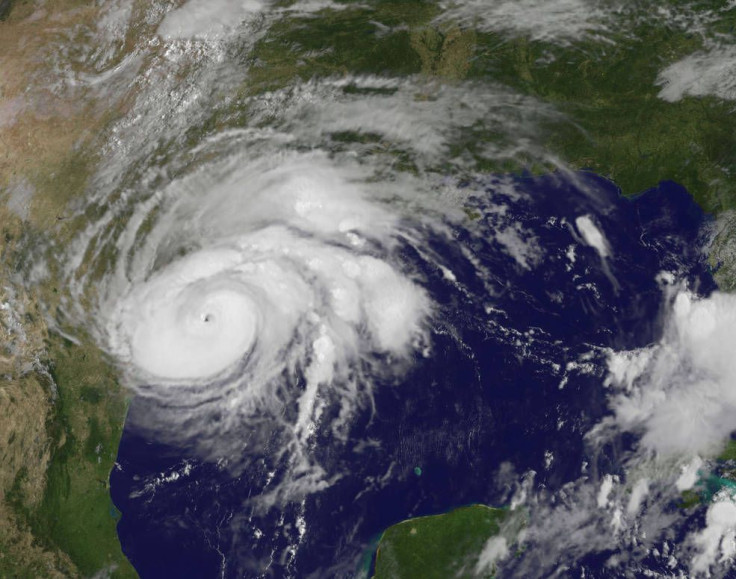 Hurricane Harvey is threatening the coasts of Texas and Mexico as it builds in the Gulf. Aerial photos taken from the International Space Station show that Harvey, which started as a tropical depression earlier this week, has grown. The thick white cloud hovering over the Gulf was moving at a speed of 10 miles per hours on Friday morning.
Astronaut Jack Fischer tweeted a photo of the storm Friday morning taken from the ISS. The message that accompanied the photo was one of well wishes. "Oh boy – looks like a ton of rain is about to unload. Here's a prayer for family, friends & everyone in #HurricaneHarvey's path--stay safe," he wrote.
The National Hurricane Center upgraded Harvey's status to category two hurricane, the storm now has maximum sustained wind speeds of 110 mph. A category two is described as a storm with "Extremely dangerous winds will cause extensive damage," according to the NHC. Those in the path can expect that "Well-constructed frame homes could sustain major roof and siding damage. Many shallowly rooted trees will be snapped or uprooted and block numerous roads. Near-total power loss is expected with outages that could last from several days to weeks."
If the wind speed picks up, even by just one mile, Harvey will become a category three hurricane. This storm is classified by winds that range from 111 to 129 mph and it is even more extreme than a category two. The NHC says "Devastating damage will occur," with a category three. NASA satellites are closely watching the storm and measuring the rainfall, humidity and tracking its movement as it approaches land. A video taken from space shows the storm swirling and moving in the Gulf.
Currently estimates of rainfall are above 20 inches in some areas. As the storm approaches it's important for residents in the area where it will hit to be prepared. One of the best thing residents can do is heed warnings from the National Weather Service and the NHC.
The United States government recommends that residents know where to go should they be asked to evacuate, several counties have already ordered evacuations and more will likely follow. In addition to knowing the route out, a guide on ready.gov says those evacuating should have a plan about where to go and have a to-go bag ready with supplies like food, water and first aid supplies ready. For those who opt to stay in their homes, they should also prepare by stocking some water and food, enough to last incase of a loss of power or compromised water supply.
Following the progress of the storm online, on TV, via apps or on the radio is also important to be best prepared for when it hits. The U.S. government also recommends turning the fridge or freezer to its coolest setting and putting a thermometer in it so that in the case of a power outage the food will stay cool for as long as possible.
The state of Texas also has a guide to the best practices when evacuating posted to its website. For those sheltering in place there are tips about boarding up the home, securing outdoor objects and having supplies to ride out the storm available online as well.
Harvey is expected to cause quite a bit of damage and even the loss of life so those recommended to evacuate should try to leave to a safer area. Public shelters are available and a list of them can be found here.
© Copyright IBTimes 2023. All rights reserved.
FOLLOW MORE IBT NEWS ON THE BELOW CHANNELS