If Donald Trump Goes Independent, Will He Be The New Ross Perot?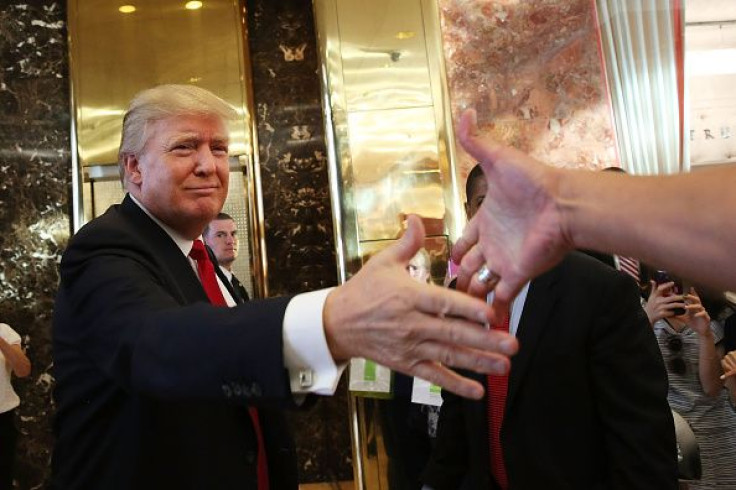 Even if he does not secure the Republican bid, Donald Trump's name may still be listed on the presidential election ballot come November 2016. Trump said Thursday he would consider a run as an independent candidate if the Republican party does not treat him fairly. The threat conjures flashbacks of the 1992 election when businessman Ross Perot stomped onto the scene as an alternative to frustrated Republicans and derailed Republican President George H.W. Bush's efforts to defeat Democratic nominee Bill Clinton.
The presidency has never held by a third party, but some worry that as an independent Trump may gain enough traction to hold Republicans back from the Oval Office, just like Perot did to Bush in 1992. That year, Clinton defeated Bush with only 43 percent of the popular vote to Bush's 38 percent, while Perot received 19 percent, a figure which theoretically could have gone to the GOP.
From page one, Trump's narrative draws considerable parallels to Perot, who ran in 1992 and 1996. Both tapped into their families and spun their money in order to launch businesses: Perot, then a salesman, used $1,000 from his wife to found his information technology company Electric Data Systems, and Trump, as a recent college graduate, used $200,000 earned working for his father during college to buy and refurbish bankrupt hotels. The self-made billionaires established themselves as highly successful businessmen, entering the race with no political experience on a platform that emphasized their leadership as heads of large companies.
With election day less than nine months away, Perot joined the race almost mindlessly, remarking during a Feb. 1992 taping of "Larry King Live" that he would run if voters put him on the ballot in all 50 states. But the quasi-presidential run announcement got him ahead in the polls by mid-May as a Reform Party candidate.
"Can he also make a serious run for the White House?" wrote the Washington Post in April 1992. "In an ordinary election year the question would be laughed off the table. Not so in 1992: There is such hunger in the land for something different that voters may soon draw a new candidate into the race who is anything but ordinary."
Other third party candidates have had varying degrees of success in their presidential bids. After losing the Republican nomination in 1980, John Anderson amassed more votes than any other independent candidate in a presidential election, but did not carry one precinct. In 2012, Gary Johnson ran as a Libertarian after failing to snag the Republican nomination. He earned a record 1.3 million votes for the Libertarians, but didn't make much of a difference in the race against President Barack Obama and Republican Mitt Romney.
Others, such as Ralph Nader, have been blamed for "stealing" elections. Nader ran as a Green Party candidate in the 2000 presidential election against Republican nominee George W. Bush and Democratic nominee Al Gore. Bush won the election with a crucial 537 more votes than Gore in Florida, where Nader won almost 100,000 votes. In turn, Democrats claimed Nader was responsible for Gore's defeat.
Trump said in an interview published Thursday that any third-party bid would depend on the Republican National Committee's attitude toward his campaign during the party's primary selection process. "I'll have to see how I'm being treated by the Republicans," Trump told The Hill. "Absolutely, if they're not fair, that would be a factor."
Perot's campaign was bolstered with his own money, and Trump could have the same advantage with his fortune that eclipses Perot's. Surely Trump could afford the same $12 million Perot put towards his 1992 campaign before he briefly dropped out of the race in July. Perot even said at one point that he was willing to spend up to $100 million on the campaign, the New York Times reported.
Donald Trump Presidential Candidate Profile | InsideGov
Fame and incredulity are cornerstones of Trump's campaign, and the same case could be made for Perot, who also had a thick-skinned approach to controversy. "Perot fires back at his attackers in his own style," read a June 1992 USA Today headline. "Answers not arrogance would serve Perot best," read another headline that year. And just as the press has delighted in Trump's constant flow of sound bites, the same went for Perot. Reputable newspapers called Perot "jug-eared" and the "buccaneer billionaire," while Trump's hair gets as much airtime as his stance on gun control policy.
Despite ridicule from the media, the embattled candidates triumphed with promises to shake up Washington. Trump has been pegged as the Republican candidate to beat by several recent national polls. And in June 1992, Perot had the lead with 34 percent in a Washington Post-ABC poll, while Bush polled at 31 percent among registered voters. Clinton trailed with 29 percent. In response to media scrutiny, Perot dropped out of the race in July, only to join again on Oct. 1. On Election Day, Perot won 19 million votes, but not a single state or electoral vote, reported Forbes.
Matthew Lebo, a professor of political science at Stonybrook University in New York, said Perot was able to pull in a considerable amount of the popular vote because he stole votes from candidates of both parties -- something he says Trumpt won't be able to pull off because of his far-right conservative leanings. A pro-choice candidate, Perot was ideologically in the center, appealing to Democrats and Republicans alike.
"Trump, if he runs for independent, I would classify his race as more like Ralph Nader where he would poll from the extreme of one party," Lebo said, adding, "There is no way Trump would get 19 percent even if there was 19 percent of the country that wanted to vote for him because they would realize that by voting for him, their vote would be wasted on him and the Democratic candidate could win."
Perot also had an edge in that he was able to talk policy, where as Trump has not focused on serious policy proposals.
"He is totally incoherent on policy," Lebo said. "He doesn't know anything about international politics and can't use loud language [that he has been using] when it comes to the debate."
But like Trump, Perot was considered a long shot and he was still able to go all of the way to the ballot.
''We're all crazies,'' Perot said on Nov. 3, 1992. ''But there are millions of crazy people in this country. ... It's going to be a crazy day at the polls.''
The same sentiments may be echoed in November 2016.
© Copyright IBTimes 2023. All rights reserved.