IFA 2022 Top Ten Picks: Leica Cine 1, Honor 70, ASUS Zenbook 17 Fold and More
This year's IFA 2022 in Berlin was bustling with exciting new launches of many rumored and also less rumored devices. Here are the Top Ten Best of IFA 2022 picks from IBTimes: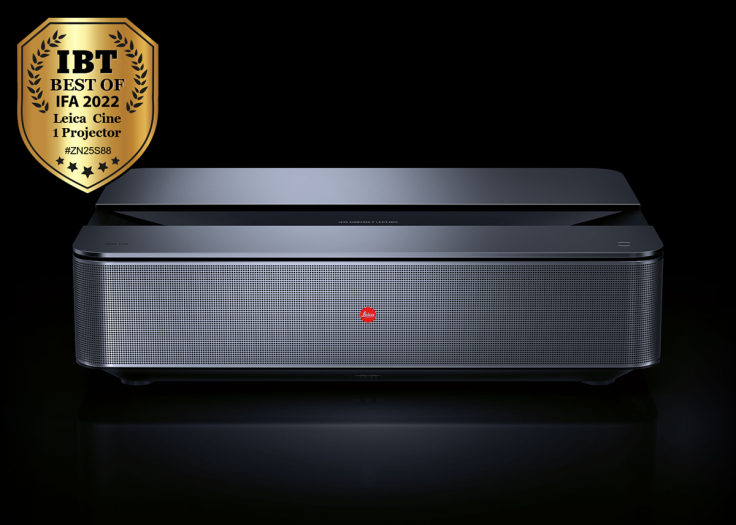 Leica Cine 1 Projector
A household name for photographers that is less known among average consumers is set to change its status, with their new generation laser TV projector announced at the IFA 2022: the Leica Cine 1 Projector.
These are a big deal because they use ultra-short throw lenses to project a 4K image onto the screen. That means no more people walking in front of, or dodging the projection. The Cine 1 Projector can be beamed as little as six inches from the wall, making the room set up much easier. Being front and center of the room, it also doesn't hurt that these projectors have Leica's signature handsome minimalist aesthetics, making them a pleasure to look at even when they're off.
The Leica Cine 1 Projector will initially come in two configurations: 80" and 100" projections, and the legacy German camera company adds that the new generation projector also uses significantly less energy than OLED TVs of a similar size.
For a legendary camera company to transit into a product line that relies heavily on novel optics, it just makes perfect sense. To be launched in Europe in Q2 2023, the launch of the Leica Cine 1 Projector is one of the best news that came out of IFA 2022.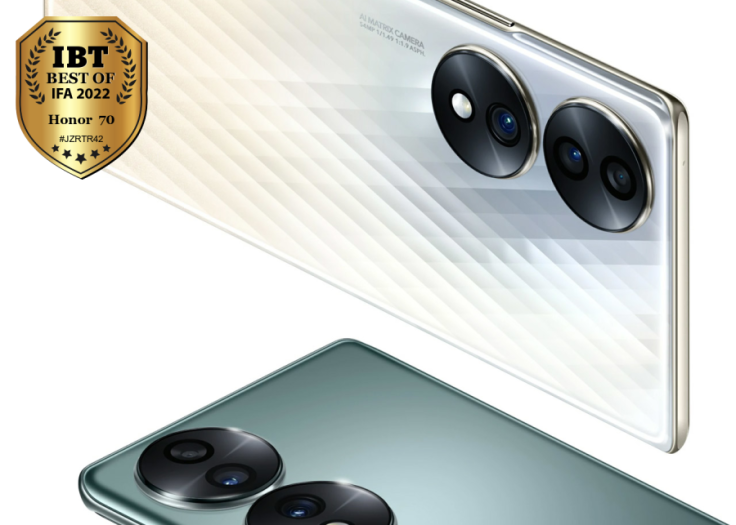 Honor 70 Smartphone
The Honor 70 might not be the company's flagship smartphone, yet it caught our eye as it presented an attractive package at the mid-range price point. It features not one, but two primary cameras on the rear: a 54 megapixel Sony IMX800 camera module, coupled with a super wide angle/macro 50 megapixel camera module. The Honor 70 also has a serious display game, with its 6.67 inch OLED display at FHD+ 2400 x 1080 resolution, 120 Hz refresh rate and curved 'bezel-less' edges. The third punch Honor throws is the 66 W supercharger that the phone is shipped with, which in our opinion seals the deal for a mid-range phone that offers a flagship phone experience.
We did a deeper dive into the Honor 70 and why we believe it's one of the best in IFA 2022 here.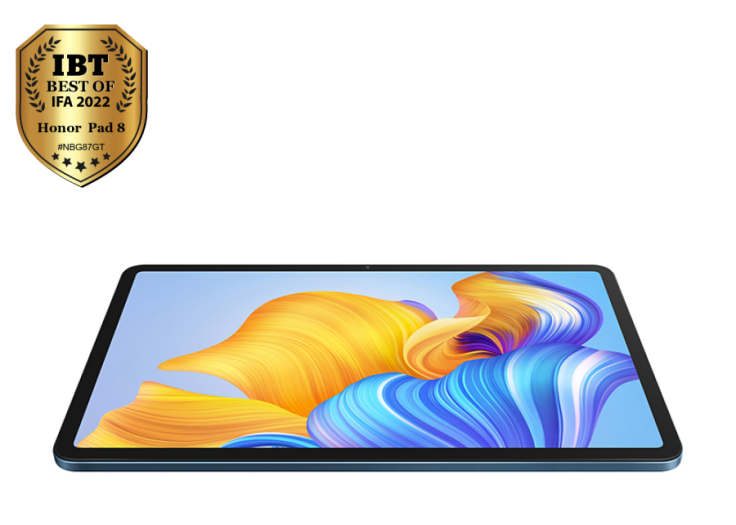 Honor Pad 8
Also from Honor, the Pad 8 sings a similar tune, demonstrating that mobile devices don't have to have all the latest bells and whistles, but just needs to play to their strengths.
The Honor Pad 8 has a sub-$200 price tag, but packs in the features where it matters. For its affordable price, it offers a 12-inch, 2K resolution IPS LCD, a lightweight metal unibody at 1.1 pounds, and a large 7250 mAh battery that comes with a 22 W fast charger.
More on why Honor Pad 8 was selected as one of the best in IFA 2022 here.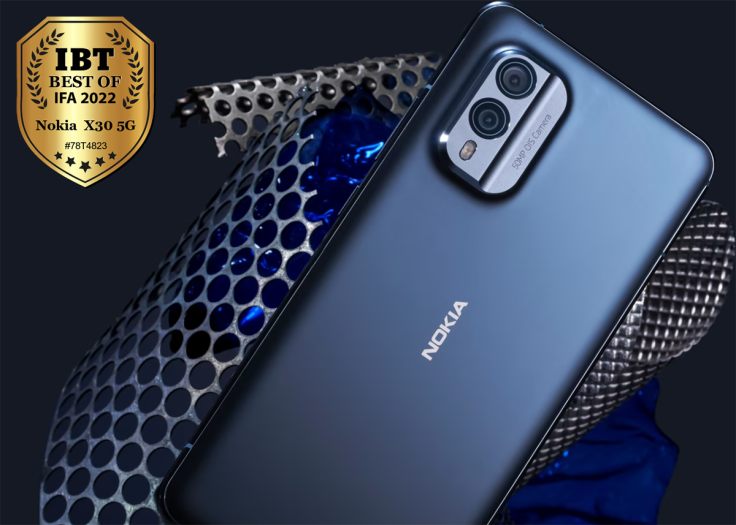 Nokia X30 5G
Nokia on the other hand is making different sets of choices for itself, as it launches a flagship that is accentuated for its environmental friendliness. Its body frame is made of 100% recycled aluminum, while its back is made of 65% recycled plastic.
What's more, the phone promises to avert the biggest waste: scrapping obsolete phones by making a 3-3-3 promise. Nokia promises to at least roll out security updates for the X30 5G for 3 years, supporting the phone for 3 OS updates (that is up to Android 15) and a 3 year manufacturer's warranty. With so many smartphone manufacturers promising to go green, the 3-3-3 promise is the most sincere and impactful action we've seen - the main reason why it's our pick for the best of IFA 2022.
Other than that, the Nokia X30 5G is also a decent phone. With an AMOLED 6.43 inch display covered with Corning Gorilla Glass Victus, 90 Hz refresh rate, and a peak brightness of 700 nits, it's a display that won't be deemed obsolete easily. Its rear 50MP big pixel PureView OIS main camera is quite a capable choice, bolstered by a 13MP ultrawide and a 16MP front facing camera. It also comes with a speedy 33W charger.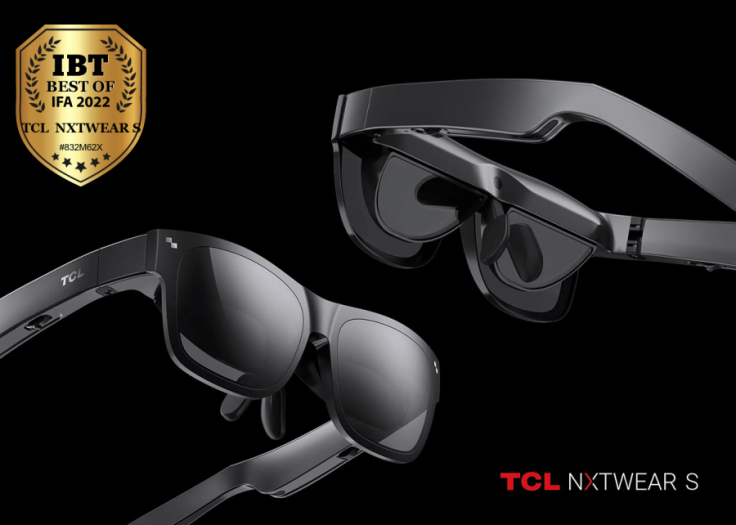 TCL NXTWEAR S
Is the future of mobile devices foldable displays? TCL seems to believe there's an alternate timeline that we can go down with micro OLED displays instead. Imagine putting on a pair of glasses that's just slightly bulkier than a pair of Ray-Bans and seeing a 140-inch HD display in front of you: that pretty much sums up what the TCL NXTWEAR S user experience will be.
The NXTWEAR S is the second generation display glasses from TCL, which is lighter and more compact than its predecessor. It is compatible with a variety of devices, which means you can use them for a range of applications, like video consumption, gaming, productivity or multitasking.
Since it's worn like a pair of glasses, you won't need to worry about space constraints or where to prop up a display. This has game-changing implications for commuting, working while traveling as well as entertainment, and is a leap from the current display experiences. The NXTWEAR S was an obvious choice for us when selecting the best of IFA 2022, an a deeper analysis of our choice can be found here.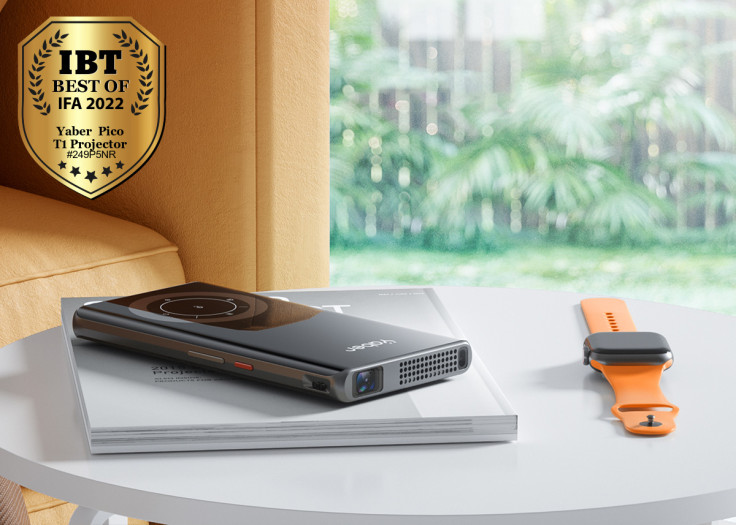 Yaber Pico T1 Projector
As great as wearable display glasses are, it still has its limitations in situations such as a group of people wanting to enjoy video content together. In such cases, other than squeezing heads together in front of a phone or tablet, a larger display solution would provide a much better shared experience.
The Yaber Pico T1 is a phone-sized projector that projects a 70" picture - equivalent to a decent sized TV. Compared to other competing micro projectors, it's lighter at 150g, higher resolution at 960 x 540p and brighter at 110 lumens, a significant step up from existing experiences.
The Pico T1 is compatible with a wide variety of devices, and can access content in three ways. The mini HDMI and USB-C ports allow a straightforward wired connection, as well as a secondary USB-C port for power. Wirelessly it can also be connected via Bluetooth and 2.4G or 5G Wi-Fi. And finally content can also be streamed directly through installing internal apps like YouTube Kids, YouTube, Hulu, HBO, Prime Video, Disney+, Netflix, etc.
The excellent performance and usability of the Yaber Pico T1 make it one of the best micro projectors around, and definitely the most exciting in IFA 2022 in our opinion.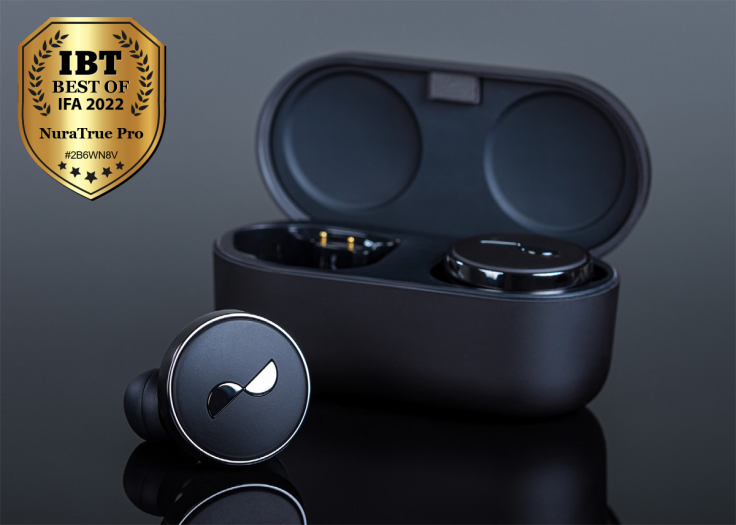 Nura NuraTrue Pro
The company that came up with Nuraphone's unique inner ear and outer ear cup design, has launched the world's first lossless wireless earphone. The NuraTrue Pro is an upgraded model of NuraTrue, which we have reviewed previously as one of the best earphones the company has released. NuraTrue is the most comfortable Nura headphones that we have used so far, and the proprietary personalization technology ensures a superior listening experience.
The Qualcomm aptX Lossless technology being deployed on the NuraTrue Pro enhances the listening experience even further, promising to recover 31%–56% detail in music that's lost to other compression and transmission methods. The Lossless technology has greater resolution than the current ceiling - Sony's LDAC connection that tops out at 990 Kbps, and is able to reach 1200 Kbps (Or 1.2 Mbps).
To introduce Lossless wireless music transmission to an already capable earphone like the NuraTrue got our hearts racing, and even though very few devices even employs a Qualcomm aptX Lossless transmitter, the new era of wireless earphones performing indistinguishably from wired earphones is being ushered in by Nura, a worthy choice for one of the best devices we saw in IFA 2022.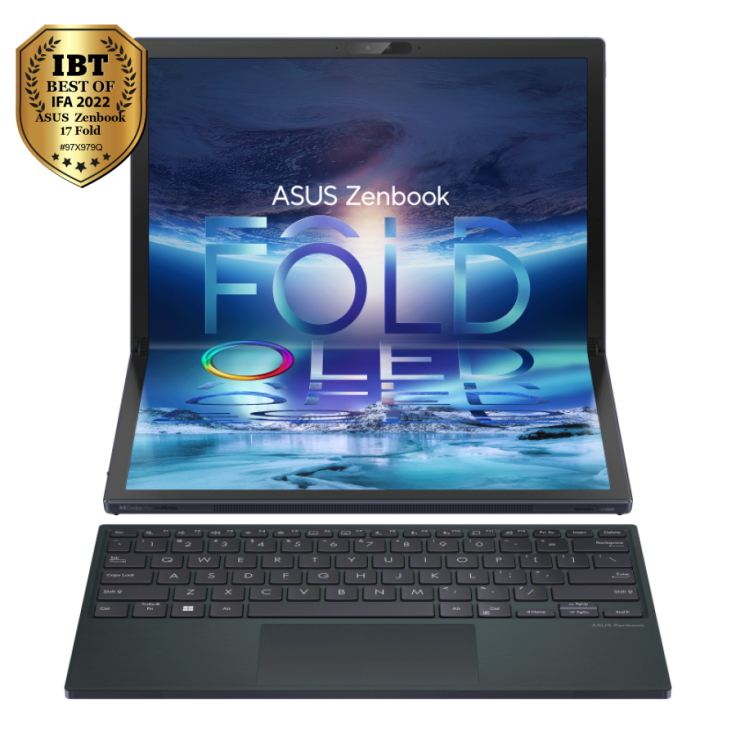 ASUS Zenbook 17 Fold
From the company that brought the world dual display laptops with the ASUS Zenbook Pro Duo, they are stepping up the display game further with its first foldable OLED laptop. The Zenbook 17 Fold can be folded up to become dual 12.5" displays that are connected with a seamless bend - becoming the ultimate dual display laptop, and it can also become a market leading 17.3" portable display when unfolded with a 2560 x 1920 resolution.
ASUS, like Honor, knows what's important in their first foldable laptop, as they went for an unrivaled large 17.3" size display coupled with a full sized keyboard and trackpad - a combo that would enable the user unprecedented multitasking while on the go. More of why we chose the ASUS Zenbook 17 Fold in our detailed review.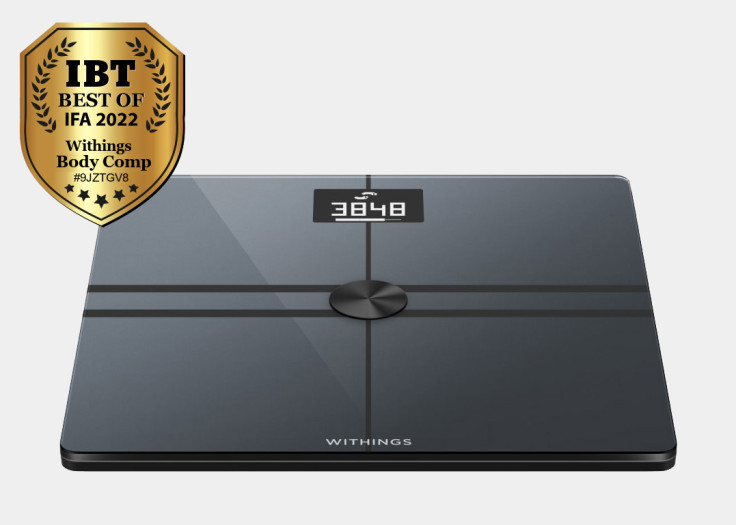 Withings Body Comp Scale
Having already extensive experience with the Withings Body Cardio Smart Scale, it was at first surprising to hear that the French health tech is releasing yet another smart scale. The initial surprise turned to delight at IFA 2022 when the Withings Body Comp was announced, a scale that includes even more functionalities to keep a closer monitor on the user's health.
The new addition to the Withings family adds to existing measurements with a new composition metrics: the visceral fat; as well as providing a Electrodermal Activity Score, measuring a person's peripheral nerve activity - a reading that is useful for monitoring diabetes, neurology and oncology. The Withings Body Comp also identifies changes in the user's cardiovascular health by measuring the Vascular Age and Standing Heart Rate.
Just as it is much more affordable and effective to monitor and do maintenance on machines, the same goes with our bodies. The strength of Withings devices is that they not only measure, but also journal one's health and monitor its changes over time. To have the new Body Comp Scale added to their ranks, Withings is scaling up (pun intended) its ever growing quest to provide at-home health measurement to enable early detection of unhealthy trends and constant improvement of one's health - a worthy product to be awarded IBTimes' Best of IFA 2022 pick.
Tecno Megabook T1
Last but not least is the Tecno Megabook T1, which might not be a brand name familiar to everyone, but is making splashes in the IFA 2022 because of its first attempt at an ultraportable notebook PC. As a 15.6" laptop, it boasts a very slim 14.8 mm (0.58 inch) thickness, and lightweight for its size at 1.48 kg (3.26 lbs) despite a full aluminum construction.
The Megabook T1's sleek figure did not cause the engineers to limit its port selection to USB-C ports, and always tethered to dongles. Instead, the Megabook T1 offers three USB 3.0 ports, two USB-C ports, and a full-size HDMI 1.4 port - this is a laptop that's made to never require a dongle in its lifetime.
The best feature about the Tecno Megabook T1 is probably one that no one knows about yet, which is its price. The company has historically offered affordable smartphones and tablets, and if the pricing of its first laptop is as competitive as its other devices, they would fly off the shelves. This is the precise reason why we deem it worthy of IBTimes' Best of IFA 2022 award.
© Copyright IBTimes 2023. All rights reserved.
FOLLOW MORE IBT NEWS ON THE BELOW CHANNELS