'I'm A Honky Tonk Girl' And Other Hit Songs By The Late Loretta Lynn
Country music superstar Loretta Lynn passed away at the age of 90 Tuesday but her musical legacy lives on. From her first No. 1 hit, "Coal Miner's Daughter" in 1970, Lynn has left a treasure trove of memories for her fans across generations.
Here are some of her best songs:
'I'm a Honky Tonk Girl' (1960)
Lynn's debut song launched her career in country music and its success also landed her on the stage of the Grand Ole Opry in Nashville and a contract with Decca Records. In the song, she sings, "Ever since you left me, I've done nothing but wrong."
'Dear Uncle Sam' (1966)
This song, characterized by banjo chords and waltzing rhythm, is Lynn's first song to touch on social issues. Here, she sings to "Uncle Sam" after her man was called to serve in the Army. "You said you really need him but you don't need him like I do/Don't misunderstand I know he's fighting for our land/I really love my country but I also love my man."
'You Ain't Woman Enough' (1966)
This song came from the album of the same name, which became her first No. 1 album on the U.S. Billboard Hot Country Albums chart and her first album to hit the Billboard Top 100 LPs chart.
At a time when "girl power" as a slogan was not yet heard of, Lynn showed what it is to be confident and in love, as she sings to a rival, "Women like you they're a dime a dozen, you can buy 'em anywhere/For you to get to him I'd have to move over/It'll be over my dead body, so get out while you can/'Cause you ain't woman enough to take my man."
'After the Fire Is Gone' With Conway Twitty (1971)
Lynn and Twitty scored the first of their five Billboard Country Chart No. 1 hits with this song that tackles a longing between two married people to celebrate their love secretly. The song won a Grammy for best country performance by a duo or group.
'Silver Threads and Golden Needles' With Dolly Parton, Tammy Wynette (1993)
Lynn recorded this song with fellow country music singers Dolly Parton and Tammy Wynette for their collaborative album "Honky Tonk Angels." The song goes, "You can't buy my love with money/Cause I never was that kind/Silver threads and golden needles/Cannot mend this heart of mine."
The song was nominated for a Grammy for best country vocal collaboration and was also nominated for CMA Awards for Vocal Event of the Year.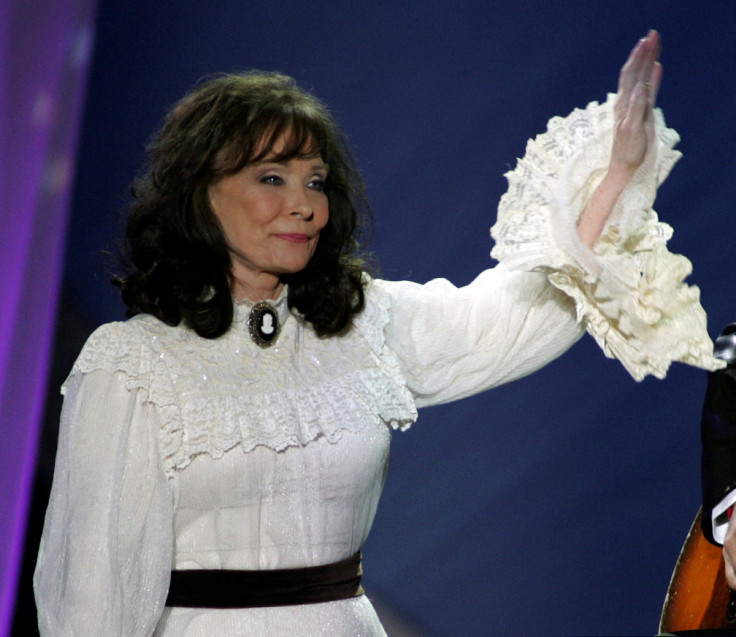 © Copyright IBTimes 2023. All rights reserved.