Imminent Attacks? Trump Originally Ordered Soleimani's Death In June
KEY POINTS
Trump originally authorizied killing of Soleimani in June
President said he would only sign off if Iran killed an American
New revelation undermines claims that killing was to prevent American deaths
President Donald Trump didn't originally authorize Iranian Maj. Gen Qassem Soleimani's killing this month, said several White House officials. Instead, the plan was given the go ahead in June – but given certain conditions.
A group of five current and former members of the Trump administration told NBC News that although Trump cleared a strike on Soleimani seven months ago, it would still need his final approval. That would only happen, they said, if Iranian actions resulted in the death of an American.
This revelation could prove to be problematic for the White House. In defending the Jan. 3 airstrike which killed Soleimani and several other Iranian officials, the administration said the general had been planning imminent attacks against U.S. embassies. Less officially, the strike was intended as retaliation against the allegedly Iran-backed riot which lead to the U.S. embassy in Baghdad being breached.
Doubts about the urgent nature to assassinate Soleimani have persisted since the airstrike. Congressional Democrats have said that they were left completely out of the loop over the planned attack. They – as have at least two Republicans – have also heavily criticized the State Department's briefing of Congress after the strike as unconvincing. With it now known that Trump gave his approval of the attack in June, this rationale continues to crumble.
In June, Iran shot down a U.S. drone, prompting calls from members of Trump's administration to order a strike against Soleimani. Both Secretary of State Mike Pompeo and then-national security advisor John Bolton pushed Trump to follow this course of retaliation. The president, however, said that such an attack would only follow the death of an American and at the time declined to order the attack.
On Dec. 27, Nawres Hamid, a naturalized American working for a military contractor in Iraq, was killed during an Iranian missile attack targeting an Iraqi base. Although his death has been cited as contributing to heightened tensions with Iran, it hasn't been tied to the reasoning behind the order to kill Soleimani.
Whether the order was legal is still subject for debate. The House recently passed a resolution requiring Trump to seek approval from Congress before taking any further military actions against Iran. It now goes to the Senate, where it may struggle to see a vote on the floor, with House Speaker Nancy Pelosi's (D-Calif.) plan to release the articles of impeachment to the Senate this week. With the impeachment trial soon underway, the Senate might not have time to vote on Trump's war powers for several weeks.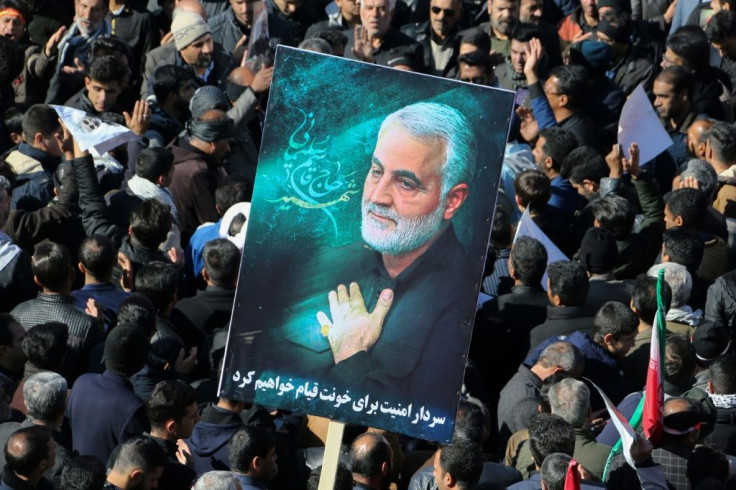 © Copyright IBTimes 2023. All rights reserved.