Impossible Foods To Cut 20% Workforce After Good Sales Growth In 2022
KEY POINTS
The vegan meat leader's CEO earlier said that Impossible's 'cash position is good'
The California-based company saw 'more than 50% dollar sales growth' in 2022
Interest for plant-based products appears to have cooled post-pandemic
Plant-based meat substitute maker Impossible Foods Inc. is reportedly preparing to lay off 20% more of its workforce after making a smaller staff reduction in October. The California-based company appeared to be doing well on finances before news of the layoffs emerged.
The plant-based burger and sausage maker's new round of staff reductions is expected to affect more than 100 employees out of its estimated 700 workers, a person with knowledge of the matter revealed to Bloomberg, as per a Monday report.
The outlet also viewed a document that revealed the company offered voluntary separation payments and some benefits to employees before 2022 ended.
In October, Impossible Foods cut 6% of its total workforce, as per a memo sent to employees, Food Dive reported.
At the time, CEO Peter McGuinness said in the memo that the layoffs will affect "roles that have become redundant to others in the organization or that are no longer aligned with our core business priorities."
The October layoffs came about a month after McGuinness said in an interview with Bloomberg Technology that the company was growing by 65% to 70% and the company had a good cash flow.
In the said interview, McGuinness said the company's "balance sheet is strong and our cash position is good."
The latest round of layoffs at Impossible Foods came less than a month after the food tech company reported "more than 50% dollar sales growth in 2022."
"The company continues to be the fastest growing plant-based meat brand in U.S. retail stores," Impossible said in a press release earlier this month, adding that its flagship beef product was its best-selling product by volume of any meatless brand in the country.
After its founding in 2011, Impossible reached the peak of its popularity in 2019 when it bagged huge deals with Burger King and food manufacturer OSI Group, and its Impossible 2.0 burger saw a massive increase in demand.
However, it appears that the hype for Impossible has cooled post-pandemic. From being ranked 24th in CNBC's 2021 Disruptors list of companies "growing and innovating through a challenging market and changed world," the food tech vegan leader has dropped to 49th place in the 2022 list.
Amid reports that the plant-based meat sector is now losing steam after reaching great heights in the past few years, McGuinness recently responded that "the fact is, we are growing."
Aside from its popular beef product, Impossible has expanded its product list over the years, adding sausages, meatballs, pork, chicken, and meatless frozen meals called Impossible Bowls.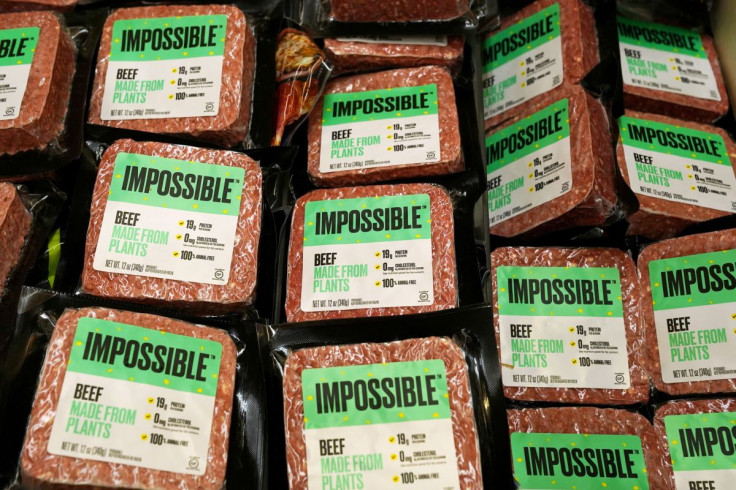 © Copyright IBTimes 2023. All rights reserved.