India And Israel Strengthen Fintech Industry Ties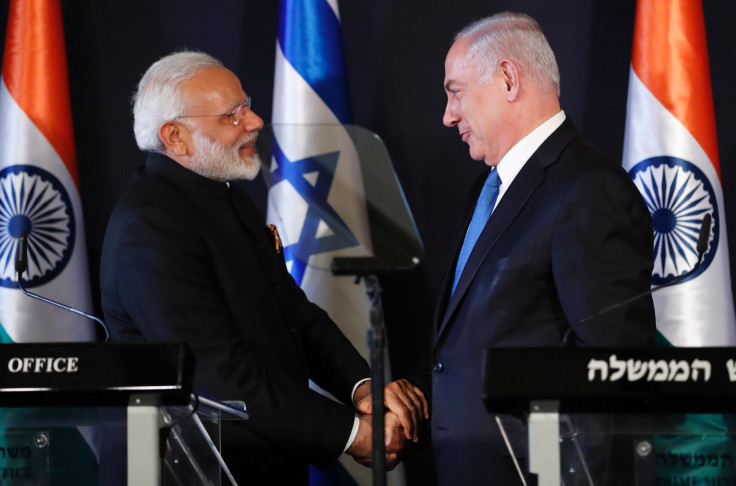 It's so common for young Israelis to backpack in India that Hebrew-speakers call popular Indian routes the "Hummus Trail." Now the cultural love affair between Israelis and Indians is permeating the tech industry, especially when it comes to finance and banking. India is modernizing its economic infrastructure, while hundreds of Israeli fintech startups look to expand beyond their country's population of just 8 million people. It's a match made in Bollywood heaven.
On Monday, several hundred Israeli tech experts and businessmen met with a delegation of Indian CEOs in Tel Aviv. "We're experiencing a huge growth in our business from the Eastern market," Jon Medved, CEO and founder of the Jerusalem-based equity crowdfunding platform OurCrowd, told International Business Times. "This really represents the next wave of the Israel-India connection, which was previously a defense and agriculture relationship. Now it's broadening out into technology in other areas."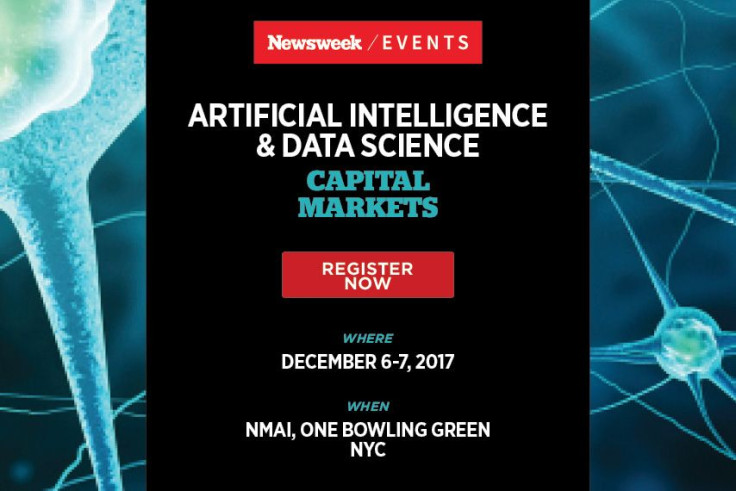 OurCrowd, which hosted Monday's event, has already signed four deals in India this summer, including one with the Indian wealth management giant Reliance Private Client and the Indian crowdfunding platform LetsVenture. The Israeli equity company also had a hand in launching the new Jerusalem Innovation Incubator, where India's Reliance Industries Ltd invested $25 million, plus Yes Bank's new fintech accelerator program in India.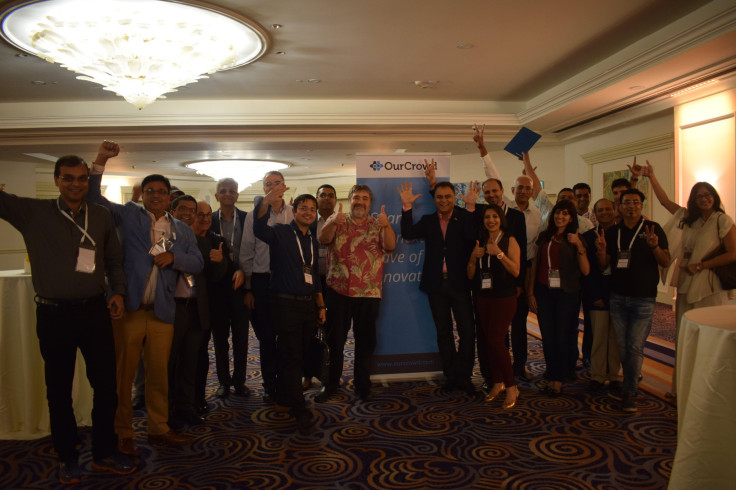 Medved said his company now works with more than 20,000 investors, who have invested $450 million, and he expects a third of OurCrowd's new deals will come from Asia over the next few years. Keep in mind Medved is just one of many Israeli businessmen pursuing India's fintech market.
Tal Sharon, managing partner at Equitech fintech consultancy in Tel Aviv, estimates there are around 500 Israeli fintech startups compared to India's 72, which serve a population of 1.3 billion Indians. "The Israeli-Indian connection is getting tighter and stronger," Sharon told IBT. "I see us working very closely with the Indian market."
Sharon flew to Mumbai in June for a fintech event organized by the Israeli consulate. Hundreds of Indian business leaders flocked to learn more about Israeli tech, especially startups with solutions for problems like connecting rural banking customers to mobile financial services. There are many cultural reasons why Israel-India collaborations are particularly fruitful.
Read: Will The Blockchain Boom Redefine India's Role In The Tech Industry?
Several Israeli businessmen told IBT that Indian hospitality, negotiation skills and business mentality mirror Israeli values. There is a smaller cultural gap between Tel Aviv and New Delhi than either has with more formal office cultures in London or New York. "Israelis are chaotic by nature," Medved said. "And India has that wonderful chaos we relate to."
Saket Agarwal, managing partner and founder of Onnivation in Mumbai, told IBT shared cultural values make Israeli startups uniquely compatible with the Indian market. Both communities prioritize religion, devotion to family and a keen eye for bargains. For example, the Israeli cloud management startup Spotinst is already very popular in Indian e-commerce companies because it allegedly found a way to slash up to 80 percent of costs just by optimizing data flow. "A scenario like this is very well-suited for the Indian mindset," Agarwal said.
Likewise, religion can have a huge impact on office culture and industry calendars. Israelis know how to work with that mentality. And unlike fiercely independent customers in the United States and Europe, both Israelis and Indians often make financial decisions as a family.
It's common for Israeli parents to buy their adult children a car or house, or at least contribute to the purchase and stay involved throughout the mortgage. Meanwhile, Indian adults often live together with their families in extended households, even raising children together. Luckily, Israelis have a flexible mindset.
"There are a lot of tools you can bring to the table, family management tools for savings, customer behavior tools," Sharon said. "A family pension or a family fund. It [culture] is very relevant." However, there are still some cultural barriers slowing down cross-border collaborations.
Agarwal said Israelis have a hard time trusting strangers, so most of his Israeli business associates want a recommendation from a fellow Israeli before committing to a partnership. Cost also represent a huge challenge, since India is still a developing nation. "There is a lot of respect for Israeli technology," Agarwal said. "The only challenge sometimes is the price point."
Agarwal hails from Calcutta, where he started off at his family's consulting business. He worked with around 10 Israeli companies before he realized he was handing off lucrative startups to Indian investors when he could be leading the charge. That's why he launched Onnivation in Mumbai last year, which so far as worked with at least five Israeli startups focused on banks and financial service providers.
"[Indian] banks call every week for more and more technologies, to be introduced to them [Israelis]," Agarwal said. "Two years ago, when I went to Israel for the first time, I saw companies that they seemed like jack posts, gold mines. [Now] I travel to Israel every two months and meet around 100 companies every time I go."
Fintech is a hot topic in India, with dozens of fintech conferences happening across the country over the past six months. That booming business sector is impacted by politics as well. In July, Indian Prime Minister Narendra Modi came to Israel for the first time, becoming the first Indian head of state to visit the Jewish nation. Israelis welcomed him with jubilance and Israeli Prime Minister Benjamin Netanyahu is already planning a reciprocal visit to India later this year. Vox even deemed the leaders' unusually congenial relationship an international "bromance."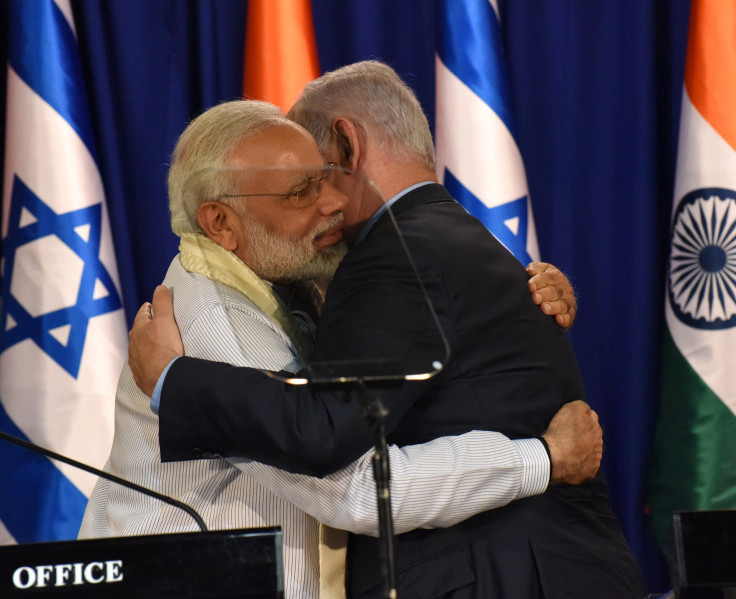 Rebecca Zeffert, founder and executive director of the Israel-Asia Center, told IBT Israeli and Indian political leaders are sending a strong message about both nations prioritizing and investing heavily in the India-Israel relationship. According to the Israeli newspaper Haaretz, the Israel Innovation Authority created two government-funded programs to encourage business partnerships with India.
"The roadmap, outlined by Israel and India during Prime Minister Modi's visit, will hopefully go some way towards providing a framework to help encourage and facilitate more of these partnerships, and deepen collaboration for the long term," she said. "The tech industry is a strong sector to catalyze this process."
FOR FREE to continue reading
✔️ Unlock the full content of International Business Times UK for free
offer available for a limited time only
✔️ Easily manage your Newsletters subscriptions and save your favourite articles
✔️ No payment method required
Already have an account?
Log in
© Copyright IBTimes 2023. All rights reserved.