INFINITE Confirms First Solo Concert In 7 Years: 'Comeback Again' Dates, Locations & More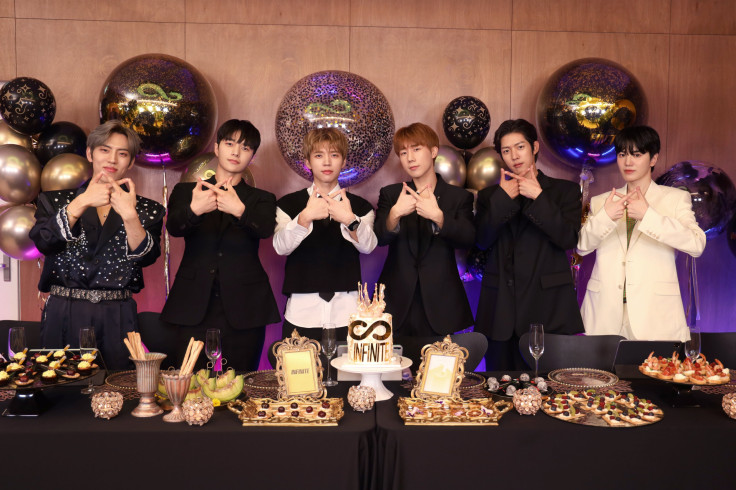 KEY POINTS
INFINITE announced the details of its upcoming solo concert
The last time the K-pop group had a solo concert was in 2016
The group is slated to release a new album on July 31
INFINITE is holding its first solo concert in seven years!
The K-pop boy group announced Friday the dates and locations of its solo concert, "Comeback Again," which will start in August.
The last time INFINITE held a solo concert was in 2016. At the time, all six members of the group performed in South Korea's Seoul and Busan as well as select cities in Japan for their "That Summer 3" concert.
According to the Friday announcement posted on INFINITE's social media accounts, Sungkyu, Dongwoo, Woohyun, Sungyeol, L and Sungjong will hold concerts in Seoul, Japan's Yokohama, Taiwan's capital Taipei, and Macau from August to September.
INFINITE will kick off "Comeback Again" with a two-day concert at the KSPO Dome in Seoul on Aug. 19 and 20, before heading to its other concert tour stops.
After performing in Seoul, INFINITE will reunite with its fans – collectively known as Inspirits – at Pacifico Yokohama National Convention Hall in Yokohama on Aug. 27, New Taipei City Exhibition Hall in Taipei on Sept. 2, and Studio City Event Center in Macau on Sept. 9.
Ticket purchasing details for INFINITE's comeback solo concert are yet to be announced.
Ahead of the group's concert, INFINITE will release a new album on July 31. The announcement was made Friday with an image showing the group's logo in gold, the phrase "COMING SOON" and the release date.
According to Herald Pop, INFINITE's upcoming album will mark the group's first full album in nearly five years, following 2018's "Top Seed."
In other news, the INFINITE members gathered on June 9 to celebrate their 13th debut anniversary as a group.
INFINITE celebrated with Inspirits through a live broadcast on YouTube. The group's leader, Sungkyu, also hinted at their comeback, saying, "Everyone, please save the dates, Aug. 19 and 20."
Back then, the members did not explain what will be happening on the dates Sungkyu mentioned.
INFINITE is a South Korean boy group formed by Woollim Entertainment in 2010. The group debuted with its first EP, "First Invasion."
In 2019, INFINITE's 2012 song "The Chaser" was ranked No. 3 by Billboard on its best K-pop songs of the 2010s list.
The group is currently composed of six members: Sungkyu, Dongwoo, Woohyun, Sungyeol, L and Sungjong. Originally a seven-member group, Hoya departed INFINITE on Aug. 30, 2017.
Hoya opened up about his exit during a 2017 appearance on "Radio Star," saying, "The things that I wanted to do and what the company wanted to do were different, and the contract expiring happened to be around the same time, so I left."

© Copyright IBTimes 2023. All rights reserved.