'Ink Master' Season 4 Finalist Walter 'Sausage' Frank Talks About Season Finale Tattoo, Biggest Competition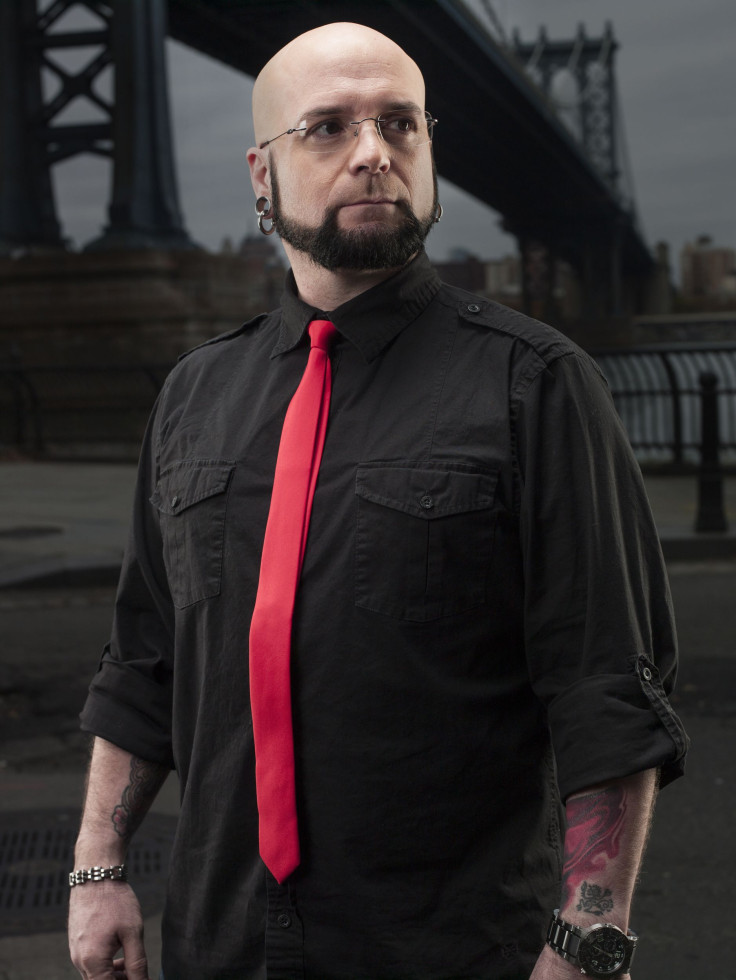 The battle for the title of "Ink Master" (and the $100,000 grand prize) is on! Only three contestants remain in Season 4 of Spike's hit reality show, and on Tuesday, May 20, a winner will be named. International Business Times spoke with Walter "Sausage" Frank, one of the top 3 finalists, who dished about his hardest challenges, the 35-hour back piece, and his biggest competition going into the finale.
With 13 years of experience, Sausage had all eyes on him from the start of the show just based off his history. Known for his realism, portrait and black and gray work, he has tattooed alongside "Ink Master" Season 3 winner, Joey "Hollywood" Hamilton, at Club Tattoo in Las Vegas. Hollywood gave him advice before appearing on the show, telling him that he must be able to do anything that walks in the door – and that's exactly how Sausage became one of five artists to earn his shop during the first "Ink Master" challenge. But unfortunately that also made him a target for his fellow competitors. Thanks to this season's twist, challenge winners were granted the ability to assign human canvases, and that resulted in Sausage getting a couple of doozy's along the way.
"It was definitely frustrating," Sausage explained of having a bulls-eye on his back. "It was extremely hard to know I was the one they picked on. And as much as people try to tell you to take it as a compliment, you know, I'm fighting for my life on the show to win $100,000."
One of the challenges that almost cost him his place in the top 3? The demon challenge in episode 8.
"Ink Master" fans will remember that Scott and Halo had the opportunity to dole out the human canvases, and there was one in particular that no one wanted to tattoo. The canvas wanted a gargoyle on his stomach – but he had loose skin due to weight loss, making it an un-tattooable area.
Sausage ended up turning the tables and convincing the human canvas to get the piece inked in another location. And while his struggle with his client was highlighted on-screen, viewers don't know the full story.
"The guy when he came on was like, 'I don't care about you at all. I don't care about the money, I don't get any of it,'" the tattoo artist explained. "So what I really had to do was dig deep and really just kind of prey on his vanity to get him to change his mind. And for me the biggest thing is trying to listen to the canvases wants and trying to work with them. Let them know that I was on their side, let them know that I wanted to do a really good piece, let them know that I was really there for them."
Sausage revealed that it took him almost three hours to convince the human canvas to move the piece in order to do a better job – and he only had a little over four hours to complete the tattoo.
"It was hell," he laughed.
As we all know, Sausage survived and fortunately didn't have a difficult canvas for his final piece – a 35-hour back tattoo.
"Thirty-five hours is not a long time to do an entire back," he explained of the tattoo, which is set to be unveiled during the Season 4 finale. "I can't say anything about what it's about; I can't say anything other than my client sat phenomenal. She couldn't have sat any better."
The 35-hour final tattoo was assigned during last Tuesday's episode of "Ink Master." Sausage and his competitors – Scott Marshall and Matti Hixson – were granted a couple of months to complete their work. Each artist was given an open canvas to design whatever they wanted, but the twist was that it must be a full back piece. However the open canvas isn't really something that Sausage took full advantage of.
"I worked more with her on the piece than really doing what I wanted to do because ultimately she lives with that for the rest of her life – not me," he told IBT. "And I know that she's an open canvas and she gave me that, but the last thing I was going to do was go in there and do something that was not going to fit her. And so I really feel that I worked on multiple layers getting this piece done. And not just going like, 'Alright, you're going to end up with a big hotdog on you.'"
And even though the tattoo is not what Sausage initially planned on doing, he gushed that it fits her beautifully and couldn't have asked for a better final canvas.
A lot is on the line with the final tattoo, and with three talented artists, anyone could take the grand prize. But who does Sausage think his biggest competition is? None other than Matti Hixson.
"He was silent the entire show," explained Sausage. "And if he can go in there and he can take out Halo to move onto the top three then that's a threat."
"If you think about it people automatically knew that I was going to make the top three," he continued. "People automatically knew that Scott was going to make the top three. Nobody knew between Halo and Matti who was going to make the top three. And ultimately it came down to score cards, it came down to who they really wanted to see in the end and they thought that Matti had something to prove. So I fear Matti like no other."
According to Sausage, the most shocking elimination this season was Halo's.
"Honestly, I think if it would have been Halo, Scott and I that would have been a phenomenal top three," Sausage dished. "And I'm not putting anything against Matti by any means because he's there rightfully. But in my mind I pictured it as being Halo, Scott and I."
And Halo's not the only one he thinks drew the short straw this season.
"Melissa got shafted I think," referring to the Japanese snakes challenge in episode 11. "If you look at that challenge just because Scott had more wins than her, you know, ultimately Scott should have went home."
Sausage will face the "Ink Master" judges – Dave Navarro, Oliver Peck and Chris Nunez – along with the fellow two finalists on Tuesday, May 20, at 10 p.m. EDT on Spike. And with a sassy tagline from his vegetarian final canvas – "Even vegans love sausage" – Walter "Sausage" Frank is confident that he can come out the Season 4 "Ink Master" winner.
FOR FREE to continue reading
✔️ Unlock the full content of International Business Times UK for free
offer available for a limited time only
✔️ Easily manage your Newsletters subscriptions and save your favourite articles
✔️ No payment method required
Already have an account?
Log in
© Copyright IBTimes 2023. All rights reserved.