Inside Adam Levine, Behati Prinsloo's Los Angeles Home: 'Our Perfect Sanctuary'
KEY POINTS
Adam Levine and Behati Prinsloo took fans inside their Los Angeles home
Levine said their modern farmhouse "feels like a genuine unicorn"
They made sure their furniture is safe for their kids and that the space will be enjoyable for them
Adam Levine and Behati Prinsloo are in love with their "perfect sanctuary" in Los Angeles.
The couple recently took fans inside their family home in the upscale Pacific Palisades neighborhood of Los Angeles. According to the Maroon 5 frontman, the modern farm house, which was designed by Cliff May in the late 1930s, had been the perfect place to spend the lockdown in over the past year.
"The COVID lockdown made us especially grateful to have this place," Levine told Architectural Digest. "In a world where nothing ever seems to be enough, our home feels like a genuine unicorn, our perfect sanctuary."
"It's really all that we need or want," Prinsloo quipped.
Prinsloo and Levine purchased the home for $32 million in 2019 from exes Ben Affleck and Jennifer Garner. The property comes with about 8,800 square feet of living space, five bedrooms and eight bathrooms., along with an office, gym, art studio and a swimming pool, Los Angeles Times reported.
Levine and Prinsloo already knew what they wanted when they were looking for a home. In fact, they had a specific aesthetic in mind that they wanted for their abode.
"We didn't want a palatial McMansion. That's just not who we are. We were attracted to this place because it felt homey. You could tell that kids had lived here before," Levine explained.
The walls of their home are decorated with pieces by various artists, including Rashid Johnson, Raymond Pettibon and Sage Vaughn, and the couple also had their furniture custom-made. Levine also put on display some of his favorite pieces of fashion, such as an original pair of Jordan 1s in their kitchen.
"I love the aesthetic of a worn out classic shoe. It's weird that it's in the kitchen, but whatever," Levine continued. His model wife appeared supportive of his style, adding, "We love it."
Aside from Prinsloo's "dream come true" closet, Levine also has his own walk-in closet for his collection of sweats, T-shirts and shoes that he said was inspired by Kanye West.
"Very shamelessly, the muse for the closet was basically watching the famous David Letterman/Kanye West interview, because I saw Kanye's closet and just started to drool," Levine confessed.
The couple, who shares two daughters Dusty, 4, and Gio, 3, also made sure that their home is safe and enjoyable for their children.
Levine said they were huge fans of the Clements Design and that their L.A. house was the second home they did together. He also complimented the "very Clemency" choice of furniture, such as the super low coffee tables, which they find "cozy and amazing with little, tiny kids."
"It's nice cause then you don't have to worry about them smashing their faces against the corners," Levine explained.
Their home also features a huge outdoor space where they can play and run around with their kids.
"It's fun because the kids can kind of run on the lawn," Prinsloo said as she showed where they usually sit and listen to music when it's cold in L.A.
Their property appears to be a hit among celebrities. Aside from Affleck and Garner, former homeowners include Gregory Peck and his first wife, Greta, in the 1940s to 1950s and mega-producer Brian Grazer.
Last year, Levine addressed rumors that his wife was pregnant again. At the time, the musician said they were fine and happy with their two kids and had no plans to add more to their brood.
"No, she's not currently pregnant," Levine said. "I think if I asked her to have another baby right now she'd punch me in the [expletive] face, because she's not ready. We're good. We've got two kids."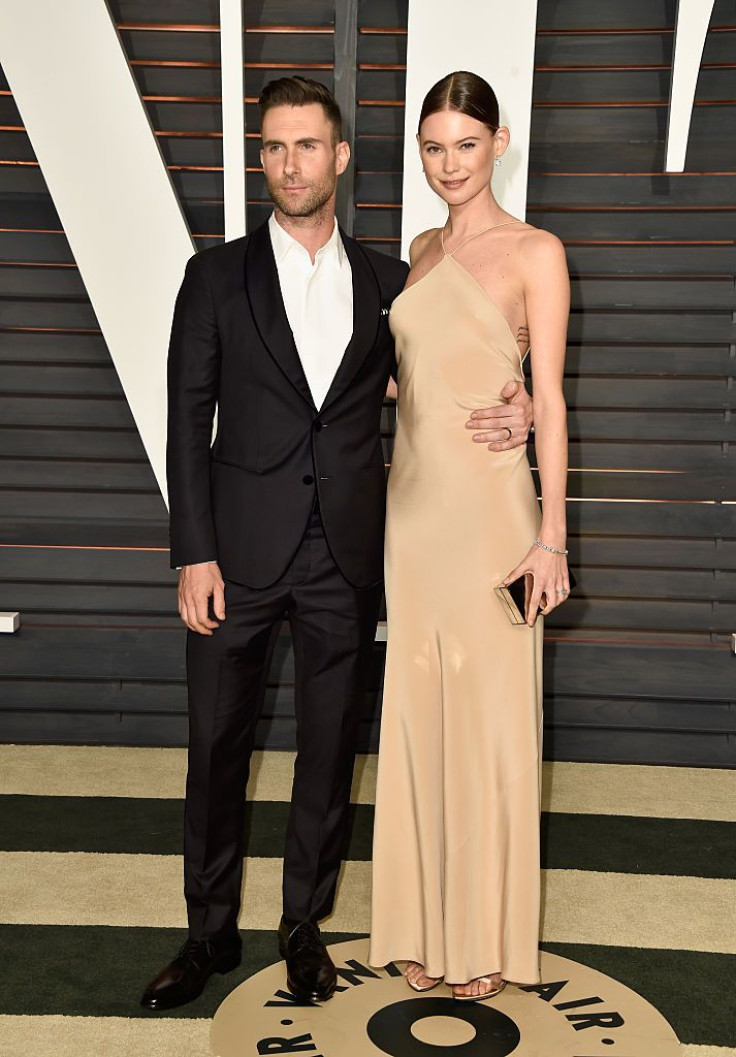 © Copyright IBTimes 2023. All rights reserved.