Instagram Update: How To Make A Poll In Stories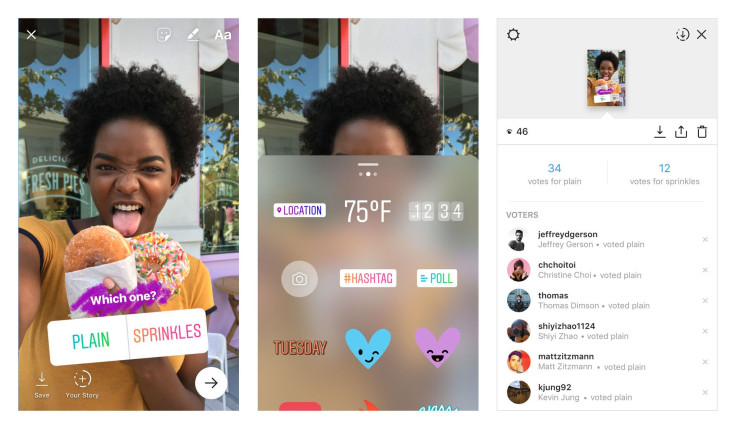 Some new features are coming to your Instagram stories Tuesday. The company announced in a blog post that users would be able to add polls to their stories and that they would be able to use several new tools when customizing those stories as well.
The update was set to roll out to users on Tuesday, so to use it make sure you update your Instagram app. You can check to see whether you have the update or not by checking the App Store or Google Play. Once you've updated the app you should have the new features. Using them is simple and you can start polling your followers instantly.
How to use the poll feature in Instagram stories:
Once your app is updated you should be able to create a poll in your Instagram Story. First take a photo or video you want to post to your Story. If you want your followers help deciding on a restaurant, TV show, hair color or anything else, you can add any two options to the poll. Once you're in the editing phase you can add a poll. You can find the poll option with the other stickers in the app. Simply swipe up, or select the stickers icon from the upper right part of the screen.
Then you should see the "Poll" sticker. Select it and customize the choices with the options you wish to give your followers. You can keep the answers as the simple default "yes" or "no" or you can change it up. You can then place the poll anywhere on the photo or video and then once you share it, your followers can start voting in it. The results will update in real time, so when someone votes the poll will update and you'll be able to see who voted ad which option they chose. Your followers will also be able to see which option is in the lead, although they won't be able to see who voted and how they voted.
You can view the detailed results from your own poll by swiping up on the list of viewers for the piece of your story. Then you'll see who voted and which option they chose. "Not only will you see how many votes each option received, but you'll also see who voted and what option they chose. That way, you'll be able to compare votes from the friends and followers whose opinions you trust most," said the post from Instagram. Just like anything else in your story, the poll will expire after the 24 hour period.
For more details on how to customize your stories you can check Instagram's Help Center online.
© Copyright IBTimes 2023. All rights reserved.