'Insurgent' Trailer Release Date: Official Teaser To Premiere With 'Hunger Games: Mockingjay'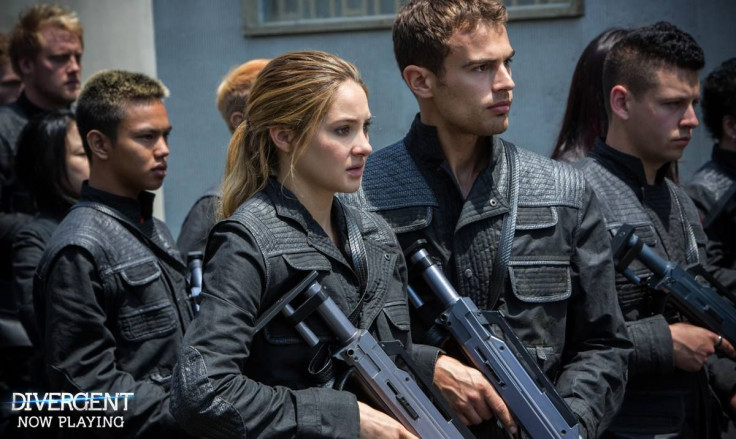 "Hunger Games" filmgoers will be the first to get a glimpse of the highly anticipated "Divergent" sequel this fall, Lions Gate Entertainment Corp. (NYSE: LGF) CEO Jon Feltheimer has confirmed. Feltheimer announced the studio's decision to premiere the first official trailer for the Shailene Woodley-led film "Insurgent" alongside "The Hunger Games: Mockingjay – Part 1" on Nov. 21 during the company's fiscal 2015 first-quarter earnings conference last Friday.
"All the signs are pointing to ['Divergent'] growing into another big young adult franchise like 'Twilight' and 'The Hunger Games,'" Feltheimer told analysts, reports Seeking Alpha. "With the first 'Insurgent' trailer slated to debut with the release of 'Mockingjay' in November, skyrocketing book sales, a stellar home entertainment launch and stars Shailene Woodley, Theo James and Ansel Elgort generating ever-increasing online buzz, I think you can understand why we believe that the 'Divergent' series is becoming very special," Feltheimer said.
Not only do "Divergent" fans have a trailer to look forward to, Feltheimer also teased a potential fifth film based on "Divergent" author Veronica Roth's newly released, bestselling book "Four: A Divergent Collection." "We certainly hope so," Feltheimer said of a potential fifth installment, which would delve into lead male character Tobias Eaton/Four's future in the Divergent faction hierarchy. Lions Gate previously confirmed an adaption of Roth's third book "Allegiant" will be split into two parts with March 2016 and March 2017 release dates.
Woodley and her co-star Theo James (Four) last spoke about the coming film during the "Divergent" Blu-ray/DVD release launch at San Diego Comic-Con in July. "This is what you'll be seeing," Woodley told Buzzfeed of her character's Tris Prior's shorter 'do in the second film.
"There's a huge train sequence, which is this massive fight with Tris and Four and about 40 people. There's also some amazing stuff when Tris is being forced to go through the Fear Landscapes with Jeanine [Kate Winslet]," James teased of the feature. "It's so much bigger and has all these rich themes of trust and betrayal and a love story between two people that you haven't seen in films of this nature before."
"Insurgent" hits theaters March 20, 2015.
© Copyright IBTimes 2023. All rights reserved.
FOLLOW MORE IBT NEWS ON THE BELOW CHANNELS