International Space Station Gets SpaceX Dragon Cargo, New Crew Members On Way
The International Space Station is getting three new crew members. A Soyuz spacecraft with three astronauts — one each from NASA, Russia's Roscosmos and Japan Aerospace Exploration Agency (JAXA) — took off from the Baikonur Cosmodrome in Kazakhstan early Sunday and is expected to dock with ISS on Tuesday.
NASA's Scott Tingle, Anton Shkaplerov from Roscosmos and JAXA's Norishige Kanai left Earth's surface at 2:21 a.m. EST Sunday, and after traveling for slightly over two days, are scheduled to dock with the space station's Rassvet module at 3:43 a.m. EST Tuesday. The journey takes only a few hours, but the astronauts will spend almost two days orbiting the planet. The hatch between the spacecraft and ISS will be opened sometime soon after 5 a.m. EST, NASA said in a statement Sunday.
Once the three astronauts are aboard ISS, the space station will go back to its usual six members after Expedition 53 Commander Randy Bresnik of NASA and Flight Engineers Paolo Nespoli of the European Space Agency and Sergey Ryazanskiy of Roscosmos returned to Earth on Dec. 14. The three new arrivals on ISS will join Expedition 54 Commander Alexander Misurkin of Roscosmos and his crewmates, Mark Vande Hei and Joe Acaba of NASA, all three of whom are scheduled to leave the orbiting laboratory in February 2018.
With Russia reducing the participation of its astronauts in the space station, the United States, over the long term, is increasing the number of its astronauts on ISS from three to four, so NASA can maximize the time spent on research aboard the laboratory.
The ISS crew members who will reach the space station Tuesday will spend over four months aboard it, and while there, will conduct over about 250 different scientific investigations and experiments. Some of these include design and manufacturing of optic materials and drugs to combat muscular breakdown.
They will be able to carry out some of these tests because ISS also got its latest supply of cargo Sunday when a SpaceX Dragon spacecraft docked with the Harmony module at 8:26 a.m. EST. The 13th NASA cargo mission for the Elon Musk company delivered over 4,800 pounds of supplies and payloads to the ISS, and after a month-long stay, will return to Earth in January 2018 with about 3,600 pounds of material, including research, hardware and crew supplies, NASA said.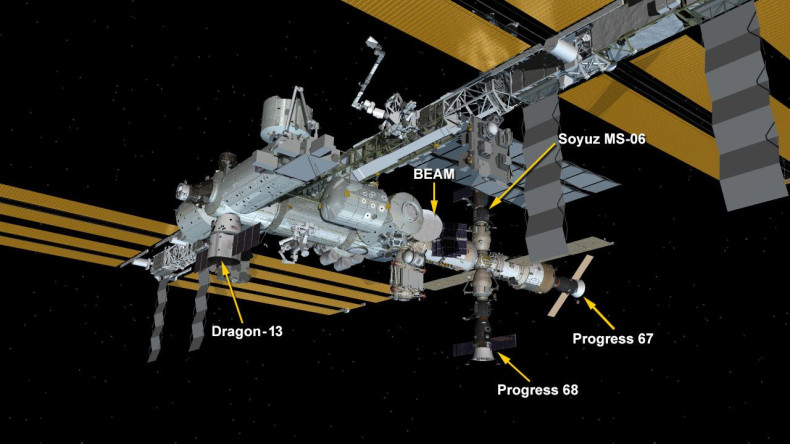 © Copyright IBTimes 2022. All rights reserved.