Internet Expansion: Mobile Devices In Developing Markets To Push Web Usage Past 3 Billion In 2015
The global Internet is growing rapidly, driven by emerging markets and mobile devices. Research firm eMarketer expects worldwide Internet use to grow by 6.2 percent in the next year to top 3 billion users by in 2015. This would mean 42.4 percent of the world's population would have access to the Internet. Currently, about 2.89 billion people, or about 40 percent of the world's population, have access to the Internet, according to Internet Live Stats.
This growth in usage has been propelled by consumers in developing markets gaining access to low-cost mobile devices and Internet connections. Mobile devices priced under $100 have especially aided the developing mobile market and in turn global Internet usage.
"Inexpensive mobile phones and mobile broadband connections are driving Internet access and usage in countries where fixed Internet has been out of reach for consumers, whether that's due to lack of infrastructure or affordability," eMarketer senior forecasting analyst Monica Peart said in a research note.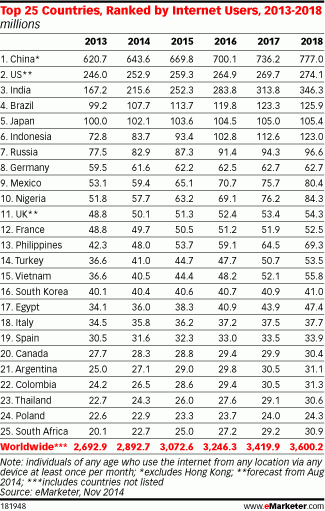 In the next three years, eMarketer expects a big shuffle among Internet nations as mobile connectivity grows. As 2014 comes to an end, Brazil is expected to overtake Japan as the fourth-largest population of Internet users. By 2015, Mexico should be the eighth-largest, while India is expected to be the second-largest by 2016 and Indonesia is expected to be the fifth-largest by 2017. In 2018, China will likely remain the largest population of Internet users, but is expected to have over three-quarters of a billion users, compared with the over half a billion users it has in 2014.
While feature phones have been popular in developing markets, smartphone usage began to increase after 2012, Peart said. She added that devices priced at $50 or less are appealing to the most price-sensitive markets, like the Middle East and Africa.
Mobile users in developing markets primarily use the Internet for games and social media. World Bank president Jim Kim noted in a LinkedIn blog post in April that he has seen residents of Uttar Pradesh, India, one of the poorest Indian states, using smartphones to watch Korean dramas. There is also an increasing prevalence in e-commerce in many countries, though that industry remains most prominent in larger markets.
© Copyright IBTimes 2023. All rights reserved.