Internet Goes Crazy Over Scottish Girl Chelsea Marr Who Looks Exactly Like Angelina Jolie-Pitt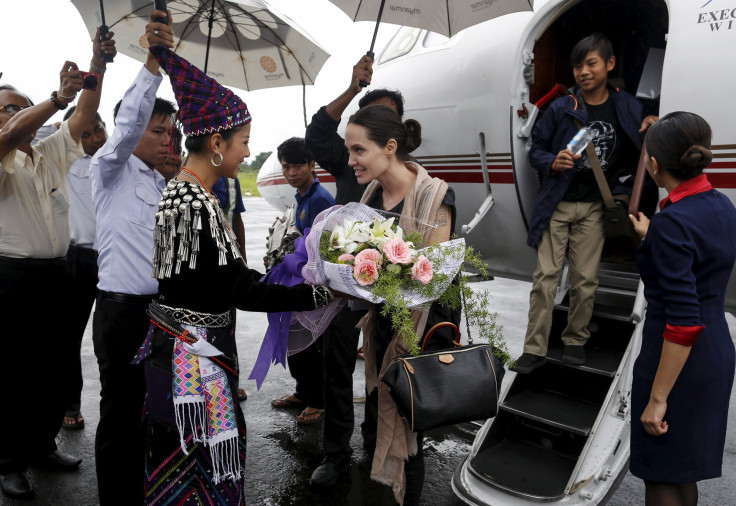 Scottish girl Chelsea Marr's pictures are suddenly all over Internet, and she has gained thousands of Instagram followers over the past few months. She is not a celebrity, but she looks like one of the most beautiful celebrities in Hollywood -- Angelina Jolie Pitt.
Marr is 24-year-old and has a similar face cut like Jolie-Pitt. Social media is going berserk over the resemblance Marr has to the "Salt" actress. She has Jolie-Pitt's forehead, nose and even the shape of her lips appears same as the actress.
Marr loves to post selfies on her Instagram account, and is also quite popular on social media. Her pictures often get comments from strangers, who get shocked to see her resemblance to Jolie-Pitt.
"You're so beautiful you look exactly like Angelina Jolie," writes one of the Instagram users on her picture, where she poses in a smart red dress.
Other comments on her pictures are similar, such as "That's the perfect Jolie doppelgänger," or "Angelina Jolie ain't got nuthin on youuuuuu."
Mirror UK has called Marr as the "world's best Angelina Jolie look alike," while Cosmopolitan magazine believes that her resemblance to the actress is just "insane."
Despite receiving numerous interview and photoshoot requests from various publications on her Instagram page, Marr is yet to talk about how she feels about getting compared to one of the Hollywood's most famous actresses. She leads a life of a normal girl, who goes to office and loves hanging out with friends.
The Jolie-Pitt lookalike is yet to comment if she was naturally born with the features similar to the actress, or she has gone under the knife to achieve the looks.
Marr is not the only lookalike that is making Internet crazy. In the past, Internet has been flooded with pictures of lookalikes of Kim Kardashian, Rihanna, Cara Delevingne and Megan Fox.
© Copyright IBTimes 2023. All rights reserved.