'The Interview': They Loved It, Or They Hated It And Watched It Anyway To Make A Point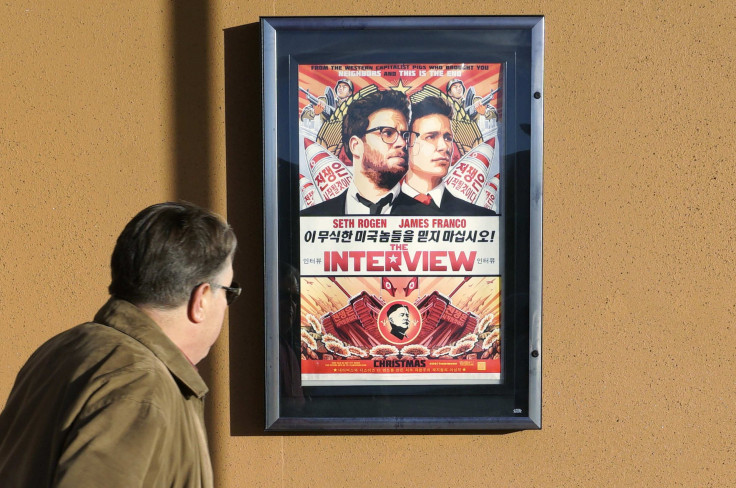 As millions rush to download (many illegally) and watch "The Interview," a controversial comedy film depicting the assassination of North Korean dictator Kim Jong Un, the Internet was lit up on Christmas Eve with a fast stream of posts from Twitizens weighing in on the film and taking stabs at North Korea for its alleged cyberattack on Sony Pictures Entertainment for producing the film.
James Franco, the star who plays a pinheaded journalist in the film, helped stir the hype Wednesday by asking fans to post pictures of themselves watching the film at home.
Many fans obliged with images and messages like this:
Others said they were curious to see what all the fuss was about, but would have otherwise steered clear of the film co-written and produced by Seth Rogen, the Emmy-nominated maker of "Freaks and Geeks" and "Pineapple Express."
On Nov. 24, Sony was hacked by a group calling itself the Guardians of Peace that leaked touchy intercompany emails that have strained Hollywood relationships. One leaked email exchange depicts Oscar-winning producer Scott Rudin calling actress Angelina Jolie a "minimally talented brat" while another shows respected Sony executive Amy Pascal making racially insensitive remarks suggesting President Barack Obama would prefer films starring black actors. A leaked memo also exposed efforts by movie producers to blacklist Internet service providers, damming evidence the Motion Picture Association of America (MPAA) could be trying to implement controversial measures proposed under the failed Stop Online Piracy Act (SOPA) in 2011.
The U.S. government believes North Korea is behind the cyberattack. And many viewers of the film appeared to be making a political stand, as the thousands of people applying the Twitter hashtag #FUnorthkorea indicated. Sony initially announced it would suspend the release of the film after the anonymous hacking group said earlier this month theaters showing the film would be attacked, a threat that caused many theaters to back down from premiering the film on Christmas Day.
But public backlash against Sony's decision forced a turnaround. This week Sony Pictures announced the film would be released Wednesday in select theaters and online through Google Play, Google's YouTube, Microsoft's Xbox Video and Sony's Kernel, the website offering Sony's $5.99 24-hour digital rentals.
But Kernel couldn't handle the surge in demand for the film hours after it was released Wednesday, and the film began appearing on file-sharing sites for illegal downloading. News that the film was free online quickly spread:
By late Christmas Eve, a battle was taking place on file sharing sites with takedown requests, presumably from MPAA lawyers, following minutes after the film appeared. Nevertheless by late Wednesday the film was being shared and downloaded thousands of times on at least one of the sites.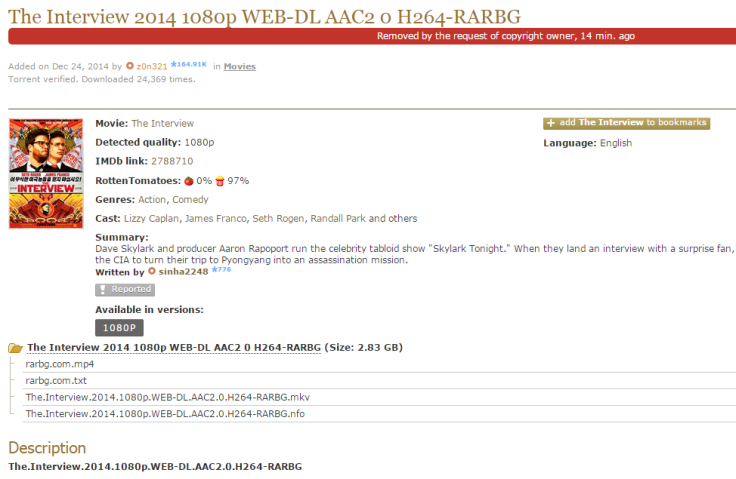 © Copyright IBTimes 2023. All rights reserved.