iOS 6 And 6.0.1 Untethered Jailbreak For iPhone 5 To Be Released Dec 22? Dev Team Members Claim It Will Be Fake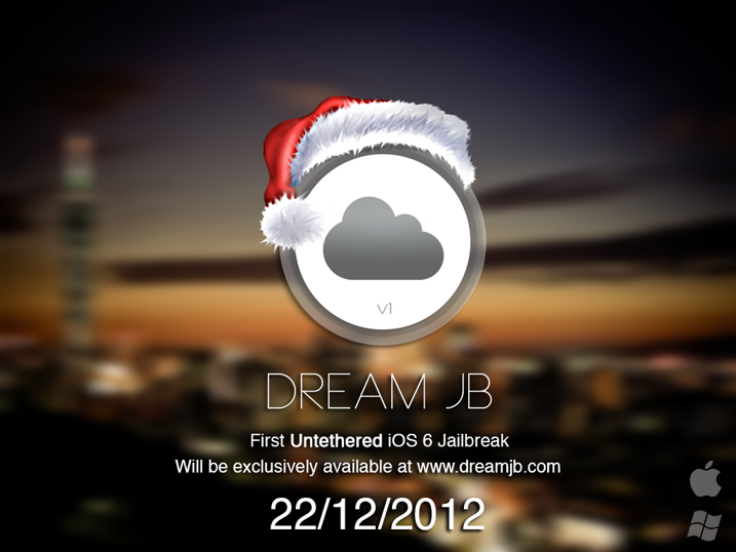 UPDATE: iOS 6 Untethered Jailbreak For iPhone 5 By Dream JB Is Fake. Click here for details.
At a time when millions of iOS 6 users have been eagerly waiting for an untethered jailbreak for months now, an unknown hacker by the name of "Dream JB" has created a buzz among the jailbreak community by claiming that he will release an untethered jailbreak for iOS 6 Dec. 22. The self-proclaimed hacker has even said that his untethered exploit will be compatible with newer iOS devices such as iPhone 5, iPad Mini, iPad 4 and the new iPod touch.
On Monday, the Dream JB (Dream Jailbreak) website was updated with a post outlining the progress of the claimed iOS 6 untethered jailbreak for iPhone 5. The hacker said that he would upload a video Wednesday, proving that the untethered jailbreak he created was real. Here's what the post said:
"Proof will be posted both here and on my Twitter account on Wednesday. As far as the video that will be uploaded, it will be a single-take shot of the entire jailbreak process, including a restart and usage of the device to prove it is untethered. It will be uploaded as raw video straight from my camera to YouTube. So no edits in any form. Thank you all for your patience and support. Also, with the extremely high volume of tweets and over 4500 emails, I will try to address the public as I can. I ask that you read the FAQ before contacting me by email. I will update the FAQ for you all tomorrow morning. I've also moved past website updates to the bottom of the page. Goodnight everyone!
I should note that all announcements are made in EST time zone. As of now it's 8:11 PM EST, proof should be out before 8 PM EST tomorrow."
— Dream Jailbreak (@DreamJailbreak) December 12, 2012
According to the hacker, the new iOS 6 and 6.0.1 untethered jailbreak will support devices including iPhone 3GS, iPhone 4, iPhone 4S, iPhone 5, iPad (2nd generation and beyond), iPad Mini and iPod touch (4th generation and beyond).
As per the FAQ page provided by the Dream JB website, the jailbreak will be a one-click process and will differ from the previous jailbreak methods using "Webkit exploit" and "userland exploit." The hacker clearly stated that "any device that normally supports iOS 6.0/6.0.1 is supported by the jailbreak," meaning A6 devices are included.
Meanwhile, Dream JB's claims regarding the iOS 6 untethered jailbreak have raised a lot of skepticisms around the tech world, with prominent jailbreak developers of the iPhone Dev Team and the Chronic Dev Team denouncing it as yet another elaborate gambit of a hoaxer.
While well-known iOS hacker MuscleNerd has put Dream Jailbreak on his list of "fake" jailbreaks, another renowned jailbreak developer Joshua Hill aka @p0sixninja criticized it saying "they're all fake."
No matter how many times we say "They're all fake" no one ever listens….. *sigh*
— Joshua Hill (@p0sixninja) December 8, 2012
iOS hacker iH8sn0w, on the other hand, too to his Twitter account saying: "Never trust anyone who has never released anything credible in the past."
He further urged the users to be very careful about fake jailbreak websites. "Don't get your hopes up," he tweeted, "But also don't just download anything.. it seems like a very smart thing to do to distribute a new virus."
Jeff Benjamin of iDownloadBlog said in a post Tuesday that any claim about an iOS jailbreak that lacked word from respectable members of the Chronic Dev Team or the iPhone Dev Team was "almost always fake."
"Suppose an iPhone 5 jailbreak does drop on the 22nd, and it does work? If so, I will happily apologize to the man behind the Dream JB, and create a post outlining how wrong I was for lumping his project in with all of the other fakes that we've seen over the years," Benjamin wrote.
"This guy claims that he's a 'one man army,' which is fine. BUt explain to me why it took a literal Dream Team of talented hackers to orchestrate the last Absinthe jailbreak for iOS 5.1.1?" he added.
Dream JB describes himself:
"My identity will remain an obscurity. I am not affiliated with any known dev team. This project is individual and solely run by me alone. I am here to show the world that the source of an exploit or jailbreak can be from outside the norm."
According to him, he is a university student, currently in the middle of writing his final exams. However, he says although he has his priorities, he does his best "to keep you all in the loop with the timeline of events and the release."
What's your take on Dream JB and his claims about the iOS 6 untethered jailbreak. Your views are welcomed in the comment section below.
© Copyright IBTimes 2023. All rights reserved.