IOS 6.1 Beta 3 Release Arrives: Apple Seeds iOS 6 Update To Focus On Maps, Safari, Passbook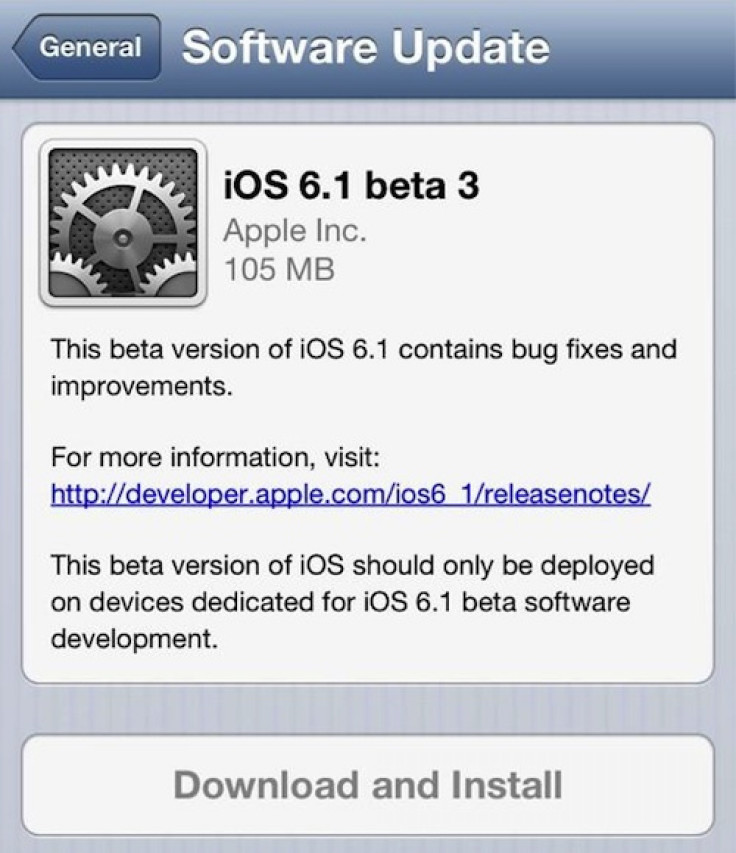 Apple is continually looking for ways to enhance the overall experience on iOS, and on Monday night, Apple seeded the third beta build of iOS 6.1 to developers, which reportedly addresses a number of issues in the company's own first-party apps, including Safari, Maps and Passbook.
The release, build No. 10B5117b, can now be downloaded for iPhones and iPads dating back to the iPhone 3GS and iPad 2, respectively.
Apple seeded the second beta of iOS 6.1 on Nov. 12, and, less than a month later, the third beta lists a number of "bug fixes and improvements" from iOS 6.0.1, particularly related to how developers can leverage Apple's new Maps service in their own applications, giving them the tools for easy integration.
The iOS 6.1 update is also said to improve how boarding passes are handled in the new Passbook application introduced in iOS 6, but there are no details as to what is truly different -- whether it's a few tweaks or if a major design overhaul. Furthermore, the beta is said to include a few minor "changes to Safari."
This third beta for iOS 6.1 -- as well as a new beta for Apple TV and the Xcode 4.6 Developer Preview 3 -- are all currently available to download for registered iOS developers via Apple's Developer page. Users that also have any one of the prior two iOS 6.1 builds can also install the update via Software Update.
iOS 6 includes more than 200 new features for iPhone, iPad and iPod Touch owners, including a few new Apple-made apps like Passbook and the company's controversial in-house Maps application, as well as deep integration with Facebook and several major enhancements to Siri, Apple's virtual personal assistant.
© Copyright IBTimes 2023. All rights reserved.