Secure Your Online Privacy With The 8 Best VPNs Of 2023
* This is a contributed article and this content does not necessarily represent the views of IBTimes.
Safeguarding your online privacy has become crucial due to increasing cyber threats and data breaches. To address this concern, the use of a Virtual Private Network (VPN) has become essential. VPNs protect your sensitive information from being monitored or tracked by third parties, making them ideal for privacy-conscious individuals and security-minded users.
To assist you in choosing the right VPN provider, we have compiled a comprehensive list of the eight best VPNs in 2023. Whether you're looking for lightning-fast speeds, extensive server networks or advanced privacy features, these VPNs will help you secure your online activities and maintain your privacy in 2023 and beyond. Stay safe, stay private!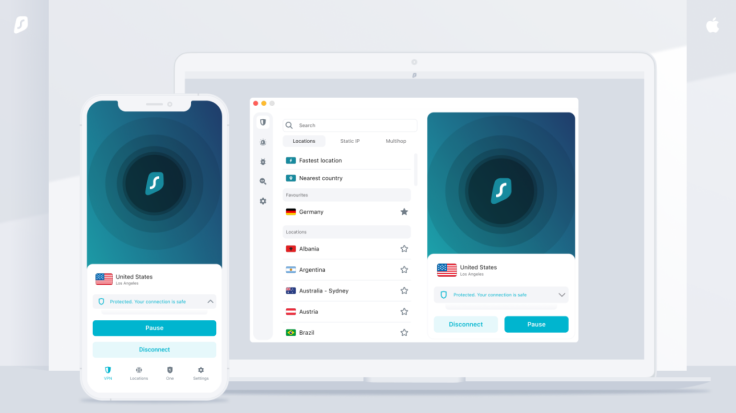 Surfshark VPN is an award-winning virtual private network that has a limited offer of an impressive 82% discount and two free months, making it an affordable and attractive option for users seeking online privacy and security. With its exclusive VPN technology, Surfshark boasts excellent stability and lightning-fast connection speeds, supported by a vast network of 10 GBit servers spread across 100 countries. By eliminating ads, trackers and cookie pop-ups, Surfshark guarantees its users a seamless and uninterrupted web browsing experience.
Beyond its standard VPN features, Surfshark offers numerous benefits that set it apart. Users can save money while shopping online by changing their location through the VPN, bypassing location-based pricing strategies used by retailers, rental services and airlines. Additionally, Surfshark provides a secure solution for connecting to public Wi-Fi hotspots, protecting users from potential hackers.
Additionally, one standout feature of Surfshark VPN is its unlimited device support under a single subscription. Users can protect their entire household's online activities with just one account, making it a practical and cost-effective choice for families and multiple-device users. Surfshark also ensures that users can maintain the same internet experience while traveling, overcoming geo-restrictions and accessing online content as if they were back home.
Surfshark VPN instills confidence in users, enabling them to experience its extensive network of over 3,200 servers worldwide with advanced security features and high-speed connections. Its user-friendly interface and dedicated live chat support make Surfshark VPN a reliable and comprehensive solution for safeguarding users' digital lives. On the other hand, besides Surshark VPN, Surfshark offers a comprehensive suite of digital security tools for safeguarding your online experience, such as the Surfshark Antivirus and Incogni. With Surfshark's array of tools, your digital presence remains protected, and your data stays secure.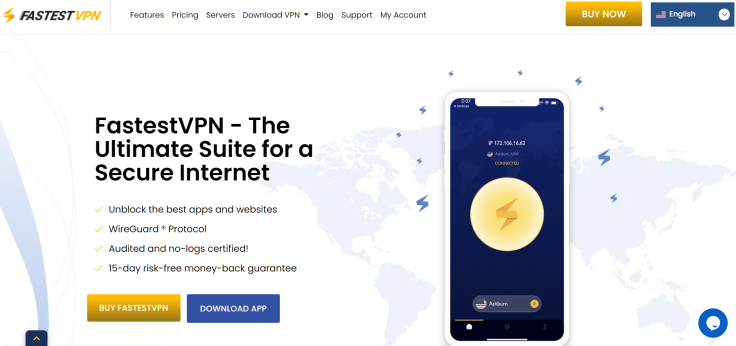 FastestVPN is a versatile VPN solution designed to protect every device you own. Its user-friendly apps are compatible with major platforms such as Windows, Mac, iOS, Android and Fire TV, with the option to install it on a router for protection on over 20+ platforms. Offering blazing 10Gbps speeds and unlimited bandwidth, users can enjoy seamless streaming and real-time gaming while bypassing ISP throttling and buffering issues. The WireGuard protocol also ensures both speed and security, providing a stress-free browsing experience.
With a focus on privacy, FastestVPN offers industry-leading features, including a NAT Firewall to protect against malware. Moreover, its 24/7 live chat support provides users with timely assistance with queries or technical issues. Users can also securely download and upload P2P files over the internet, and an ad-blocker feature helps prevent constant ad interruptions.
FastestVPN further stands out with its ability to secure 10 devices simultaneously, giving users the convenience of protecting multiple devices with one subscription. With a vast network of 60+ locations and ultra-fast 10Gbps servers, users can explore the internet without boundaries and experience unmatched browsing speeds. FastestVPN is a reliable and feature-rich option for anyone seeking top-notch privacy and security across all their devices.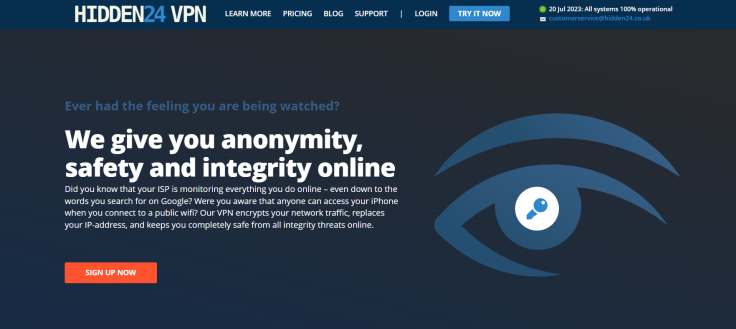 Hidden24 VPN is your ultimate solution for anonymity, safety and integrity online. With Hidden24 VPN, you can say goodbye to the prying eyes of your internet service provider (ISP) and other potential threats lurking in the digital realm. The cutting-edge technology of Hidden24 VPN encrypts your internet traffic, making it impossible for anyone to track your online activities. It also replaces your IP address, ensuring your real identity remains hidden.
Meanwhile, one of the key advantages of Hidden24 VPN is its ultra-fast performance, as you can experience unlimited speed with access to multiple data centers equipped with 2048-bit unbreakable encryption. Whether streaming videos, downloading files or engaging in online gaming, Hidden24 VPN will deliver seamless and reliable connectivity, ensuring that your online activities are always protected.
Another area where Hidden24 VPN excels is safeguarding your data when you connect to public Wi-Fi networks. Public Wi-Fi is notorious for its vulnerability to hackers and eavesdroppers. However, with Hidden24 VPN, you can confidently access the internet from any public Wi-Fi hotspot, knowing that your data remains shielded and out of reach of potential threats.
Say goodbye to internet censorship as you freely access the online world with Hidden24 VPN. Benefit from operator-class internet connections for high-speed browsing and enjoy complete protection for all types of network traffic, with multiple protocols to choose from. Embrace Hidden24 VPN and experience the freedom, security and peace of mind you deserve in the digital age.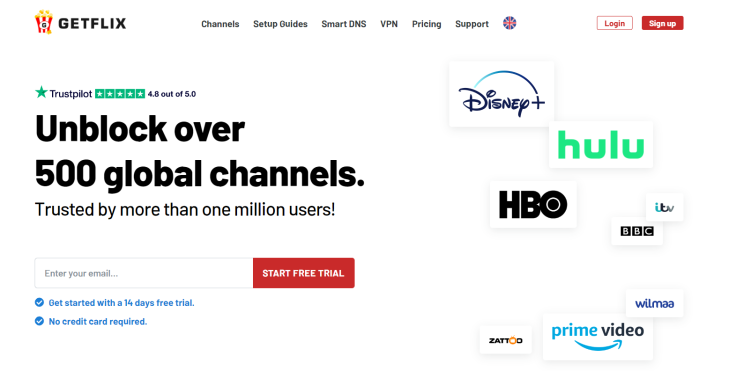 Getflix Full VPN is a secure and private internet access service available to all paid Getflix subscribers at no additional cost. It encrypts all internet traffic through a global network, ensuring privacy and protection. Users likewise enjoy unrestricted browsing without leaving any digital footprints, as their IP address remains hidden. The service shields data from hackers, governments, ISPs and other potential threats, even on public Wi-Fi connections. Moreover, Getflix Full VPN provides unlimited speed and bandwidth without keeping any logs on the network.
On the other hand, Getflix Full VPN supports various operating systems, including PC, Mac and mobile devices and can also be accessed from any internet connection, such as DSL, cable, satellite or 3G/4G. Getflix Full VPN offers four different security protocols: PPTP, L2TP, SSTP and OpenVPN UDP. PPTP provides fast speed but may be throttled by some ISPs, while L2TP offers greater security and is compatible with various platforms. SSTP, recommended for Windows users, boasts strong encryption but may be slower than PPTP and L2TP. Meanwhile, OpenVPN UDP is suggested for Windows, Mac and Linux, providing top-notch encryption and the fastest speed on most networks.
The recommended choice for most users is the OpenVPN UDP Protocol, which balances encryption and speed. L2TP or SSTP (Windows only) protocols can be considered for enhanced security and performance. In cases of slow speeds or disconnections due to ISP throttling, users are advised to try SSTP or OpenVPN UDP. With Getflix Full VPN, users can confidently enjoy an unrestricted and secure online experience, access geo-restricted content and browse the internet with peace of mind, knowing their data is safe from prying eyes.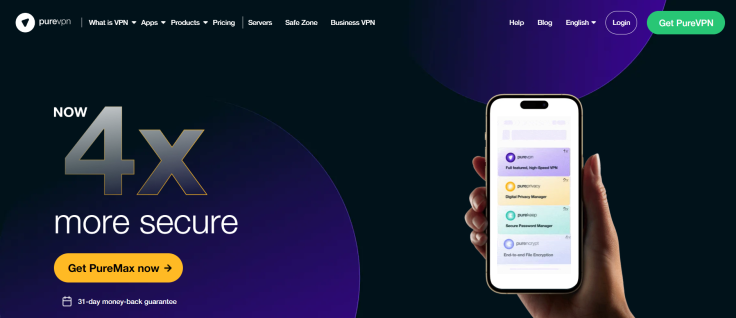 PureVPN is a trusted and reliable VPN that prioritizes your online privacy and security. With robust features, PureVPN ensures your internet connection remains shielded from prying eyes, thanks to its support for top-tier security protocols like WireGuard. The one-click protection feature allows you to effortlessly turn any network into a private and secure connection while protecting specific apps.
Meanwhile, PureVPN indeed takes privacy to the next level, hiding your online activity from ISPs and other monitors, guaranteeing leak-proof privacy. Users can definitely enjoy the freedom to access their favorite content from anywhere in the world and securely share files with a hidden IP address. With PureVPN, people can browse confidently on public Wi-Fi at their favorite coffee shop while enjoying reduced lag and ping times for smooth gaming experiences.
Embrace true online freedom with PureVPN as it effortlessly bypasses location restrictions and VPN blockers. Access important services and websites beyond limitations and browse securely in-flight and worldwide. The convenience of PureVPN extends to its compatibility with up to 10 of your devices, allowing you to enjoy portable privacy wherever you go. Rest assured that your privacy remains uncompromised, as PureVPN never logs your data, and undergoes surprise audits by KPMG to ensure transparency and accountability. Trust PureVPN to protect your digital presence and experience true online freedom. Try PureVPN today and reclaim your internet privacy and freedom.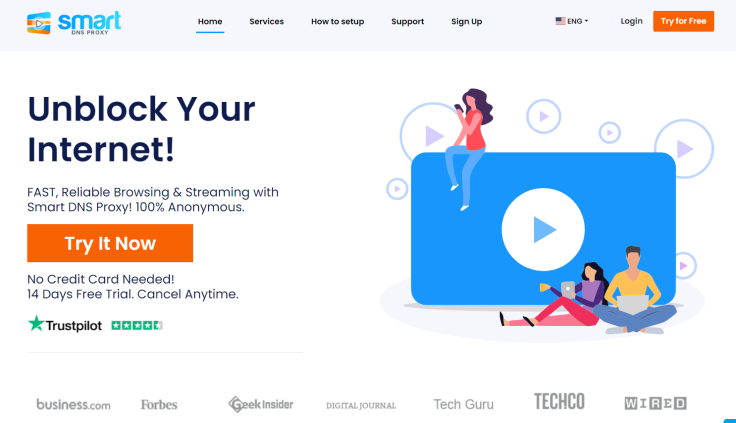 Smart DNS Proxy VPN is a powerful solution that enables users to unblock any blocked website, offering fast and reliable browsing and streaming with complete anonymity. With a 14-day free trial and no credit card required, users can try the service risk-free and cancel anytime, building trust from the outset. Meanwhile, Smart DNS Proxy VPN also supports over 400+ services, ensuring easy access to websites and digital media globally on various devices, including computers, mobile devices and home entertainment systems, with unlimited device access.
The all-in-one Smart DNS Proxy VPN includes SmartVPN and VPN features, encrypting and securing internet traffic through PPTP, L2TP and OpenVPN support. Users can access all Smart DNS Proxy services while connected to SmartVPN servers, with the ability to have five simultaneous VPN connections and download torrents, ensuring unrestricted internet exploration and private data protection. With an emphasis on speed, Smart DNS Proxy VPN guarantees a seamless browsing experience regardless of the user's location, promising hidden privacy and secure access to favorite content without saving browsing history.
Smart DNS Proxy VPN provides a comprehensive solution for unblocking the internet, offering fast and anonymous browsing and streaming on multiple devices. With a wide range of supported services, robust privacy features and high-speed performance, users can enjoy unrestricted access to the content they love while safeguarding their sensitive data and online activities.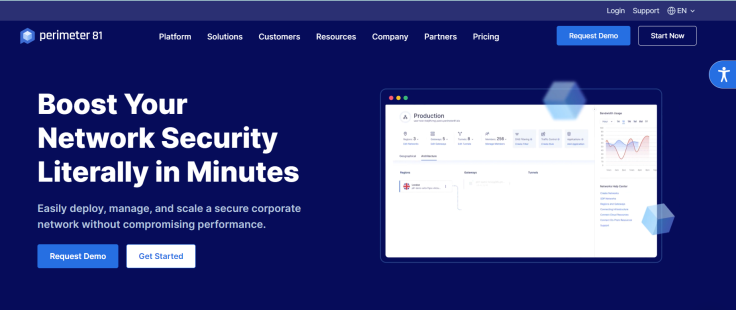 Perimeter 81 is a revolutionary VPN solution designed to provide businesses with secure, flexible and user-friendly access to their network resources. Unlike traditional VPNs, Perimeter 81 adopts a Zero Trust security model, ensuring that every user, device and application is continuously authenticated and authorized before accessing the network. This eliminates the risk of unauthorized access and potential data breaches, providing peace of mind to organizations dealing with sensitive information.
Furthermore, the platform's cloud integration feature allows organizations to seamlessly integrate cloud environments, ensuring that cloud resources remain as secure and accessible as on-premises resources. Perimeter 81's VPN also extends its protection to public Wi-Fi connections, encrypting data and safeguarding users from cyber threats even in unsecured environments. With an intuitive and centralized dashboard, businesses can easily manage multiple teams, users and networks, making network management simple and efficient.
Perimeter 81's dedication to innovation and customer-centric support makes it a reliable and scalable VPN solution suitable for startups and large enterprises alike. By choosing Perimeter 81, organizations can focus on their core business objectives while entrusting their network security to a cutting-edge VPN platform that stays ahead of the curve. With real-time monitoring and auditing capabilities, users gain full visibility into their network, ensuring compliance and enhanced security. Embrace the future of VPN technology with Perimeter 81 and experience the simplicity, flexibility and robust protection it brings to your network infrastructure.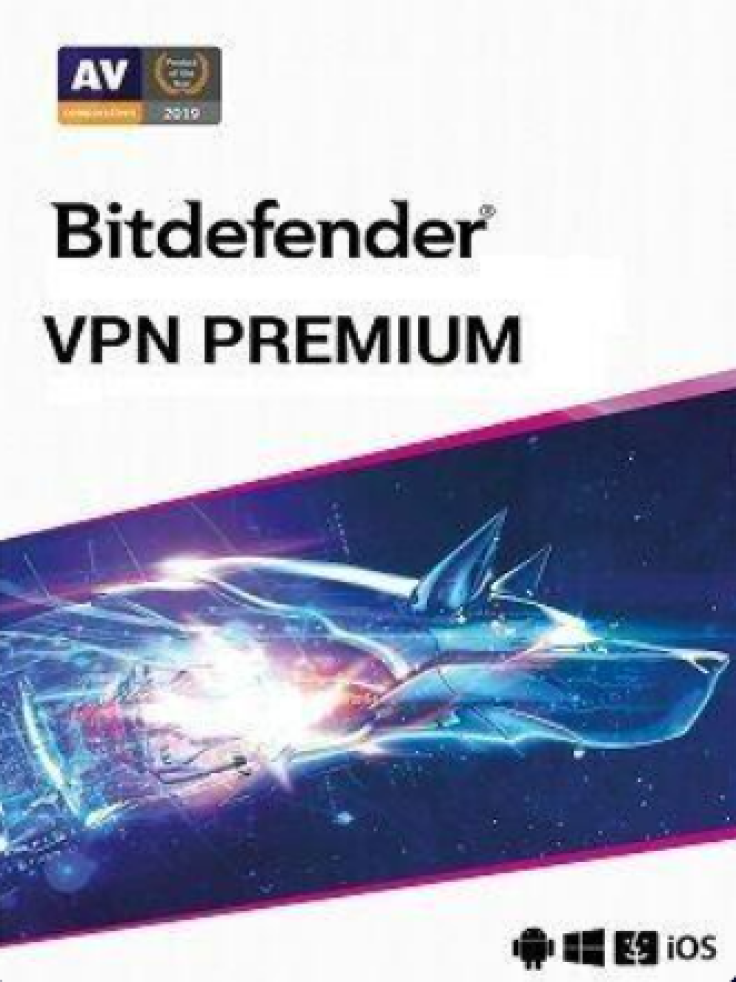 Bitdefender Premium VPN is the ultimate digital guardian that ensures your online presence is secure and your data is protected. This one-year subscription offers robust encryption, safeguarding your internet traffic from hackers and cybercriminals, even on public Wi-Fi. With access to a global network of servers, you can unlock geo-restricted content and enjoy smooth streaming without data caps. Protect up to 10 devices with ease and experience lightning-fast connection speeds for seamless browsing and streaming.
In addition, Bitdefender Premium VPN also provides a user-friendly interface, making it simple to connect to a VPN server and customize settings as per your preferences. Online activities are shielded from prying eyes, as the VPN hides your IP address, ensuring enhanced privacy and anonymity. Benefit from decades of cybersecurity expertise, as Bitdefender offers top-notch protection against potential threats, giving you peace of mind while surfing the web.
With Bitdefender Premium VPN, you can confidently navigate the digital world, knowing your devices and data are safe and secure. Say goodbye to geo-restrictions, data limitations and online vulnerabilities — embrace the freedom of the web while maintaining complete online privacy. Protect your digital ecosystem today with Bitdefender Premium VPN and experience a worry-free online journey for yourself and your family.
When choosing a VPN, it's crucial to take into account your specific requirements, including device compatibility, streaming capabilities and server locations. This list comprises the top 8 VPNs of 2023, meticulously chosen for their robust privacy features.
However, it is essential to conduct further research and select the VPN that perfectly matches your online privacy needs. By doing so, you can ensure a safe and secure experience in the digital realm. Protect yourself and stay safe online!
© Copyright IBTimes 2023. All rights reserved.