Republican CNBC Debate Candidate List 2015: Donald Trump, Ben Carson And Jeb Bush Make The Cut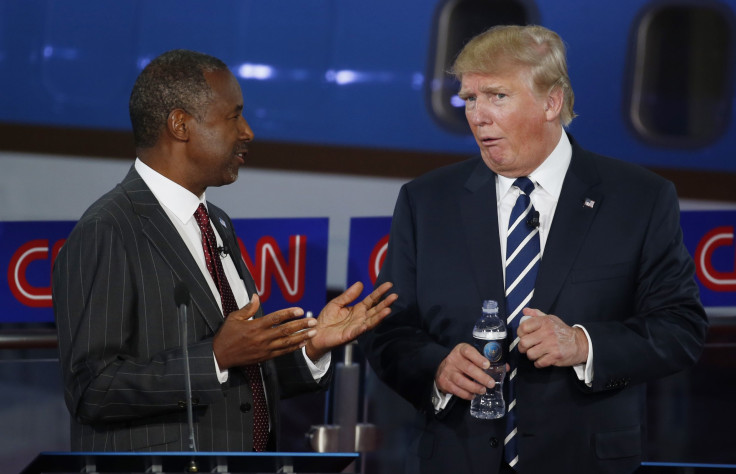 Businessman Donald Trump and retired neurosurgeon Ben Carson have been officially invited by CNBC to appear in the third Republican Party presidential debate -- just days after the network agreed to their demands for a two-hour cap on the length of the Oct. 28 event. In a letter to CNBC, the two GOP candidates said they would not take part in the Boulder, Colorado, event "if it is longer than 120 minutes, including commercials, and does not include opening and closing statements."
CNBC announced the lineup Wednesday, which will not look much different from the last GOP held in Simi Valley, California. The other eight candidates to appear in the primetime debate are former Hewlett-Packard CEO Carly Fiorina, former Florida Gov. Jeb Bush, U.S. Sen. Ted Cruz of Texas, U.S. Sen. Marco Rubio of Florida, former Arkansas Gov. Mike Huckabee, U.S. Sen. Rand Paul of Kentucky, Ohio Gov. John Kasich and New Jersey Gov. Chris Christie.
Missing from the primetime stage will be Wisconsin Gov. Scott Walker, who dropped out of the race after the last debate.
Candidates were selected based off an average of respected polls from Sept. 17 to Oct. 21.
The top-tier GOP debate is scheduled to air on CNBC at 8 p.m. EDT.
Four lower-polling candidates were invited to the "happy hour" debate, which is scheduled to run prior to the prime-time debate. The candidates selected for the earlier forum are former Pennsylvania Sen. Rick Santorum, Louisiana Gov. Bobby Jindal, former New York Gov. George Pataki and U.S. Sen. Lindsey Graham of South Carolina.
The debate is scheduled to take place at the University of Colorado-Boulder -- the first college campus to hold a primary debate this election season. It will be moderated by CNBC anchors Becky Quick and Carl Quintanilla, as well as the network's chief Washington correspondent, John Harwood.
© Copyright IBTimes 2023. All rights reserved.