Iranian Oil Exports Won't Flood The World's Crude Markets Anytime Soon, Energy Experts Say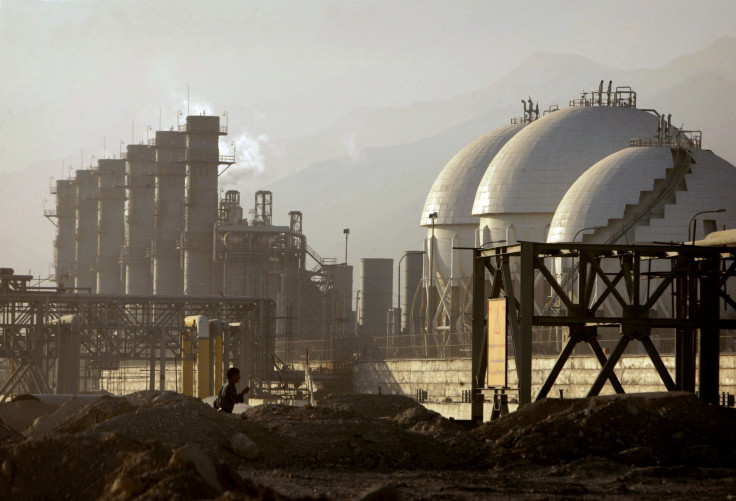 The historic nuclear deal between Iran and six world powers could revitalize the country's crude oil exports, which have diminished under Western sanctions. News of the agreement Tuesday sent oil prices down 2 percent amid concerns that Iranian crude could flood an oversaturated global crude oil market. But energy experts say a surge in Iranian exports is at least a year away, if not longer.
Years of sanctions and economic stagnation in Iran have hampered investment and development in the country's oil fields. Resuming production, they say, isn't as easy as flipping a switch.
"New oil will not flow from Iran until 2016, and there will probably be less of it than optimists predict," said Richard Nephew, a program director at Columbia University's Center on Global Energy Policy and the lead sanctions expert for the U.S. team negotiating with Iran.
Nephew said he expects Iran will add 300,000 to 500,000 barrels of additional oil per day within six to 12 months after the deal is finalized and the European Union and United States begin removing political pressures. (A barrel is 42 gallons.)
The outlook is significantly lower than what Iran says it can deliver. Officials last week said the country could export more than 1 million additional barrels of oil a day in the absence of sanctions, nearly doubling the country's exports, from 1.2 million barrels today to 2.3 million barrels. OPEC officials expressed concern over the possible influx, with Algeria's oil minister suggesting he may call for an emergency meeting of member countries.
Brent crude, a global benchmark, tumbled briefly Tuesday morning to $56.43 a barrel, before recovering to $58.40 a barrel. West Texas Intermediate crude, the U.S. benchmark, fell as low as $50.88 a barrel before recovering and rising to $52.24 a barrel.
Crude Oil Production in Iran | FindTheData
Nephew said that achieving Iran's targets of 1 million barrels a day and beyond would require a dramatic windfall of investment. "Iran itself has forecast this investment would need to be between $50 and $100 billion" to accelerate production, he said in a policy paper. "This investment will take at least three to five years to really boost Iranian production beyond pre-sanction levels."
Europe has banned Iranian oil imports and prohibited its large oil companies from working with Iran since 2012 over concerns over Iran's nuclear weapons program. The U.S. has similarly pressured Asian countries to reduce their purchases. Tuesday's deal doesn't immediately repeal those sanctions; the U.S. Congress and the European Parliament must first approve the agreement for that to happen.
Lifting sanctions and boosting oil output are critical for Iran's economy.
Political restrictions have caused the country's oil and natural gas revenues to plunge to $56 billion in the 2013-14 fiscal year, from about $118 billion in the 2011-12 fiscal year, the International Monetary Fund estimated. Iran has the fourth-largest oil reserves in the world, enough to produce around 4 million barrels of oil a day with sufficient infrastructure and investment.
Iran's GDP (current USD) | FindTheData
Even if sanctions are lifted, however, Iran will still have to compete with other oil-producing countries for market share -- a particularly daunting task in today's oversupplied market, Fadel Gheit, a senior analyst at Oppenheimer & Co., said by email. Traders and analysts say they believe there's an oversupply of nearly 2 million barrels per day of crude oil, although OPEC officials said Monday that could diminish as global oil demand grows next year.
Gheit said he expects Iranian oil exports could rise by 500,000 barrels a day starting six months after economic sanctions are lifted. But achieving that will require lifting the Western ban on foreign investment in Iran, which is needed to replace aging oil production equipment and develop new fields, he said.
Under the nuclear deal, individuals and companies outside the U.S. could soon engage in trade deals with Iran, including in the country's petroleum and petrochemical sector. (U.S. individuals and companies will remain shut out of such opportunities.)
To land those investments, Iran will need to first dismantle the barriers of red tape that burden the country's bureaucracy, Nephew said. Iranian officials will also need to allay the concerns of foreign banks and companies, whose executives may fear a reprisal of sanctions or reputational harm should Iran's relations with the West sour again.
"Iran has sought to make its investment climate more attractive; it will need to sustain these efforts in the future to be successful," Nephew wrote. "It will be a real achievement if the Iranian government is able to deliver on its bait to international oil companies and others to make the process less painful."
FOR FREE to continue reading
✔️ Unlock the full content of International Business Times UK for free
offer available for a limited time only
✔️ Easily manage your Newsletters subscriptions and save your favourite articles
✔️ No payment method required
Already have an account?
Log in
© Copyright IBTimes 2023. All rights reserved.