ISIS In Minnesota 2016: Donald Trump Warns Somalis Are Joining Islamic State, Calls Group A 'Disaster' For State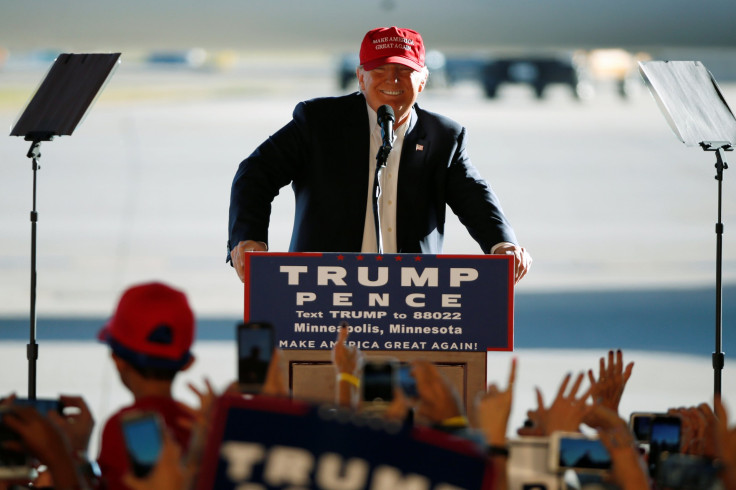 Refugees from Somalia living in Minnesota are a "disaster" for that state, Republican presidential candidate Donald Trump proclaimed Sunday during a rally in Minneapolis. The North Africans in Minnesota are likely part of the Islamic State group's plan to infiltrate the U.S., Trump warned his supporters.
"Here in Minnesota, you've seen first hand the problems caused with faulty refugee vetting, with very large numbers of Somali refugees coming into your state without your knowledge, without your support or approval," Trump said. "Some of them [are] joining ISIS and spreading their extremist views all over our country and all over the world. ... Everybody's reading about the disaster taking place in Minnesota."
Trump's "Make America great again" campaign slogan has largely been built on his proposed immigration policies that include banning Muslims from entering the U.S.
Trump's remarks came more than a month after a stabbing attack in a Minnesota mall that injured 10 people and left the assailant, a Somali immigrant, dead in September. The Islamic State group claimed responsibility for the violence and the FBI treated the attack as a "potential act of terrorism," the New York Times reported.
A definitive link between the attack and ISIS has never been confirmed.
Three Somali-American men were found guilty for trying to joint ISIS and were convicted in June, the Guardian reported. A total of 10 Somali-Americas were charged, with six having pleaded guilty. The other man was suspected of having successfully joined ISIS in Syria.
Minnesota is home to hundreds more refugees from Somalia than from any other country, including Syria, according to the Minnesota Star Tribune. There have been more than 400 more Somali refugees coming to Minnesota this fiscal year than the one prior. The next closest group of refugees living in Minnesota are from Burma. At least 26,000 foreign born Somalis were living in Minnesota as of 2014, the most recent year those statistics were made available by the state.
Trump was speaking two days before Election Day. In a two-way battle between the Republican nominee and Hillary Clinton, his Democratic counterpart was ahead with an average lead of 6.4 percentage points in the state that typically votes for Democrats.
Muslims in America have expressed concern over what their fate would be if Trump wins, and even if Clinton wins. As a result, a record number of Muslim voters could turn out to the polls on Election Day, NBC News reported.
© Copyright IBTimes 2023. All rights reserved.