Is It Illegal To Bet On March Madness? NCAA Tournament Pools Are Common, And Technically Illegal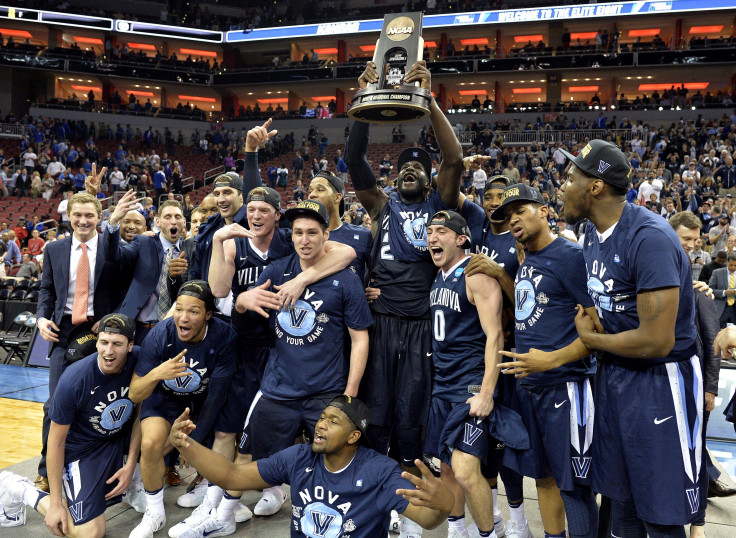 The NCAA's Men's Basketball Tournament is one of most watched and talked about sporting events of the year. March Madness captures the excitement of amateur sports, captivates families and communities, and drives millions of Americans into the world of illegal, underground gambling.
More than $10 billion dollars is expected to be bet on this year's tournament, which kicks off Wednesday in Dayton, Ohio, with the "First Four," before continuing Thursday with the traditional round of 64 teams. But just a tiny fraction of that $10 billion — only 3 percent — will be bet legally, according to the American Gaming Association, an organization that advocates for the gaming and casino industry.
Read: March Madness 2017: Who's Won The Most National Championships?
Filling out a tournament bracket, which can easily be downloaded off the internet, and betting on the result is a common activity in schools and offices nationwide, but it is illegal. This year, 40 million Americans fill out roughly 70 million tournament brackets, and bet an average of $29 on each bracket, the AGA said.
The only place in the U.S. where Americans can legally bet on single games is Nevada. In 1992, Congress passed the Professional and Amateur Sports Protection Act (PASPA), which banned sports betting everywhere except for Nevada and a handful of other states that were already running sports lotteries. Recently, however, New Jersey has challenged PASPA in court, arguing it is unconstitutional for the federal government to deny New Jersey the ability to operate a sports betting system while allowing Nevada casinos to earn billions a year from the practice.
Although, it seems unlikely that the Supreme Court will hear New Jersey's complaint, there is currently an unprecedented level of pressure to expand legalized sports gambling in the U.S. Online betting, daily fantasy sports and simple office March Madness pools generate billions of dollars a year, and with modern technology it's increasingly difficult to police gambling websites hosted on offshore servers.
Even the major American sports leagues, which have strenuously opposed gambling legalization for much of their history, have softened on the issue. As ESPN noted last year, NBA Commissioner Adam Silver has said expanded legalized sports betting is "inevitable."
© Copyright IBTimes 2023. All rights reserved.