Ivanka Trump Crops Kimberly Guilfoyle Out Of Tiffany Trump Wedding Photo; Twitter Reacts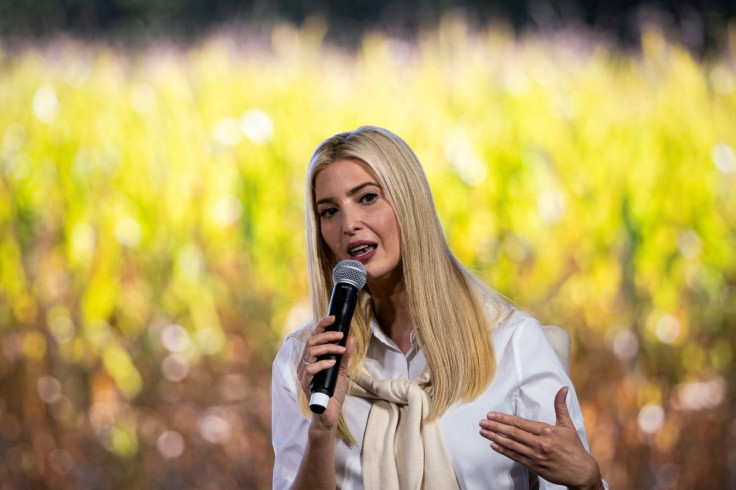 KEY POINTS
Ivanka Trump shared on Twitter a series of pictures from Tiffany Trump's wedding
The photo she uploaded showed the bride posing with Ivanka, Lara Trump, Marla Maples and Melania Trump
The original picture showed that Kimberly Guilfoyle had been standing next to Ivanka in the shot
Ivanka Trump raised eyebrows when she cropped out her brother Donald Trump Jr.'s fiancée, Kimberly Guilfoyle, out of a photo she shared over the weekend.
The 41-year-old daughter of former President Donald Trump shared via social media several snaps from her sister Tiffany Trump's lavish wedding to billionaire heir Michael Boulos Saturday.
In one picture, the bride, who looked radiant in her beaded Elie Saab dress, posed with Ivanka, Eric Trump's wife Lara Trump, her mother Marla Maples and former first lady Melania Trump. Lara donned a silver gown, while Ivanka, Melania and Maples rocked pastel hues.
"Wishing @TiffanyATrump and Michael an abundance of happiness and joy as they begin their lives together as husband and wife!" Ivanka tweeted Sunday alongside the photo. "May their love be a source of light in this world!"
While the snap looked festive, it garnered attention on social media because the original picture showed that Guilfoyle, dressed in black, had been standing next to Ivanka in the shot — but got chopped out of the frame.
Many Twitter users apparently found it hilarious.
"Lol Ivanka cropped out Kimberly Guilfoyle from Tiffany's wedding photos," one Twitter user commented.
"It's hilarious that you cropped Kimberly out of the photo. That's so on brand for you," another wrote.
"Ivanka shows how to crop Kimberley," another person wrote alongside an edited video showing Ivanka pushing Guilfoyle out of the shot.
Others appeared to side with Ivanka and criticized Guilfoyle's choice of outfit.
"Who attends a wedding dressed in black? Next time stick to the dress code," one person commented.
"For once, I agree with her. Who dresses like Maleficient for a wedding?" another user wrote.
"WHY is Kimberly wearing black at a wedding anyway?? She's an idiot, I would have cropped her out too! Looks like a witch on the end!" a different netizen added.
Another user pointed out that cropping out Guilfoyle made the photo "more symmetrical."
"The composition is better and more symmetrical without her. Did she walk in uninvited?" another person suggested.
Ivanka later shared via her Instagram Story the original picture with Guilfoyle after her previous post sparked noise online for the alleged snub. The former first daughter accompanied the snap with three smiling faces with heart emojis, seemingly suggesting that there was no bad blood between her and Guilfoyle.
Tiffany and Boulos tied the knot in a lavish ceremony at her father's Mar-a-Lago estate in Florida Saturday. The former president walked her down the aisle and danced with her at the reception.
The ex-POTUS also gave a speech for the newlyweds in which he reminded his new son-in-law to take care of his daughter and wished them well.
"Michael, you better take care of her," the businessman-turned-politician said, according to Page Six. "No doubt, you are a special person and you are way beyond your years. I have seen him dealing with very big people. . . You are just two spectacular people and this was a beautiful day."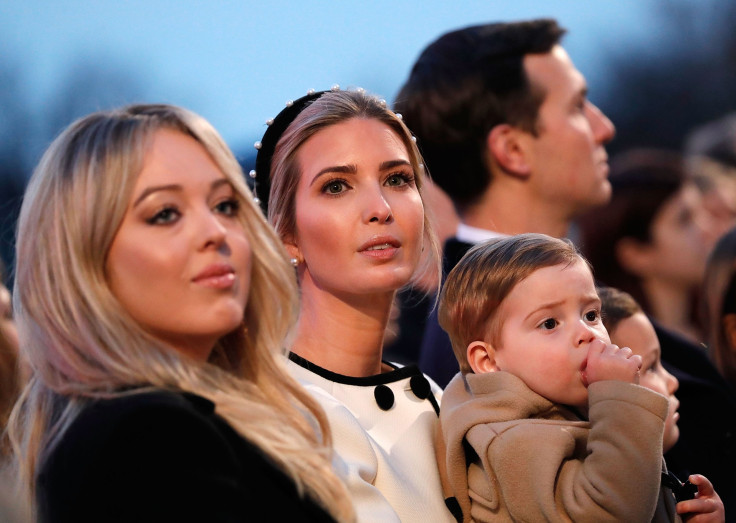 © Copyright IBTimes 2023. All rights reserved.