'iZombie': Liv Dives Into The LARPing World In Season 4, Episode 8
Liv and Clive are introduced to the world of LARPing in the next episode of "iZombie."
According to the synopsis for Season 4, episode 8 of the CW series, Liv (Rose McIver) and Clive (Malcolm Goodwin) investigate the murder of a live-action role-playing knight. To find out what happened to him, Liv consumes his brain and becomes a walking, talking Renaissance Faire.
In the trailer for the hour, Liv, Clive, and Ravi (Rahul Kohli) find the victim's body at a skate park. While the killer's identity is the biggest mystery of the hour, the trio is also left wondering why the victim was in full knight armor at the time of his demise.
Later in the promo clip, Clive discovers that the victim is actually a LARPer. Since Clive isn't familiar with LARPing, Ravi helps him understand what the term is. "It's actually called LARPing," Ravi tells the homicide detective when the latter mispronounced the term. "[It's] live-action role playing."
When Clive asks if it's a "sex thing," the medical examiner vehemently says "No."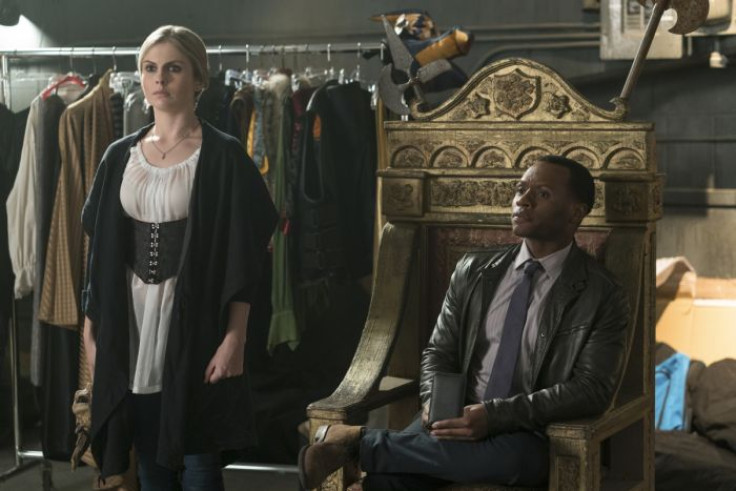 For the uninitiated, LARP is a form of role-playing game where the participants physically portray their characters. The players accomplish objectives within a fictional setting represented by the real world while interacting with each other in character. The consequences of the players' actions may be mediated by the rules of the actual game they're bringing into life. The game rules can also be determined by consensus among players or by a gamemaster, who is also responsible for arranging an event.
As part of their investigation into the victim's death, Liv and Clive attend a LARP event, where they see LARPers battling each other. But much to the partners' shock, the LARPers aren't actually role playing as they're physically hurting one another in real life.
Elsewhere in the episode, Major (Robert Buckley) embarks on a new mission, and Peyton (Aly Michalka) uncovers a truth about Liv. At the end of last episode, Peyton caught Liv making IDs for people who want to be turned into zombies. But will Liv talk her way out of it or will she finally admit to her best friend that she's the new Renegade?
"iZombie" Season 4, episode 8, titled "Chivalry is Dead," airs on Monday, April 23 at 9 p.m. EDT on The CW. Watch the trailer for the episode below:
© Copyright IBTimes 2023. All rights reserved.
FOLLOW MORE IBT NEWS ON THE BELOW CHANNELS