'iZombie' Spoilers: Will Major Meet Angus In Season 4, Episode 4?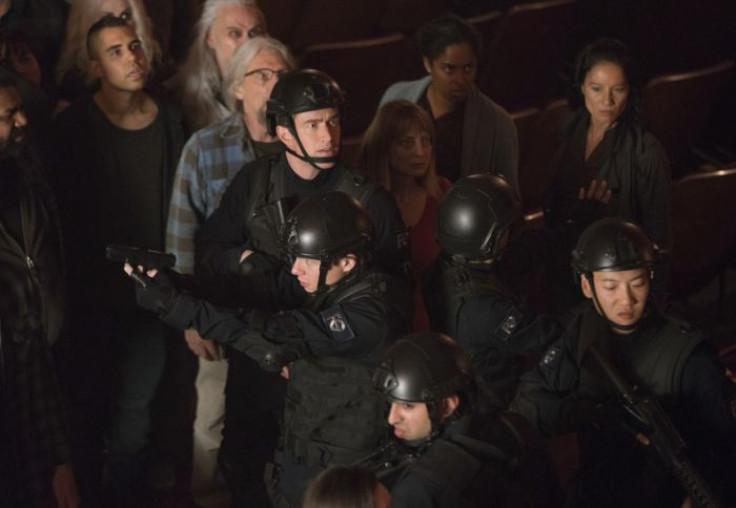 It looks like Major and Angus' paths will finally cross in this week's episode of "iZombie."
According to the synopsis for Season 4, episode 4 of the CW series, Major (Robert Buckley) enters a dangerous territory. While the synopsis doesn't specify what kind of trouble Major will find himself in, a promo photo for the episode shows him and some of his co-Fillmore-Graves soldiers inside what appears to be the auditorium where Angus (Robert Knepper) spreads the "words of God."
In the Season 4 premiere, Angus was freed from the well by one of Blaine's (David Anders) right-hand man. After getting his freedom back, Angus walked straight into a church and began preaching gospels, which were actually just things Blaine told him while he was trapped down the well. Since then, Angus has been telling her fellow undead that God loves them, allowing them to harvest brains from humans illegally.
While it seems that Major will be meeting Angus in the next episode, it looks like Blaine won't be reunited with his dad anytime soon.
"It's a brand new dynamic that Blaine and Angus have this season," Anders previously said (via Comic Book Resources) of what fans can expect from the father-son duo this year. "For much of it, Blaine doesn't know that Angus is out of the well. So he's become in charge of this zombie church and spouting gospel, things that Blaine has said while feeding his father in the well, that's he like throwing at his followers. It's a brand new thing."
"He doesn't know what to make. It's crazy. It's crazy talk. The fact that he's out of the well in the first place is upsetting. He's got to sort that out," Anders continued of how Blaine will react when he learns that his father got out of the well. "And then to find out he's running this church is a whole other thing. These people, they just follow his every word. They do whatever he says. It's pretty intimidating, but it's crazy at the same time."
Elsewhere in the episode, Liv (Rose McIver) and Clive (Malcolm Goodwin) discover that the murder of Annie Wallace (Aliesha Pearson) was the work of a serial killer.
"iZombie" Season 4, episode 4, titled "Brainless in Seattle, Part 2," airs on Monday, March 19 at 9 p.m. EDT on The CW. Watch the trailer for the episode below:
© Copyright IBTimes 2023. All rights reserved.