Jacqueline Bisset Explains Golden Globe Speech: I Was Hungry!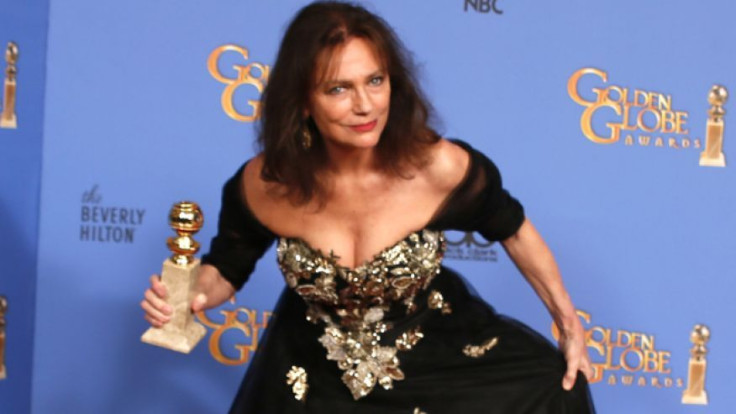 Chances are most people have heard of pregnant women sometimes having baby brain, but Golden Globe winners experiencing hunger brain? No doubt, Jacqueline Bisset was stunned to win a Golden Globe on Sunday night. Her speech was quite bizarre from start to finish, but the reason she gives for her utter shock is even stranger, and it all has to do with food.
According to the Scottish actress, she was hungry at the time she was announced as winner. Bisset said she had been waiting for her meal and was wondering when it was coming when she was called up to the stage to receive her accolade for Best Supporting Actress in a TV Movie or Miniseries for her work on "Dancing on the Edge."
"Sorry it took so long. I was in a daze," Bisset said backstage after her win, according to TV Line. "I was certainly surprised [to win], and I was completely out of it [just beforehand], thinking, 'Where is my dinner?' I still hadn't gotten the dinner I was expecting."
It was only the second award announced, after Jennifer Lawrence had just accepted her win for her work in "American Hustle." Bisset's speech was nearly incoherent. She was so bewildered that she even confused NBC producers and they bleeped out a few seconds of her speech but missed her saying "sh*t."
Two phrases that did come through out of her acceptance speech: "I want to thank the people who have given me joy. Like my mother who used to say 'go to hell and don't come back'" and "To look good, forgive everybody. It's the best beauty secret."
According to her, 47 years ago the Hollywood Foreign Press said she was a promising newcomer. She was since nominated four times for a Golden Globe, but on Sunday night, nearly 50 years after the promise, she won her first award from the Hollywood Foreign Press.
Follow me on Twitter @mariamzzarella
© Copyright IBTimes 2023. All rights reserved.