Jakiw Palij, Former Nazi Camp Guard Deported From New York To Germany
Immigration and Customs Enforcement (ICE) agents, acting under the order of President Donald Trump, removed 95-year-old Jakiw Palij, a former Nazi camp guard from his home in Queens, New York, on Monday, and deported him back to Germany.
"President Trump commends his Administration's comprehensive actions, especially ICE's actions, in removing this war criminal from United States soil," a statement from the White House read. "Despite a court ordering his deportation in 2004, past administrations were unsuccessful in removing Palij.
"To protect the promise of freedom for Holocaust survivors and their families, President Trump prioritized the removal of Palij. Through extensive negotiations, President Trump and his team secured Palij's deportation to Germany and advanced the United States' collaborative efforts with a key European ally," the statement added.
It also stated Palij, who was born in what was then Poland and presently Ukraine, lied about his identity when he immigrated to the United States in 1949. He intentionally hid the fact he was trained in the Nazi SS Training Camp in 1943, the members of which were responsible for carrying out "Operation Reinhard" – a code name for Germany's secret World War II plan to exterminate Jews in the General Government district of German-occupied Poland.
Instead, he told the immigration authorities he worked in a farm and later in a factory during World War II.
Long after Palij's citizenship was confirmed in 1957, officials discovered he actually served as an armed guard at the Trawniki Labor Camp, where 6,000 Jewish prisoners, including children, were shot to death in one of the largest massacres during the Holocaust. While there was no evidence of Palij carrying out shootings, officials found he did play a role in the horrific deaths of the prisoners by preventing their escape from the facility.
Palij's U.S. citizenship was revoked in August 2003, after the authorities found him guilty of wartime crimes and concealing his true identity from the government. He was ordered to be deported in 2004. Although he filed for an appeal, it was denied in 2005.
The only reason his deportation got delayed was Germany's reluctance to take him in.
Meanwhile, Palij maintained he was innocent of the crimes he was accused of, telling New York Times in an interview in 2003 that Nazi took over his farm and he was conscripted at the age of 18.
"I know what they say, but I was never a collaborator," Palij told the paper at the time.
His original order of deportation was implemented Monday, after Trump reportedly told U.S. Ambassador to Germany Richard Grenell to make Palij's deportation his number one priority when he got to Berlin.
Palij looked physically frail when he was removed from his New York residence by ICE agents. He had a white beard and missing front teeth. He was carried out by the agents in a wheelchair.
According to ABC News, Palij did not really protest being removed from his home, although he did let out a cry at being hoisted from his wheelchair to an ambulance stretcher.
It is unclear if Palij will be prosecuted by Germany as the nation did not want to take him in the first place as they had doubts about him being German-born.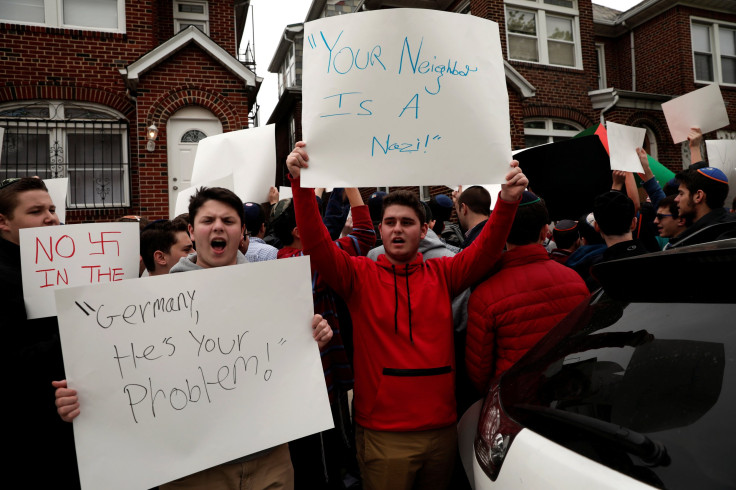 © Copyright IBTimes 2023. All rights reserved.
FOLLOW MORE IBT NEWS ON THE BELOW CHANNELS