James Bond 'Skyfall' Details: Bardem, Fiennes and 2 New Bond Girls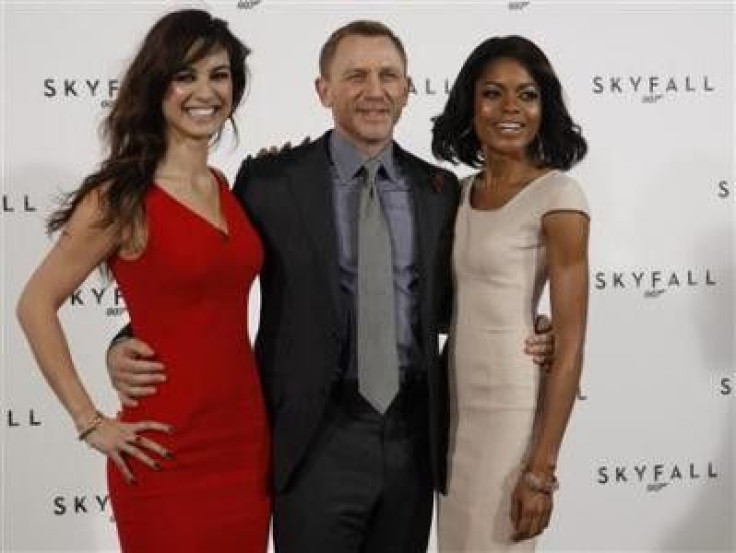 Director Sam Mendes and actor Daniel Craig announced Thursday that the 23rd James Bond film, and the next in the series, will be called Skyfall, to be released in 2012.
Skyfall, which will mark the 50th anniversary of the 007 franchise, is to premiere in the UK and Ireland on Oct. 26, 2012, and in North America on Nov. 9, 2012. It will star Daniel Craig, returning as 007, and feature big names like Javier Bardem, returning M Dame Judi Dench and Ralph Fiennes, while introducing new Bond Girls Naomi Harris and Berenice Marlohe.
Here are some of the details Mendes spilled at the press conference, including spoilers about the Bond Girls and rumors that the typically understated director planned to tone down the violence for the 23rd Bond film.
The Storyline:
Here's a synopsis: Bond's loyalty to M is tested as her past comes back to haunt her. As MI6 comes under attack, 007 must track down and destroy the threat, no matter how personal the cost.
Mendes told reporters Skyfall has a fantastic script with all the elements of a classic Bond movie, including, to quell any rumors, lots of action. The newest Bond film will stand alone; it has no narrative relation or connection to its older Bond brother, Quantum of Solace, directed by Marc Forster.
The newest Bond film will be shot in London, Istanbul, Shanghai and Scotland.
The Characters:
Bardem is confirmed as the next James Bond villain. Bardem had said Oct. 11 he would play a 007 antagonist, but then, as now, everyone is keeping mum on his character's details.
Dench will return as M, becoming more of a central character as Craig's Bond struggles with his loyalties to the British spy agency and his employer.
Miss Moneypenny, as with the other Daniel Craig Bond movies, will not make an appearance.
Fiennes, Albert Finney and Ben Whishaw also will appear in the film, in as-yet unspecified roles. Finney may be playing Dench's boss, though the rumor was unconfirmed at the Skyfall press conference.
And finally, the ones most readers really care about...
The Bond Girls
Harris will play a field agent named Eve. The actress, best known for playing Tia Dalma in the Pirates of the Caribbean series and Selena in 28 Days Later, said she had to go through a lot of training for the role, including gun training, target practice and (ahem) some intensive yoga instruction.
Marlohe, meanwhile, will play a glamorous, enigmatic character called Severin. Marlohe, only 21, is a French actress and model known in her homeland as the steamy star of équipe Médicale d'Urgence, a budget TV show that required her to wear a red wig and nothing else for one very famous sex scene.
Notable additions within the Skyfall crew include costume designer Jany Termime, who worked on the Harry Potter series and the film Children of Men, and Roger Deakins and Dennis Gassner, longtime Mendes veterans who will work as the Bond movie's director of photography and production designer, respectively.
Skyfall goes into production Monday in London.
© Copyright IBTimes 2023. All rights reserved.