James Cromwell And PETA: Cat Torture Is A Real-Life American Horror Story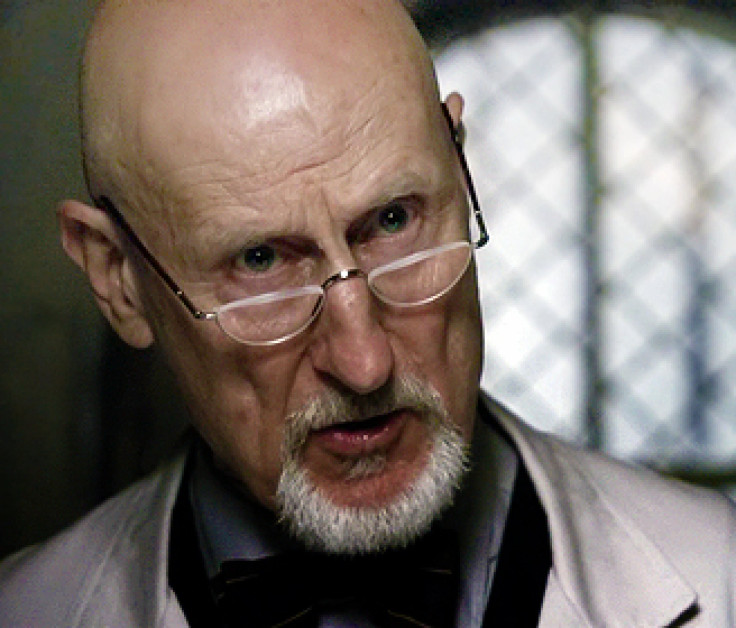 The animal-rights activist who was arrested alongside the actor James Cromwell on Thursday said ongoing cat experiments being conducted by the University of Wisconsin are inhumane and have to stop -- despite the fact that federal inspectors have already cleared the school of wrongdoing.
"We frankly don't care if it's legal or not," Jeremy Beckham, the protester and PETA spokesperson, said in a phone interview. "It doesn't ethically justify what's going on."
Beckham said that he and Cromwell -- the Oscar-nominated star of "Babe" -- were hauled off in handcuffs following a surprise protest at a UW-Madison board meeting, where they stormed into the room wielding signs and castigating university officials. The signs featured photos (allegedly snapped in the UW-Madison laboratory) of cats with metal devices attached to their heads. In a video of the protest uploaded to YouTube, Beckham and Cromwell can be seen screaming protests until Beckham falls to the floor.
"As many as 30 cats a year at UW have had holes drilled in their skulls," Cromwell says in the video. "They are deafened, starved for days at a time and then decapitated. This is not science. This is torture. And it is criminal. Shame on UW."
Cromwell appeared most recently in the FX series "American Horror Story: Asylum," where he played a sinister doctor and former Nazi who conducts torturous experiments on inmates in the name of science.
Eric Sandgren, director of the UW-Madison Research Animal Resource Center, did not respond to a request for comment. However, in a statement Thursday, he called the allegations of abuse "baseless" and pointed to an independent investigation conducted by the U.S. Department of Agriculture, which regulates the use of animals in research. Following charges by PETA that UW-Madison's experiments violate multiple provisions of the federal Animal Welfare Act, the USDA cleared the school of wrongdoing in October.
Beckham said the investigation speaks to the inadequacies of federal law, which he said has no authority to shut down animal research on the basis of experimental controls.
"As long as the university committee approves the experiments and everyone fills out their forms, there's not much the USDA can do," he said. "They can go in there and say their cages aren't clean enough or the veterinarian isn't responding fast enough, but the design of the experiment itself is off-limits."
The experiments in question are funded with a $3 million grant by National Institutes of Health, or NIH. Beckham said the funding is approved at least through 2014. He said that PETA has filed a complaint with the NIH on the basis that the experiments violate the institutes' guidelines.
"One of the things we've seen is that the cats' anesthesia wears off," he said. "They wake up as holes are being drilled into their heads. Many of them die from bacterial infections."
UW-Madison argues that the research, which measures "sound localization" in the animals' hearing, has "very real benefits for people who are deaf," according to Sandgren's statement. But PETA has countered that similar research in other parts of the world proves that the same results can be achieved humanely -- and using human volunteers instead of animals.
Beckham said the only reason such experiments are approved is that they are voted on by university committees made up of "insiders who pat each other on the back" for furthering the frontiers of science. "People who work in the same field will always find a way to justify what they're doing," he said.
Got a news tip? Send me an email. Follow me on Twitter: @christopherzara
© Copyright IBTimes 2023. All rights reserved.