Japan Earthquake & Tsunami Anniversary: The Healing Power of Paper Cranes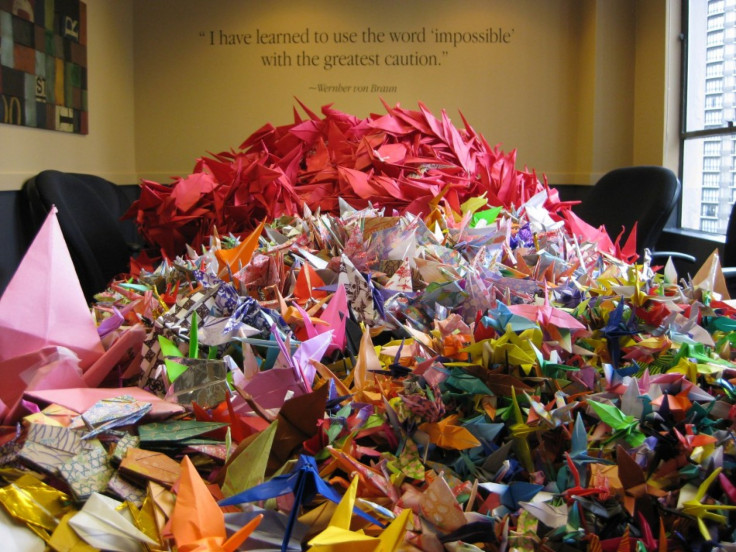 March 11 marks the first anniversary of the Tohoku, Japan, tsunami and earthquake that left a confirmed 15,850 dead, 6,011 injured and 3,287 missing. It was the most powerful earthquake known to have hit Japan and one of the five most powerful earthquakes in the world since modern record-keeping began in 1900.
Yet out of the unimaginable tragedy of that day arose a story of grace and global compassion - a story of paper cranes.
Immediately following the devastating earthquake and tsunami, DoSomething.org and Students Rebuild mobilized the campaign Paper Cranes for Japan, which challenged young people worldwide to make and mail in a paper crane with a wish of hope and healing.
The goal was 100,000 cranes. The result was 2 million cranes and approximately $500,000 in donations for rebuilding projects in the Tohoku region.
The widespread and heartfelt participation from young people worldwide was astounding, said Jackie Bezos, president of the Bezos Family Foundation, which founded Students Rebuild. It's overwhelming evidence that youth want to contribute and are a powerful resource.
DoSomething.org launched Paper Cranes for Japan on March 12 last year and Students Rebuild joined in a week later with the call to action: Cranes sent by mail would trigger matching funds for recovery and reconstruction from the Bezos Family Foundation.
The movement mobilized thousands of young people in 38 different nations from Armenia to New Zealand and all 50 states of the U.S. to support their Japanese peers. In one of the more touching moments, students in Haiti, ravaged by an earthquake a year before, folded cranes for their Japanese peers during the opening ceremony of a local school erected by Students Rebuild.
Paper Cranes for Japan shows the power of the online community taking offline action, said John Kultgen, senior editor for DoSomething.org.
By the end of April, the organization received its one millionth paper crane. By May, the crane count exceeded 2 million.
Kutgen explained that the program continues to live on long after the last crane was mailed in.
In July, artist Vik Muniz created a massive visual piece with the cranes, which he photographed for a benefit poster to further reconstruction. In December, 100,000 of the cranes were shipped to Tohoku University of Art and Design to create a massive crane sculpture. That sculpture was unveiled in January at a three-day public event at the Sendai train station.
At the event, families gathered to fill hundreds of gift boxes with paper cranes folded by their peers across the globe. The gift boxes were then mailed to children throughout Japan as a symbolic gift of healing. As Students Rebuild put it, the paper cranes flew home.
Cranes are sacred creatures in Japanese culture and, according to popular legend, folding a thousand origami cranes will make a person's wish come true.
A year after the March 11 earthquake and tsunami, the $500,000 raised by Paper Cranes for Japan has partially funded Architecture for Humanity's Tohoku reconstruction efforts. The nonprofit is collaborating with local design and construction professionals to provide the technical expertise to help rebuild.
By working with small communities, we can talk directly with leaders and ask them to identify needs in their community, said Hiromi Tabei, program coordinator for Architecture for Humanity's Tohoku Rebuilding Program.
Yet, she noted that erecting buildings and repairing structural damage is only part of the process.
Our approach to reconstruction and recovery isn't just about building schools or community centers, she said. It's also about inspiring a renewed sense of community and belonging.
Two million cranes flew from all corners of the earth with the funds to rebuild. United, they became a symbol of global support for a damaged nation. And on the wings of the paper cranes came something else: a message of hope.
© Copyright IBTimes 2023. All rights reserved.