Jason Aldean's Engagement To Former Mistress, Brittany Kerr, Angers Some Country Music Fans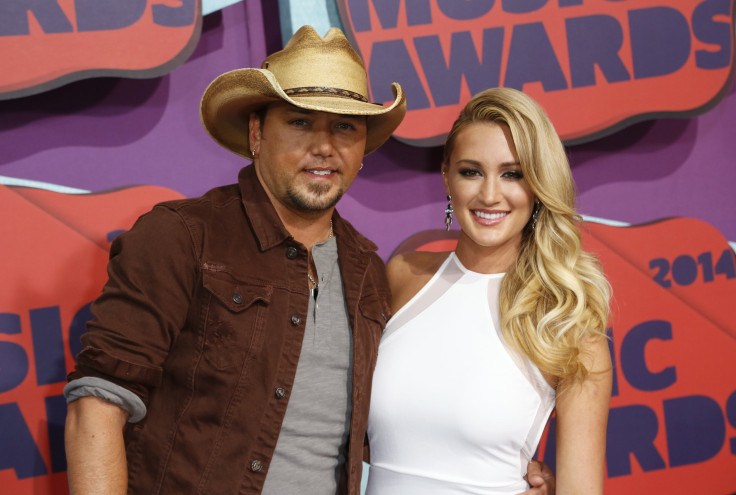 Country music star Jason Aldean announced his engagement to his girlfriend and "American Idol" star Brittany Kerr Thursday. A rep for Aldean confirmed to People magazine that the performer popped the question at the San Diego Zoo on Tuesday. The "Night Train" singer's impending nuptials comes two years after Aldean, 37, was caught kissing Kerr, 27, while he was still married to Jessica Ussery.
Unfortunately for the country crooner and his bride-to-be, some of his fans are not too pleased with the engagement. "So, Jason Aldean is engaged to his former MISTRESS. Ya lose 'em how Ya got 'em honey, remember that," said one Twitter fan Thursday. "Jason Aldean is engaged to the woman he cheated on his wife with… what a world," said a fan. "I liked Jason Aldean a lot less after he cheated on his wife and now that he's engaged to the homewrecker, I like him even less," said a fan.
This isn't the first time Aldean and Kerr have faced backlash for their romance that was revealed in September 2012 when Aldean was photographed kissing Kerr while still married to Ussery, his wife of over a decade and the mother of his children, Kelley, 11, and Kendyl, 6. After several months of fielding criticism from fans, the country singer took to Instagram to slam naysayers last month. "So sick of people judging me and @brittanykerr over things they know nothing about," he said. "I have made mistakes but I am a better person because of it and wouldn't change a thing. I'm happier than I have ever been so thank you to all the people who support us. We are happy and life goes on. It's time to move on people."
Aldean has yet to comment on the wedding. The singer, who is currently on his Burnin' It Down U.S. tour, posted a video to Instagram Tuesday with Kerr informing his fans he was in route to the West Coast. "Here we come Cali," he said. "Bout to party all weekend!!!!" Aldean is set to perform in San Diego's Sleep Train Ampitheatre on Thursday evening.
© Copyright IBTimes 2023. All rights reserved.