JCC Threats 2017: Democrats Are Responsible For Jewish Community Center Bomb Threats, Trump Adviser Scaramucci Suggests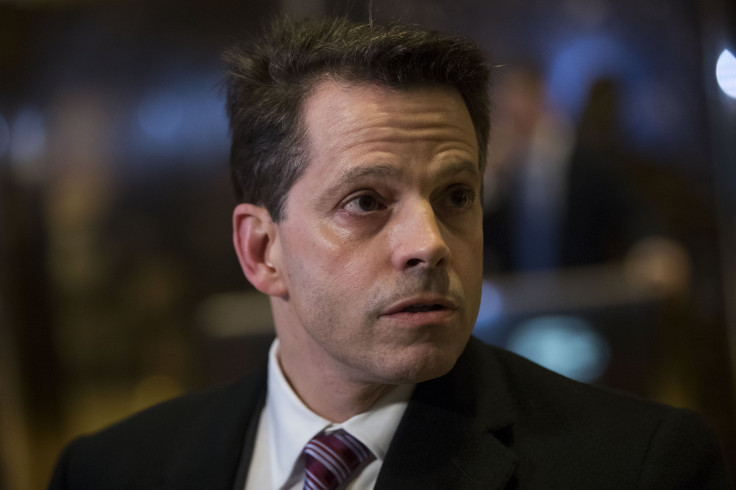 An adviser to President Donald Trump appeared to suggest Tuesday that Democrats may be responsible for the wave of bomb threats targeting Jewish Community Centers in the past two months. Anthony Scaramucci, a confidant to Trump who was nominated for the role of liaison to the business community before later having his name withdrawn over potential ethics conflicts, made the connection between the JCC threats and allegations that Democrats incited violence at Trump rallies.
"It's not yet clear who the #JCC offenders are. Don't forget @TheDemocrats effort to incite violence at Trump rallies," he tweeted.
Scaramucci, who was a top fundraiser for Trump's campaign and is said to remain in contention for a future White House post, was immediately rebuked for his comments. Hawaii Sen. Brian Schatz tweeted: "This is vile. You should quit your role as Senior Adviser to the President, for the good of your country."
Scaramucci later tried to roll back his insinuation, saying: "No, I'm saying until we know for sure it's highly irresponsible to jump to conclusions."
The investment firm founder had earlier tweeted that it was "extremely unfair" to blame Trump for the rise in anti-Semitism.
A fresh wave Monday took the total number of bomb threats called into Jewish Community Centers to 90 at 73 locations in 30 states and one Canadian province. Meanwhile, Jewish cemeteries in Missouri and Philadelphia have been vandalized in the past 10 days. There has yet been no word on the perpetrator or perpetrators behind the incidents.
Trump has been widely criticized for his response to the increase in anti-Semitism, which has also included swastikas drawn in public places around the country. It wasn't until last week that the president came out and condemned them. However, some, including U.S. Rep. Debbie Wasserman Schultz (D-Weston), has said that Trump needs to do more.
Trump has also been blamed in some circles for the wave of anti-Semitism. Particular attention has focused on his hiring of Steve Bannon, a former publisher of Breitbart, which he described as "the platform for the alt-right," an umbrella term that includes white nationalists. The Anne Frank Center has been among those to attribute responsibility to Trump.
"Rightly or wrongly, the most vicious anti-Semites in America are looking at you and your administration as a nationalistic movement granting them permission to attack Jews, Jewish institutions and sacred Jewish sites," said a statement Monday from Steven Goldstein, executive director of the Anne Frank Center for Mutual Respect. "Mr. President, you cannot just say this is not your fault. Slow and inadequate responses can make it partly your fault."
© Copyright IBTimes 2023. All rights reserved.
FOLLOW MORE IBT NEWS ON THE BELOW CHANNELS