Jeb Bush 2016 Candidacy For President: Immigration, Education, Economy, Military Are Focal Points During Announcement From Florida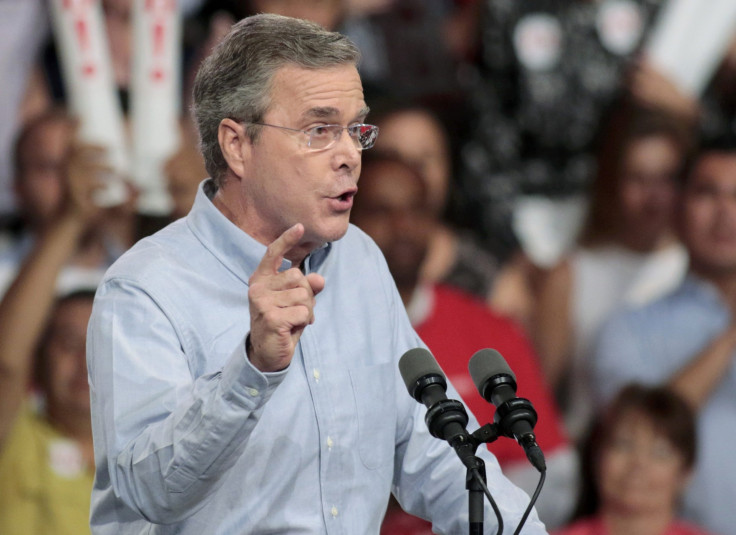 Touting his experience as governor of Florida, Jeb Bush, the son and brother of former presidents, announced Monday he is running for president of the United States. Speaking to a crowd at Miami-Dade College in Florida, Bush focused on education, the economy, the drawdown of American military spending, the diversity of the people in Florida and his Spanish background. He also took shots at some of his competition, saying he would take Washington, "the static capital of this dynamic country … out of the business of causing problems."
In his speech, Bush promised 4 percent growth a year in the country, a rate he said would create 19 million new jobs. Bush also said economic growth is the way to lift "up the middle class -- all the families who haven't gotten a raise in 15 years."
"We made Florida No. 1 in job creation and No. 1 in small business creation," Bush said. "That was the commitment, and that is the record that turned this state around."
Bush's announcement followed several speakers, including some who spoke Spanish while addressing the crowd, as did Bush himself at certain points in his address. Several of the speakers were Cuban immigrants who labeled Bush fair to all people during his time as governor. In an unscripted moment when protesters stood up with shirts that read "legal status is not enough," Bush responded passionately: "And by the way, the next president of the United States will pass meaningful immigration reform so that will be solved -- not by executive order."
The protesters interrupted as Bush was introducing his mother, former first lady Barbara Bush, who was the only member of his nuclear family in attendance. Also, in what could be seen as a way to distance himself from his last name, Bush's campaign logo features simply "Jeb!" with no mention of his last name.
There were several moments in which either Bush or the speakers before him took veiled shots at the senators running for the Republican nomination alongside Bush. One speaker spoke of a young first term senator who took the White House, ostensibly President Barack Obama, and what he described as a failed record as president. The presidency of the United States should not be the "first management job" someone goes after, the speaker concluded -- clearly a shot at the senators in the race, but most especially Sen. Marco Rubio, a fellow Republican and Floridian expected to be a major presidential contender.
Bush was the governor of Florida from 1999 to 2007. He has faced some criticism already as his clear frontrunner status seemed to falter in the last few weeks, resulting in a standing that is now considered to be significantly weaker than in prior months. Bush has more congressional endorsements than any other Republican candidate so far, but he leads in national polls by just a hair. Some polls have found him tied for first place with the likes of Wisconsin Gov. Scott Walker and Rubio in some early nominating states. In some states he isn't leading at all.
Bush has already faced some hurdles related to concerns about his last name and for the unpopular war started by his brother, President George W. Bush. Bush tripped on a question earlier this year when a reporter asked if, knowing what we know now, he would have invaded Iraq. Initially, Bush avoided the question and provided confusing answers before eventually saying a few days later that he would not have made the same decisions.
© Copyright IBTimes 2023. All rights reserved.