Jeb Bush, Married To Mexican, Denounces Donald Trump, Takes 'Ugly' Remarks About Immigrants Personally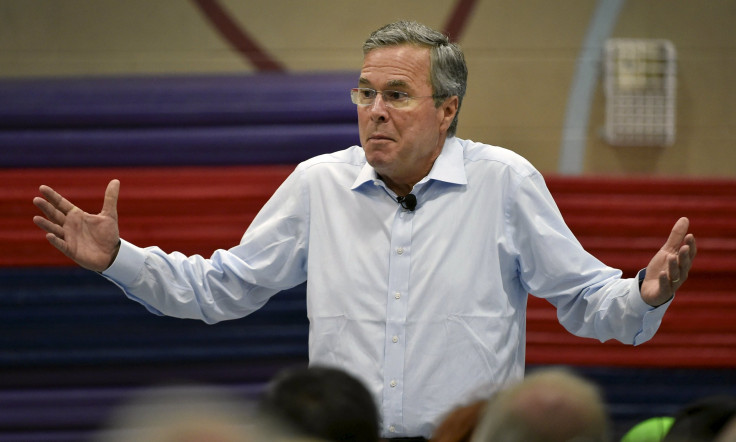 Donald Trump's recent comments about Mexicans, which have offended a broad range of Latin American society, from celebrities to television channels, did not sit well with Jeb Bush. In fact, the former Florida governor and one of Trump's many fellow contenders for the 2016 Republican nomination for president took those remarks somewhat personally.
"He's doing this to inflame and incite and to draw attention, which seems to be the organizing principle of his campaign," Bush told the New York Times while in New Hampshire Saturday. And he "absolutely" felt the remarks on a personal level. Bush's wife, Columba, is Mexican. They have three children together, and Bush speaks fluent Spanish.
In June, Trump offered some thoughts on Mexican immigrants in the United States: "They are bringing drugs. They are bringing crime. They're rapists," he said in launching his first bid for the presidency. "Some, I assume, are good people," the business tycoon added.
Bush was also careful to deflect Trump's comments away from the party whose presidential nomination they both seek. "To make these extraordinarily ugly kind of comments is not reflective of the Republican Party," Bush said. "He's not a stupid guy, so I don't assume he thinks that every Mexican crossing the border is a rapist," he added.
As for the benefits of making such derogatory remarks, Bush suggested there were none. "But politically, we're going to win when we're hopeful and optimistic and big and broad rather than errrrr, grrrr, just angry all the time. This is an exaggerated form of that, and there is no tolerance for it."
In response to Trump's remarks, numerous entities have cut ties to the media mogul. Several Latin American countries have dropped out of this year's Miss Universe pageant or refused to broadcast the contest. Macy's, NBC, Serta and Univision have also cut business ties with him, and the City of New York is reviewing its contracts. Mayor Bill de Blasio called the remarks "disgusting and offensive."
© Copyright IBTimes 2023. All rights reserved.
FOLLOW MORE IBT NEWS ON THE BELOW CHANNELS