Jeb Bush Tax Returns: 5 Things We Learned About The Former Governor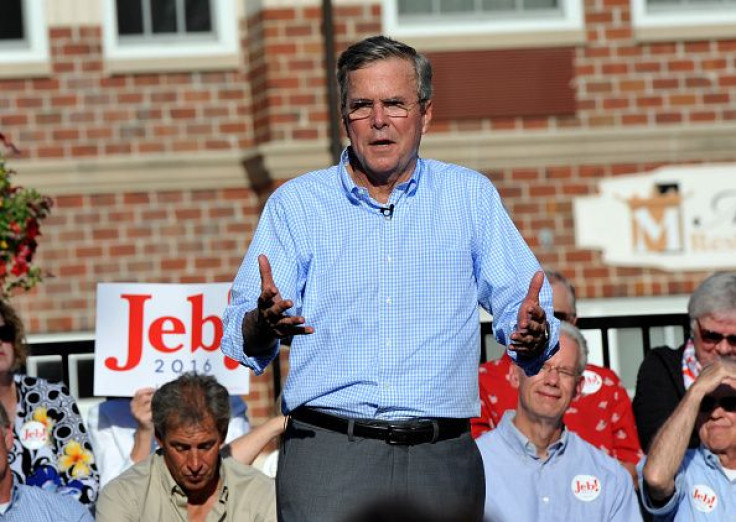 Former Florida Gov. Jeb Bush released 33 years of tax returns on Tuesday, in a demonstration of transparency as he pursues the Republican presidential nomination. Here are five takeaways from Bush's disclosures.
1. Bush is worth at least $19 million.
Bush's wealth has increased dramatically since leaving office. In 2007, he left the Florida governor's mansion with a net worth of $1.3 million, according to the New York Times. Bush is now worth between $19 and $22 million, his aides told the paper. In 2013, Bush reported earning $7.4 million in income.
2. Bush paid a high federal tax rate.
Over the past three decades, Bush has paid a 36 percent effective federal tax rate -- including 40 percent in 2013 -- according to his campaign. Bush's team contrasted that rate with the 30 percent rate paid by Democratic presidential candidate Hillary Clinton's family last year.
"One fun fact I learned in this process: I have paid a higher tax rate than the Clintons even though I earned less income," Bush said on a website displaying his tax returns.
Of course, Bush and Clinton both paid a significantly higher effective tax rate than the previous Republican presidential nominee, Mitt Romney, who paid 14 percent in 2010. Floridians do not pay personal state income tax.
3. Bush gave $739,000 to charity since 2007.
Bush and his family have given $739,000 to charitable causes since he left the governor's mansion, according to the campaign's website. Bush says his family has given to groups focused on curing Cystic Fibrosis and improving literacy, and has also helped raise funds for the Florida Coalition Against Domestic Violence.
4. Bush's income skyrocketed when his father became president.
While Bush's wealth increased after his time as governor, it was not the first time his income spiked. In 1990, during the second year of his father's presidency, Bush's income jumped dramatically, Vox reported. Shortly after George H.W. Bush became president, Jeb Bush sought to sell a controversial firm's water pumps to governments in Nigeria, with financing from the U.S. Export-Import Bank. That company's dealings would later draw scrutiny from the U.S. Justice Department.
5. Bush's campaign is emphasizing transparency.
The decision by Bush to release 33 years of tax returns is the latest attempt to build his reputation for transparency and openness.
In February, Bush's campaign published 250,000 emails from his time as governor on a website that said the disclosure was being made "in the spirit of transparency." The emails had already been made public by a Democratic opposition research group, thanks to Florida's expansive public records law. Still, Bush sought to contrast his email disclosure with the approach from Clinton, whose emails from her time as secretary of state have mostly not been disclosed.
As the International Business Times reported in April, Bush's record on transparency has some complications. While he was governor, Bush endorsed a proposal for his aides to push legislators to exempt some details of the state pension's investments from public record laws.
© Copyright IBTimes 2023. All rights reserved.