Jennette McCurdy, 'iCarly' Actress In Leaked Lingerie Photos Scandal, Says 'I Am Not A Role Model'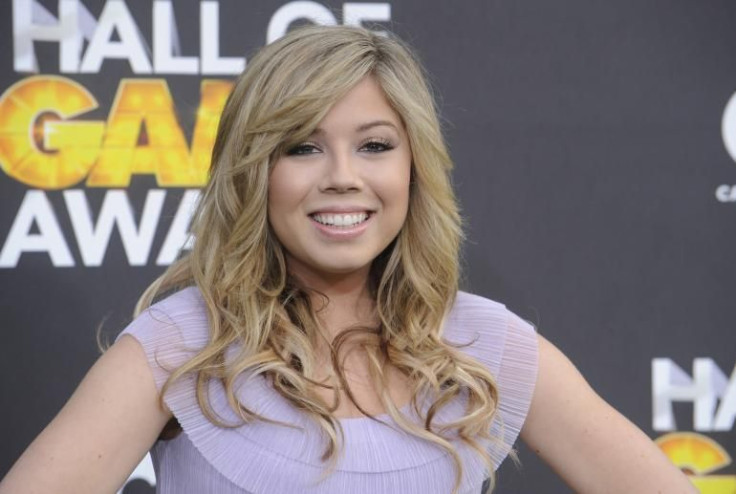 After a racy photo scandal that tainted her squeaky-clean Nickelodeon reputation, "iCarly" actress Jennette McCurdy said she is "not a role model" and "was trying to live up to" the "pedestal" the industry put her on.
The actress's rant came just a day after she posted a sexy photo of herself in her underwear on her Instagram account, further proving she is done with what she called the "falsified standard set up by the bubblegum industry."
"I am not a role model. I don't claim to be, I don't try to be, and I don't want to be," McCurdy said in a long rant on Reddit on Thursday. "There was a time when I tried to live up to the aggrandizing title, that pedestal of a thing. Maybe it wasn't so much that I was trying to live up to it. Perhaps I thought I could and I thought I was supposed to, so I gave it my best shot."
She continued: "It's fine, I can admit it. Back in my adolescence, I was more amiable, bubbly, and on lightly humid days, maybe even flouncy. I was role model material and then some. Fast forward a few years, I've grown up a bit (emphasis on 'a bit'). I might not be any wiser, but I like to think I'm more honest."
McCurdy went on to say that she couldn't live up to the "falsified standard set up by the bubblegum industry" that was bestowed upon her.
"With the growing I've done, I realize that to attempt to live up to the idea of being a role model is to set myself up for foregone failure. Sure, I've made some mistakes, but even if I hadn't, people would have found invisible ones. This world is one seemingly most keen on judgment and negativity, despite all the hearts and smiley emoticons," she wrote. "To remove myself from the role model battle, the falsified standard set by the bubblegum industry, is -- in my eyes -- to remove myself from the counterintuitive battle of attempting to be something perfect while being glaringly aware of my imperfections."
She also said "calling a celebrity a role model is like calling a stranger a role model."
"The knowledge you have of a celebrity is no more than a caricature drawn by media tastemakers specializing in selling you an image you're dying to buy," she said. "It's good to have heroes, but you have to look for them in the right places. They say don't look for true love in a bar, well I say, don't look for role models on screens."
McCurdy said she does appreciate those who consider her a role model but said she prefer people to pick their role models out of "the people in your everyday life."
Photos of Jennette McCurdy leaked online in March, showing the former star of Nickelodeon's series "iCarly" posing for a series of racy selfies wearing lingerie. Many believed her ex-boyfriend, Andrew Drummond, leaked the images after McCurdy spoke ill of their weeklong relationship. The Detroit Pistons player denied the claims.
"For all the speculations about leaking anything, I have nothing to do with it. I'm focused on basketball. Thank you," he wrote.
McCurdy had dissed Drummond during a "You Made It Weird" podcast, calling their relationship "really uncomfortable."
"I just sort of went for [the first kiss], but it wasn't great," McCurdy said. "It just didn't go great. No sparks, and the mouths didn't … the shapes weren't right."
"He gave me a really fancy necklace, and like, got down on his knees and asked me to be his girlfriend, and it was just really uncomfortable."
© Copyright IBTimes 2023. All rights reserved.