Jennifer Aniston, Brad Pitt Reportedly Back Together, Announcement Made At Actress' Party
KEY POINTS
Jennifer Aniston and Brad Pitt reportedly reconciled
Jennifer Aniston and Brad Pitt's relationship
Jennifer Aniston and Brad Pitt's reunion
Jennifer Aniston and Brad Pitt are reportedly back together.
Aniston and Pitt were married in 2000 but divorced five years later. Following Pitt and Angelina Jolie's and Aniston and Justin Theroux's separations, fans were hoping to see Aniston and Pitt get back together.
And just recently a source told In Touch that the exes are back together. They reportedly made it official on the "Murder Mystery" actress' holiday party.
"It's official! Brad and Jen are back together," the insider said. "They even briefly made out in front of guests. Some were so happy they were cheering!"
The same insider claimed that Pitt and Aniston have started trying and giving their romance another go since last year. But they got cold feet. However, they couldn't deny the chemistry between them, so they started dating two months ago.
However, fans should take this report with a grain of salt. First, Pitt and Aniston have been romantically linked together since their respective splits. In fact, there were rumors that they were engaged and Pitt's daughter Shiloh chose the ring. Apparently, it was not true.
Second, Pitt and Aniston's reps have denied the reports claiming that they are together. According to them, Pitt and Aniston are just friends.
Third, Aniston has been friends with her exes not just Pitt. In fact, she spent Thanksgiving with Theroux and her pals. The romance rumors about Pitt and Aniston have resurfaced again because they were spotted at Aniston's holiday party.
"Brad Pitt arrived at Jennifer Aniston's holiday party a little after 7 p.m. on Saturday," the source told Entertainment Tonight.
"He was among the first to arrive and the second to last guest to leave around 11 p.m. He was dressed casually in a dark bomber jacket with a cap on. He arrived with his longtime security guard who waited for him with his car and saw him out."
However, it wasn't the first time Pitt and Aniston reunited this year. The "Ad Astra" actor was also present at Aniston's 50th birthday bash in February. They are also expected to reunite at the Golden Globe Awards in 2020.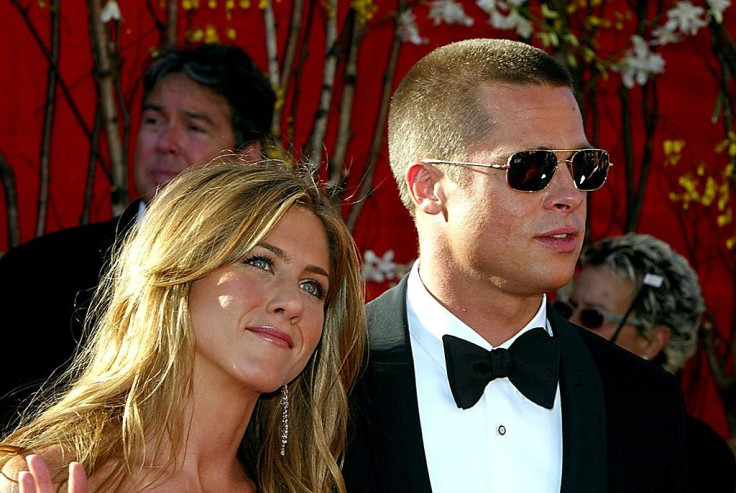 © Copyright IBTimes 2023. All rights reserved.