Jennifer Aniston, Courteney Cox Photographed In Cabo San Lucas After Plane Ordeal
Jennifer Aniston and close pal Courteney Cox are just fine and safely made it to Cabo San Lucas on Friday, Feb. 15.
The "Friends" co-stars were photographed arriving at the airport in Mexico after their trip was delayed by an emergency plane landing. For their plane trip, Aniston, 50, donned a tan hat and gray top, while Cox, 54, wore a white shirt and glasses in photos released by Daily Mail.
Cox didn't address the ordeal on social media on Friday, instead posting a throwback photo of her daughter, Coco, 14, on Instagram. Her daughter, whom she shares with ex-husband David Arquette, apparently fell asleep during an episode of "Friends."
According to Us Weekly, Aniston and Cox's plane had been forced to land along the way to Cabo San Lucas. The private jet lost a wheel during takeoff, which was around 11 a.m. EST, TMZ confirmed.
A source told Us Weekly that Molly Kimmel, host Jimmy Kimmel's wife, and film producer Kristin Hahn were also with Aniston and Cox on the plane, along with Jason Bateman's wife Amanda Anka. Molly and Hahn worked with Aniston for her 2018 Netflix film, "Dumplin.'"
Their Gulfstream aircraft rerouted to Ontario, California, but the aircraft had to fly around for hours to burn fuel so that they could touch down safely, according to TMZ.
The Ontario International Airport tweeted about the emergency landing on Friday. "ALERT: ONT and the City of Ontario Police and Fire Departments are currently on alert for an incoming aircraft. More information to follow," the message read.
A second tweet from the airport confirmed that their plane "landed safely."
The aircraft was reportedly wobbly once it hit the runway, but no injuries were reported following the incident, CBS confirmed.
The airport also released a statement explaining that there were problems with the plane's landing gear.
"A Gulfstream aircraft with 10 passengers and two flight crew members on board landed without incident at Ontario International Airport (ONT) after experiencing landing gear difficulty," the statement read.
"The plane was en route Friday from Los Angeles International Airport to Cabo San Lucas when it was discovered that one of the four rear tires had displaced," the statement continued. "The aircraft landed safely at ONT around 2 p.m. Friday."
This incident comes a week after Aniston threw a lavish 50th birthday bash at the Sunset Tower Hotel in Los Angeles. She celebrated her milestone with many celebrity pals including Cox, their "Friends" co-star Lisa Kudrow, John Mayer, Reese Witherspoon, George and Amal Clooney, Kate Hudson, Katy Perry and Gwyneth Paltrow, among many others.
Aniston's ex-husband, Brad Pitt, also made a surprise appearance at the star-studded birthday party.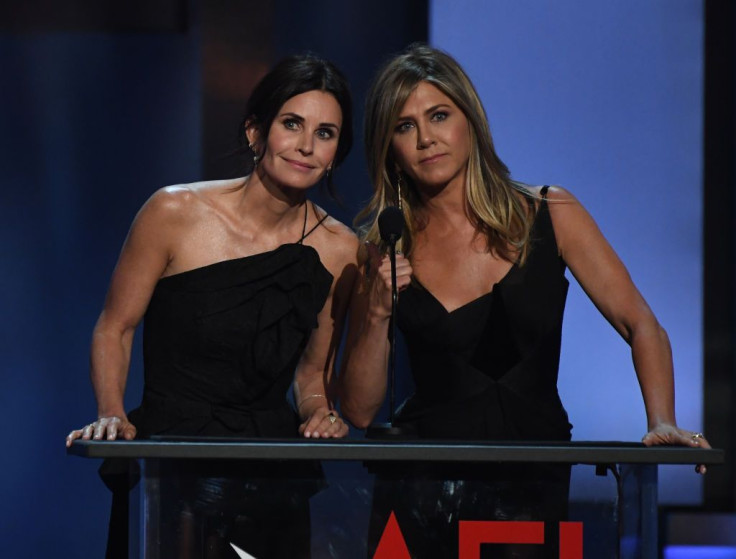 © Copyright IBTimes 2023. All rights reserved.