Jennifer Aniston Shares Adorable Throwback Photos Of Her Dog On National Puppy Day
KEY POINTS
Jennifer Aniston shared throwback photos of her dog Lord Chesterfield to mark National Puppy Day
Aniston posted videos showing Chesterfield as a puppy and as a grown dog
The "Friends" alum also shared an old photo of her with her late dog, Dolly
Jennifer Aniston marked National Puppy Day by sharing adorable throwback photos of her dog.
On Wednesday, the "Friends" alum posted to her Instagram Stories photos and videos of her pooch Lord Chesterfield dating back to when he was a puppy, including one snap of the pup sitting on a table.
"I don't know if 'National Puppy Day' is a real holiday…but I'll take any excuse to post Chesterfield throwback," Aniston captioned the photo.
One of the videos posted by the 53-year-old actress showed Lord Chesterfield as a puppy, while the second showed the pooch all grown up. "From this," the "Murder Mystery" actress wrote on the first clip, before writing, "To this," in the second.
Aniston introduced Lord Chesterfield as the newest member of her family in October 2020 via Instagram. At the time, she shared an adorable video of the dog sleeping his mouth wide open.
"Chesterfield, have you fallen asleep with your bone in your mouth?" Aniston asked in the clip, controlling the volume of her voice to avoid waking up the puppy. "I think you have."
Aniston revealed in her caption that she had rescued Lord Chesterfield. "He stole my heart immediately," she wrote. "A HUGE thank you to @wagmorpets for the incredible work you do. Grateful you take such great care of these rescues and find them their forever homes."
On Wednesday, Aniston also posted an old photo of her and her late furry friend, Dolly, who passed away in 2019, staring into each other's eyes.
"Hi! I'm Jen and your name…? Dolly. Okay. Copy that. Miss this little one," the "Morning Show" star wrote in the caption.
She previously had one other dog, a Welsh corgi-terrier mix named Norman, who died in 2011.
Aniston and her ex-husband Justin Theroux reunited in July 2019 when Dolly passed away. He shared snaps of them on Instagram as they bid farewell to the white German shepherd mix that had been part of their home.
After Dolly's death, Aniston told People in December that year that she was "close" to getting another pet as pal Ellen DeGeneres had been sending her photos of puppies in animal shelters.
"My friend Ellen DeGeneres, as you know, loves nothing more than to bombard me with extremely heartbreaking photographs of animals that need homes," she explained at the time. "And by the way, if I could have a llama, a pig, an alpaca, sheep, goats, I would. But I have to be very sensitive to Clyde and Sophie because it's all about whether they are going to be happy."
In addition to Chesterfield, Aniston also has a white pit bull named Sophie and a gray schnauzer mix named Clyde.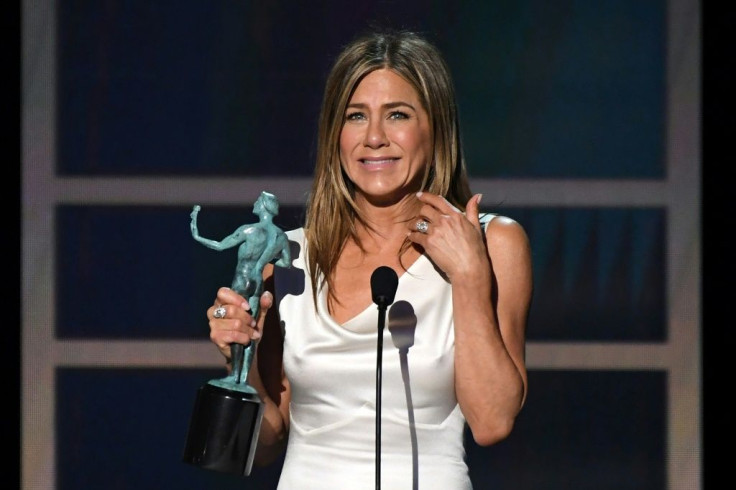 © Copyright IBTimes 2022. All rights reserved.
FOLLOW MORE IBT NEWS ON THE BELOW CHANNELS